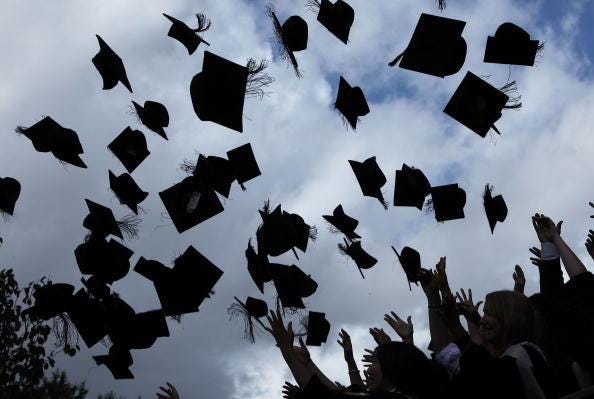 British graduates are said to have spent tens of billions of pounds on university degrees they haven't put to use in their current job roles, according to new research.
Training company The Knowledge Academy recently carried out a study of 2,000 graduates to find 64 per cent felt their degree was not relevant to their current role.
While results showed the average graduate polled left university with an average debt amount of £13,292 – with approximately 12 million graduates in the UK,according to the Office for National Statistics (ONS) – the huge sum can be estimated at just over £65 billion being spent on unused degrees.
Results also highlighted how just 36 per cent of graduates found their degree relevant to their current career choice, while 67 per cent felt they could have got their current job without even having their degree.
As well as this, six in ten said they never had to provide any proof they even had a degree in order to get their job, and over a fifth felt their employer had "no clue" what qualifications they actually had.
Co-founder of The Knowledge Academy, Barinder Hothi, described the statistics as "shocking," and said: "The high cost of university is often considered necessary in order to progress in a particular career but, with most valuing the experience of university over the knowledge gained from their degree, one has to ask: is it really worth it?"
Reactions were split when participants spoke about the value of their degree overall: 49 per cent felt having one made it easier to get a job, but 51 per cent were unsure or felt it made no difference.
Almost half felt they would have been better off getting a job earlier on in life and working their way up, something The Knowledge Academy said could show why 62 per cent felt they chose the wrong career upon leaving school
Mrs Hothi described how university has become the expected path for many 17 to 18-year-olds in the UK in recent years, with alternatives such as apprenticeships or trainee roles being "rarely discussed" as an option.
She said: "Without providing students with a good understanding of all the options available to them, some may find themselves graduating in a subject which is of no use to the career they want.
"Some graduates are perhaps finding that a trainee role would have provided them with the relevant work experience needed to give them an edge many expect a degree to have."
[Source:- Independent]