Both BlogSpot aka Blogger and WordPress are content management systems, and by logging into any of these sites, a person can publish his creations of the platform of internet. Although both of these places have their advantages and drawbacks, choosing one of them relies on the user who is expected to make a decision on the basis of existing pros and cons.
WordPress and BlogSpot are very popular blogging sites having a lot of registered users. All of the users and developers in these locations are connected and thus establish an integrated system which has its features. There are certain factors which delineate the difference between BlogSpot and WordPress and offer a better opportunity of judgment to the reader to make a contrast between two websites, Some of these factors are –
Blogspot and WordPress Ownership of Service
The controlling of BlogSpot may seem relatively straightforward. But when it comes to property, there are many loopholes in the website. BlogSpot is a content management system owned by Google, and hence its ownership lies with the company. Any change in the accessing status of the site is subject to the company's authority. In other words, Google can shut the blog site down whenever required or may stop the user from accessing the site.
WordPress, on the other hand, involves a hosting provider to host the blogging site. Due to an web hosting provider, the profile is entirely under the control of the user. He can choose to regulate the pattern in any manner of his choice and can even close it as and when required. Moreover, the user has the authority to customize his data sharing settings, i.e. he can decide upon the information he wants to share with a third party.
Website Control and Regulation
If you want to have a task oriented blogging site, BlogSpot is probably not the option for you. The site offers very limited tools at your exposure which only let you perform particular tasks. Apart from this, you cannot customize the tools or extend them as per your requirement.
WordPress being open source software makes it possible for the user to add new features to the blogging site. There are numerous WordPress plug-ins available which facilitate adding a new store to the website or crafting portfolio or other functions to broaden and modify the existing default services and wordpress seo tips.
Website Appearance and Personalisation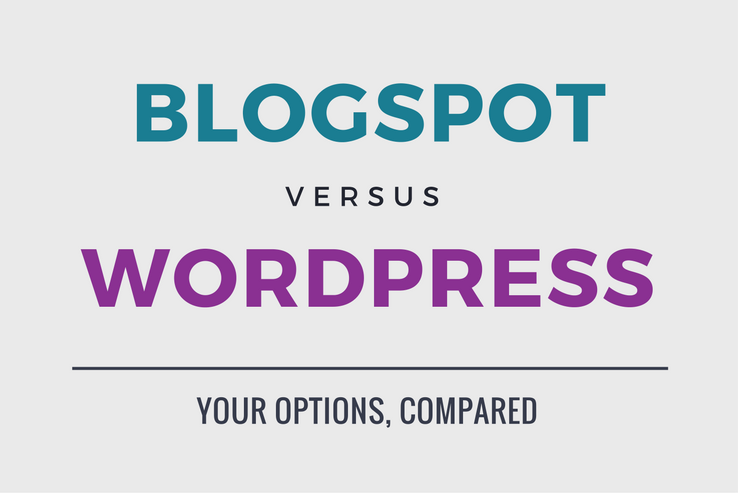 On BlogSpot, although one can use the built-in tools for personalizing templates, one cannot create new layouts. Thus, it is only possible to modify the pre-available templates by changing their colour and design. To those who might explore a little more, there are some non-official templates as well, but they lack quality and structure.
In WordPress, there are several free premium WordPress themes which provide an edge to the website and give it a professional touch. There is a suitable theme for every kind of website. So irrespective of your genre, you are always going to get a theme just about right for your site.
Security Issues
It is where BlogSpot seems to have an advantage. Because of being a Google platform, BlogSpot has a robust security system, managing the server's resources without involving the user. It means that the user does not need to create a backup or secure the blog etc. Check the latest blogspot news.
WordPress, however, makes the user responsible for security factor. The reason for this is that it is a self-hosted solution, and a user is solely liable for issues of safety. Even though, WordPress is quite a secure website and can surely be preferred over other blogging sites.
Transferability
There are many impediments which make the transfer of site from BlogSpot to another address a complex task. There is a potential risk of losing SEO, subscribers, followers and search engine rankings while making the transfer. Even after successfully exporting the user content from BlogSpot, the data exists in the server of Google for a long time.
While using WordPress, one can transfer the website to any other host, move it to any other content management system or even change the domain name. It ensures that the user has complete transferability options. Above and beyond, WordPress has better SEO advantages to offer than BlogSpot.
Support
There is not much support expected for a user on BlogSpot. The documentation and user's forum of the blogging site are very basic in structure and leave the user with very limited support choices.
WordPress has an excellent support system. It has a well-defined support providing framework consisting of community forums, IRC chatrooms, and online documentation. A user can get the needed help from all of these platforms by experienced and expert WordPress developers and users. Besides the community support, outside companies also offer support services for WordPress.
Prospect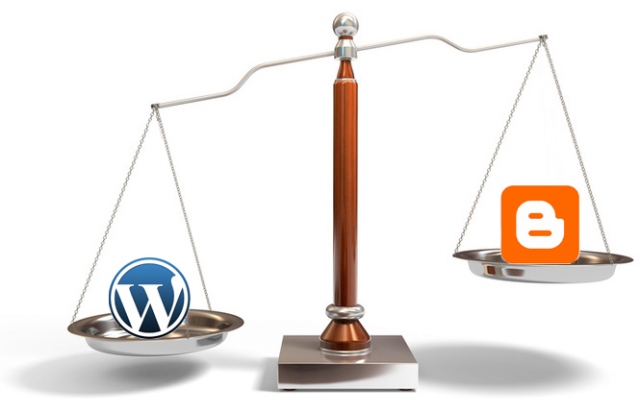 Tracing the earlier manipulation of Google of its distinguished services, it has been found that many programs like AdSense, Google Reader, and FeedBurner have been shut down by the company. The future of BlogSpot, like all of these websites, also lies upon the enterprise, which can choose to do what it wants. It may continue to keep BlogSpot in operation, or it can close it. It might cause trouble for the existing bloggers on the site.
On the contrary, WordPress has an existence independent of an individual or a company. It is open source software developed and managed by the community of users. There are some business systems around the world having their content management system existing on WordPress, which give the assurance of its perpetuity.
The above comparison guide is provided for the purpose of making the reader understand why WordPress needs to be chosen over BlogSpot. The distinction drawn is based on various observed facts related to both the blogging sites and gives an insight into the working mechanism of WordPress as well as BlogSpot. Before selecting a platform to publish your blogs, it is crucial to find out which is going to be more apt for your requirements.
Cloud Axis is one of the best hosting provider with managed hosting services they are providing , you can contact them at the toll free no. 1800-2000-980 or +917278665321 and get your website hosted at Cloud Axis , Their dedicated support team are always ready for your service.