There's been tons of buzz surrounding the battle betweenhotels and home-sharing services of late, with several studies pitting Airbnb against the hotel industry.
But a new study from bus travel booking website Busbud reveals there are pros and cons to each when it comes to pricing.
Busbud analyzed approximately 220,000 Airbnb listings and average hotel rates on Hotels.com over the first half of 2015 to examine how hotel and Airbnb rates compare in 22 major cities around the world.
The study found that the average Airbnb listing was cheaper than the average hotel room in 16 of the 22 cities.
But when it comes to North America, hotels tend to have the edge in the South, with Austin, Texas; Nashville; New Orleans; San Diego and San Francisco all reporting cheaper average hotel rates.
In Austin, hotels were found to be cheaper by a whopping $126.24 on average, while Airbnb listings were discovered to be on average $3.49 more expensive than hotel rooms in San Francisco, Airbnb's hometown.
While hotels beat out Airbnb in terms of cheapest average price in five U.S. cities, Airbnb was found to be the cheaper option in all but one of the European cities Busbud examined.
In Barcelona, the average hotel room rate was $139.42 cheaper than the average Airbnb listing, while in London, Airbnb listings were found to be on average $108.29 cheaper than hotel rooms.
READ MORE: Airbnb vs. Hotel: Which is Right For You?
Busbud also compared average rates in Sydney, Australia, where Airbnb listings were uncovered to be nearly $45 cheaper than hotel rooms on average.
While Airbnb listings were discovered to be cheaper than hotel rooms in nearly three-quarters of the cities Busbud analyzed, the difference in cost in a majority of destinations was less than $100.
Here's how the rate difference breaks down for all 22 cities: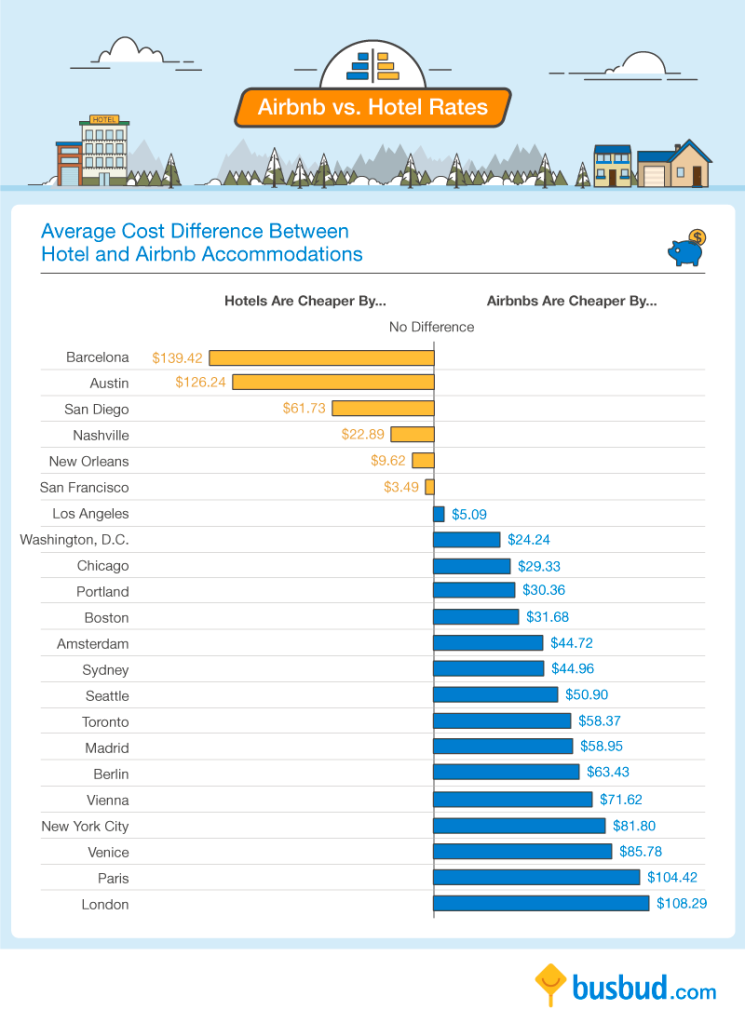 [Source:- Travelpulse]