This year's winner, King's College London's Sierra Leone Partnership, developed a strategy that helped save lives in the Ebola outbreak in Sierra Leone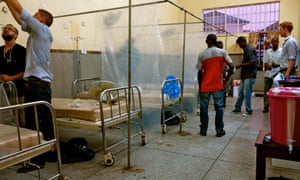 Winner: King's College London
King's Sierra Leone Partnership (KSLP) has played a vital role in the Ebola response in Sierra Leone.
The partnership has delivered projects to strengthen training, clinical services and policy in Sierra Leone. The work is underpinned by outstanding research. It is a collaboration between a number of bodies: King's Health Partners (a partnership between King's College London and three NHS foundation trusts – Guy's and St Thomas', King's College Hospital and South London and Maudsley), Connaught Hospital (the main referral hospital in Sierra Leone), the College of Medicine and Allied Health Science (COMAHS), which is the key public medical training institution, and the Ministry of Health and Sanitation (MOHS).
In spring 2014, following the Ebola outbreak, in Sierra Leone the KSLP became involved in a major humanitarian response – and was one of the few organisations not to leave the country. Initially, it supported the construction and training for the Isolation Unit at Connaught Hospital, which became one of the busiest response units in the country. The unit in Connaught has seen over 1,100 patients, of whom more than 650 have tested positive. KSLP worked with partners to set up new isolation units at government hospitals, mobilising construction teams and conducting on-the-job staff training at Connaught.
From Connaught, KSLP has developed a network of international volunteers, trained 50 national staff to be part of the response, and built and supported six isolation units in secondary hospitals nearby. These are now solely run by Sierra Leoneans.
The new medical curriculum that KSLP helped to develop is to be implemented once COMAHS reopens, and donations of dental chairs and computers will help strengthen clinical services and training. The triage system for Accident and Emergency at Connaught, and the pilots KSLP had put together for free emergency drugs and improved surgical training, will continue to be implemented. KSLP has developed a new plan of work with its partners, and will be working with them to strengthen the health system, to prevent such an outbreak happening again.
Runner up: University of the West of England, Bristol
Over 83% of international students choose UK study in order to get a good job, so employability is an important factor in their choice of university.
The University of the West of England (UWE) produced GradLink UK, a careers website designed for international students studying in the UK. Given current work visa restrictions, GradLink has become an essential tool for thousands of international students, not just at UWE, but at universities throughout the UK, enabling them to link with employers across the world. GradLink includes jobs, internships, advice, case studies, and a bespoke CV building and submission service. It is completely free to all.
Since it launched in June 2013, more than 110,000 people have visited GradLink. Since April 2014, over 700 students from over 100 UK universities (including every Russell Group university) have placed their CV on GradLink's Go-CV! database. Several international students register on GradLink every day. More than 250 major overseas employers are involved with GradLink.
Runner up: University of Manchester
The university established In Place of War (IPOW) in 2004. The programme researches and supports artists living in sites of war, revolution and conflict. IPOW encompasses world-class academic research, digital neworks, creative entrepreneurialism, artistic production and cultural spaces.
In June 2014, IPOW developed a new experimental project called Emergencia. With Brazilian partners Fora do Eixo, Emergencia considered the immediate cultural responses and actions in response to war, revolution and conflict and the rise of new social, political, economic and cultural contexts in an age of digital connectivity.
Funded by an ESRC Impact Award, Emergencia enabled the university to bring together international artists and creative entrepreneurs from conflict zones in a conference in June 2014. Fifteen UK-based academics and producers worked with 12 participants from IPOW's international network of artists. Participants were able to apply different international perspectives to find new opportunities for research, creativity and social engagement. The result was a new global Creative Entrepreneurial Programme rolled out throughout 2015.
[Source:- The Gurdian]