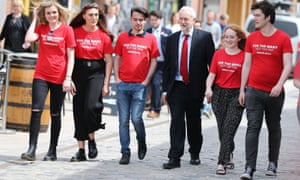 You are right to highlight how our universities are under threat from Brexit, creeping privatisation and the government's dogged determination to reduce net migration (Editorial, 30 May).
Higher education makes an invaluable contribution to our economy and society, and has a crucial role to play in developing the highly skilled workforce upon which future growth depends.
By its very nature, higher education is international, and the exchange of knowledge across borders is critical to its success. If we are to preserve our global reputation for excellence, our institutions must be unencumbered when it comes to attracting and retaining overseas staff and students.
The government's refusal to remove international students from the net migration target and guarantee the rights of EU staff and students after Brexit is therefore frustratingly counterproductive. It sends a deeply damaging message that international talent is not welcome in our universities.
The damage caused by limiting the recruitment of international students is further compounded by recent legislation paving the way for unscrupulous for-profit providers to crowd out established institutions.
Theresa May is the self-styled strong and stable candidate, but her stance on these issues is creating a huge level of insecurity in the higher education sector.
In its manifesto, Labour has started a welcome debate about alternative ways to fund education that would provide much greater funding stability to institutions, ensure that business pays its fair share for a skilled workforce, and wouldn't leave students facing a lifetime of debt.
Providing the right conditions for our universities to flourish must be a top priority.
Sally Hunt
General secretary, University and College Union 
• Your leader is misleading in saying that graduates on lower incomes are exempt from repaying their loans. While it is true that this applies to those earning less than £21,000, a nurse or teacher on, say, £30,000 – hardly "high earners" – will never repay their loans but incur a 9% tax surcharge throughout their careers, which will just about cover the interest charges, for the privilege of being educated to degree level. In the meantime they will carry the psychological and practical burden of an unpaid debt of around £40,000.
Even for high earners who will eventually pay off their debt there are unfairnesses. Very high earners will pay off their debt more quickly than those earning less, who will therefore have to pay more over their lifetime. (The rich, of course, will simply pay off their debt with a lump sum and pay no interest.) So the policy is severely regressive. If it is true that graduates earn more then they will pay more income tax anyway, and by that means contribute to the cost of their education through an efficient method of tax collection. The arguments for abolishing tuition fees are strong, but if the argument is lost then a compromise might be to make the loans interest-free.
Professor Emeritus Norman Gowar
London
• Labour's £11bn bribe to teenagers and their parents is just the latest example of the majority poor subsidising the better-off minority. Apprentices, FE students and those returning to education are far more deserving of state aid. Where action is needed is in cutting the usurious rates of interest charged, to just a few points above minimum lending rate.
Jonathan Hunt
London
• As academic and related staff across 80 UK higher and further education institutions, we are appalled at the proposed staffing cuts at the University of Manchester (Report, 13 May) including but not limited to the School of Arts, Languages and Cultures, the Faculty of Biology, Medicine and Health, and Alliance Manchester Business School. The proposals mean that 171 members of staff are set to be axed despite annual income from tuition fees exceeding £423m (2015-16). The way in which these cuts are being made and the treatment of these committed teachers and respected scholars is abhorrent.
Unfortunately these plans are resonant of a higher education system now rooted in the market and underpinned by rampant managerialism that has little interest in critical public and inclusive education and a general disregard for the views or experience of academic staff. At the same time as cutting 171 jobs, the university plans to create 100-plus posts for early-career academics. In our experience these positions are unlikely to offer security in contractual terms or opportunities to pursue scholarship.
In the context of Manchester University's plans and our own current experience in universities, the necessity for a government committed to an alternative model of higher, further and adult education which will abandon a system based upon crude market competition and league tables and abolish student fees and debts has never been more urgent.
Prof Paul Brook University of Leicester, Prof Sian Moore University of Greenwich, Prof Phil Taylor University of Strathclyde, Prof Catherine Pope University of Southampton, Prof John Holmwood University of Nottingham, Prof Shirin Rai University of Warwick, Prof Richard Hyman LSE and 211 others
• You highlight shocking findings by the IFS on education spending (Schools will face real-terms cuts for years under the Tories, thinktanks say, 26 May). Conservative plans will see a 3% reduction, while Labour pledges a 6% rise over the next parliament.
As a parent with a keen interest in education spending over the coming years, I find this difference staggering. We must infer that the Conservative party is both shameless and fearless in its commitment to ongoing austerity at the expense of our children.
Following the heartbreaking terrorist attack in Manchester, it is imperative that adequate resources are in place to nurture our young people growing up in such challenging times. So why are the Tories ignoring the pivotal role that our education system has in this struggle to build a tolerant society where hatred is dealt with at the earliest opportunity before it is too late? Time for another U-turn, Mrs May.
[Source"timesofindia"]