A Palestinian woman who grew up as a refugee and who now teaches refugee children has been awarded with a $1million (£707,000) global prize for reaching excellence.
Hanan al-Hroub, who teaches primary school children in the West Bank city of al-Bireh, just outside of Ramallah, was handed the second annual Global Teacher Prize which recognises an individual who has made an exceptional contribution to the profession.
The Pope announced Ms al-Hroub – who teaches about non-violence – as the winner in a video message while Prince William also sent his congratulations.
"I feel amazing and I still can't believe that the Pope said my name," al-Hroub told The Associated Press. "For an Arab, Palestinian teacher to talk to the world today and to reach the highest peak in teaching could be an example for teachers around the world."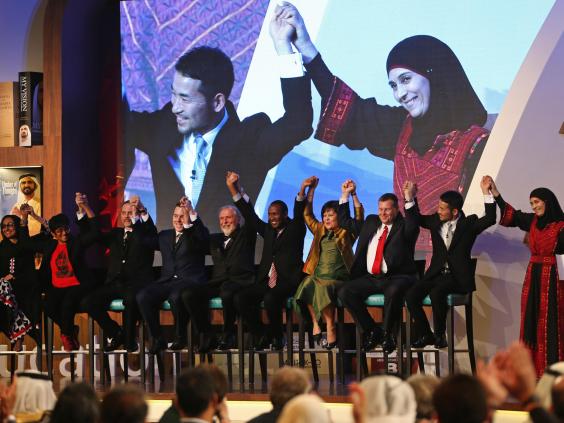 In her acceptance speech, Ms al-Hroub repeated her mantra of "No to violence" and spoke of the importance of having dialogue.
She said: "I am proud to be a Palestinian female teacher standing on this stage," the BBC reported, and has promised to spend the prize money on creating scholarships for students who excel to encourage them to become teachers.
Palestinian supporters in the crowd flew the country's flag and chanted: "With our souls, our blood, we sacrifice for you Palestine".
Ms al-Hroub grew up in a Palestinian refugee camp in Bethlehem. She went into teaching after her children witnessed a shooting on her way home from school, which made her think about how teachers can help children who experience trauma.
She educates children about non-violence and has written a book called "We Play and Learn," which focusses on the importance of playing, trust, respect, honesty and literacy.
Her win comes at a time of heightened tensions between Israel and Palestine, where months of violence has led to the death of 28 Israelis and two Americans at the hands of Palestinian civilians, while Israeli forces have killed at least 179 Palestinians, the majority of which were claimed to have been attackers.
Ms al-Hroub was one of 10 finalists flown to Dubai for the ceremony. The other finalists for the Varkey Foundation prize were from Australia, Finland, India, Japan, Kenya, Pakistan, Britain, and the United States. The British nominee, Colin Hegarty, is a maths teacher in London who created a special maths website with interactive online lessons.
[Source:- Independent]