Entertainer Ronnie Corbett, best known for BBC comedy sketch show The Two Ronnies, has died aged 85.
His publicist said: "Ronnie Corbett CBE, one of the nation's best-loved entertainers, passed away this morning, surrounded by his loving family.
"They have asked that their privacy is respected at this very sad time."
Corbett was one of the UK's best-loved comedians and along with Ronnie Barker, their double act was one of the most successful of the 1970s and '80s.
The entertainer had been suffering from ill-health for some time and had been in hospital in 2014 with gall bladder problems.
Reaction to Ronnie Corbett's death
Ronnie Corbett's best jokes
Life in pictures
Following Barker's death in 2005, Corbett continued to be regular fixture on UK TV and is perhaps best-known for his armchair "shaggy dog" sketches.
His most memorable solo projects include the sitcom Sorry! and the game show Small Talk. He most recently starred in the BBC Radio 4 sitcom When the Dog Dies.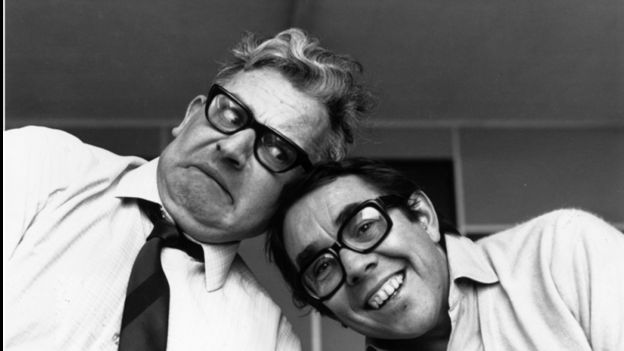 'Huge talent'
Former BBC chairman Michael Grade has spoken of his sadness at the loss of Corbett, who he described as a "huge talent".
He told the BBC the entertainer was "one of the all-time greats of British comedy, no question – I'm so sad for [his wife] Anne and the family – and the nation, really. We've lost a great friend and entertainer.
"He learned his craft the hard way. He was a master of comedy of all kinds – TV, cabaret, variety. The most wonderful man."
Scottish-born Corbett started his TV comedy career on David Frost's satirical comedy the Frost Report in 1960.
It was here he first worked with Barker, although they had met before, and formed the duo whose TV sketch show became a British TV classic, regularly cited by the public as one of their enduring favourites and by other comics as a big influence on their careers.
The Two Ronnies ran from 1971 to 1987 and saw the comedians take part in musical performances and sketches.
Speaking to The Telegraph about how well they got on in 2013 he said of Barker: "We were a real couple with matching tastes and styles.
"Of course we were quite different but somehow we fitted so well together. I think it's a more pleasant and palatable thing to see people being funny together because you're touching areas of truth. Dinner parties or falling out with people – it's the naturalness of it."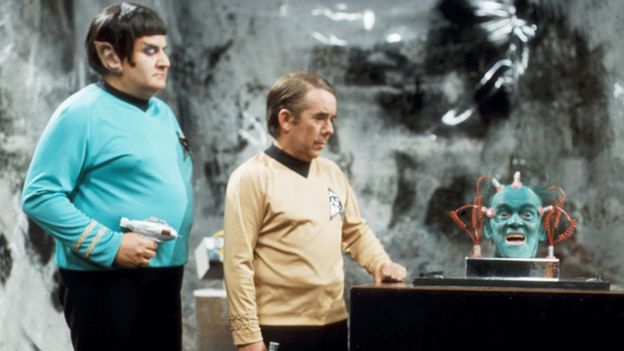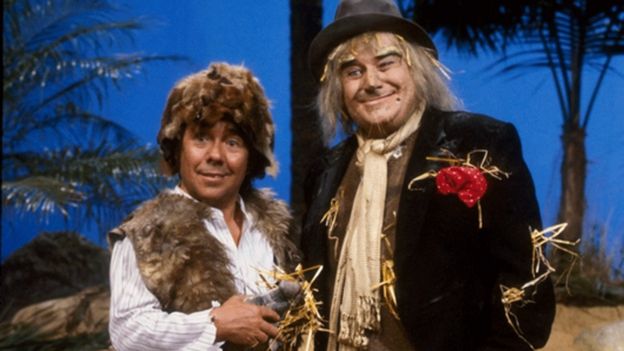 Born in Edinburgh on 4 December 1930, Corbett was educated at the James Gillespie School and the Royal High School, Edinburgh.
He did not attend university after leaving school and instead joined the Ministry of Agriculture.
After two years overseeing animal-feed rationing at the ministry in Edinburgh, and National Service with the Royal Air Force, Corbett moved to London where his first roles were playing schoolboys due to his diminutive height of 5'1″.
Corbett also started to do summer seasons, intimate revues and running the bar at the Buckstone Club off Haymarket, central London, which is where he first met Barker.
He met his wife, the actress and singer Anne Hart, while working at Danny La Rue's Club in London.
It was here he was spotted by Frost who invited him to join Barker and Monty Python star John Cleese in The Frost Report, one of the most influential TV shows of the 1960s.
"David turned my life around," Corbett said later.
Corbett is survived by his wife, with whom he celebrated his golden wedding anniversary last year, and the couple's two daughters, actresses Emma and Sophie Corbett.
[Source:- BBC]