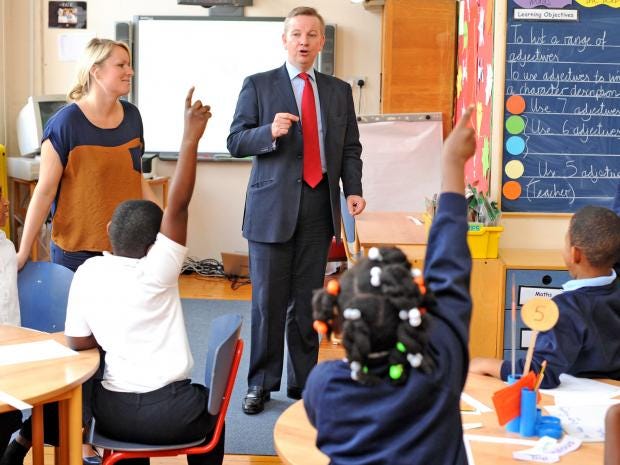 Struggling academies and free schools are to face a crackdown amid concerns about the quality of some chains, England's new schools tsar has revealed.
Sir David Carter, who was appointed National Schools Commissioner in December, used his first interview in the job to set out his plans to identify the 100 weakest academies and introduce a new hierarchical system for academy chains which would only allow the best to expand.
Sir David announced his plans in the week that the government's Education and Adoption Bill completed its passage through Parliament, paving the way for many more struggling schools to be turned into academies.
Controversial measures in the Bill will speed up the conversion of failing and coasting schools to academies. Ministers argue that bureaucracy and delaying tactics have made it difficult for academy sponsors to take over underperforming schools.
There are already 5,000 academies and free schools across the country but the Government would like  more schools to become academies. However, critics have argued that some academy trusts have been allowed to expand too quickly resulting in some academies failing to thrive.
Earlier this month England's largest academy chain AET was condemned by Ofsted for "failing too many pupils". Inspectors warned that half of pupils in the chain's secondary academies were in schools that were "less than good" and that poorer pupils did "particularly badly" in AET schools.
Under Sir David's plan, academy chains or multi-academy trusts will be organised into four levels based on the number of schools under their control. They will have to undergo new assessments before being allowed to expand to reach the next tier. The biggest chains will be directly accountable to Sir David and known as "system leader trusts".
Sir David said that he wanted to bring some "rigour" into the expansion of academies.
Academies are independent state-funded schools, which receive their funding direct from central government rather than through a local authority. Although an academy's headteacher is responsible for the day-to-day running of the school, it is overseen by a charitable body called an academy trust, and can be part of an academy chain where one trust oversees many academies.
Christine Blower, general secretary of the NUT teaching union, said Sir David's comments demonstrated that academies did not in themselves raise standards. She said: "The fact that Sir David is targeting 100 academies for improvement is a clear indication that academy status does not in itself improve education, and in many cases achieves the opposite effect."
In comments that will be widely seen as an attack on Ofsted and its head Sir Michael Wilshaw, Sir David told the TES: "Our job is to look at a much broader picture than just the Ofsted inspection. I think if we base the success of an academised system purely on Ofsted judgements, then we miss a real opportunity here because a good school is often more than the sum of its Ofsted parts."
Sir David said that the role of regional schools commissioners was "in some respects" more significant than that of Ofsted. He added: "I think there will always be a need for parents and taxpayers to have some independent regulatory body that tells them how good their school is. I just think that the inspection system needs to catch up with where we are in the education system."
[Source:- Independent]