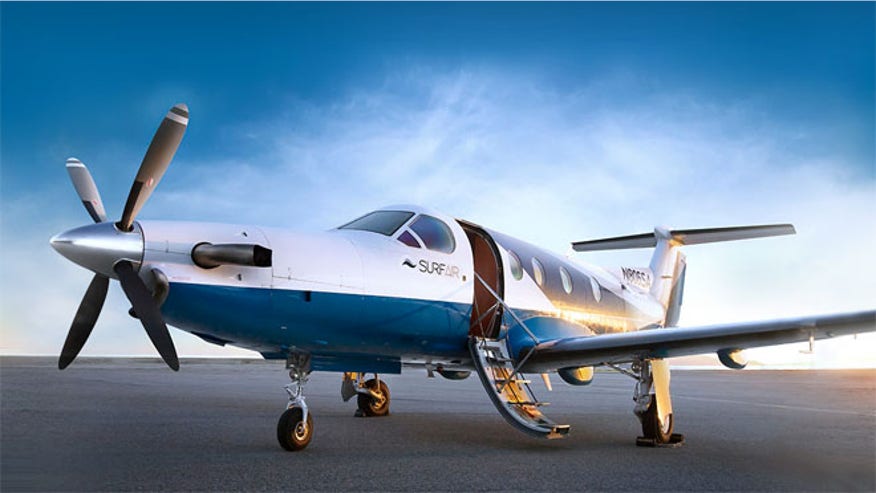 Surf Air, a new subscription-based airline, has taken flight in California.  It serves secondary markets and offers a unique alternative to traditional commercial aviation, as well as private aviation.
Instead of buying an individual airline ticket on a traditional carrier, Surf Air requires a monthly subscription of $1,750.  It gives travelers unlimited flights in its network, which is currently limited to California and Las Vegas via a partnership with a different company.
Other perks include free parking, bypassing TSA security and good seats, as every seat is both a window and an aisle.
The limited nature of Surf Air is the biggest drawback at this time, since only Californians can utilize it.  It is best for business travelers who might frequently drive between two markets and now have a different, cost effective option.  In the end it comes down to frequency of travel to determine if it makes dollar sense.
The nature of the subscription pricing and the markets that Surf Air serves will limit the audience for its services.  Other than business owners, Surf Air has been attracting second homeowners who utilize the service to make the most of their vacation home investment.
Is it worth it?
Unless you fly every week, the economics of Surf Air is worse than flying airlines like Southwest in the region.  The frequency of flights can also be a drawback when compared with legacy carriers like Southwest.  Compared to traditional private jet travel, though, Surf Air is a bargain.  Private jet travel from companies like NetJets is reserved for CEO's of companies and high net worth individuals.  A one-way flight between NJ and Florida will start at more than $12,000 for a small, four-seat jet, putting private jet travel out of reach for even high earning individuals.
The NetJets Marquis Card provides25 hours of flight time on your choice of jets.  For one that utilizes a smaller plane, with less range, the prices start around $125,000, another reason why Surf Air is an incredible bargain compared to traditional private jets.
The big tradeoff with Surf Air vs. private jet travel is sticking to a schedule instead of simply requesting a plane on a specific day and time.  In that way, it's not much different than commercial carriers.  The two big differences are the subscription model with the ability to fly an unlimited number of segments and the markets they serve.
["source-foxnews.com"]