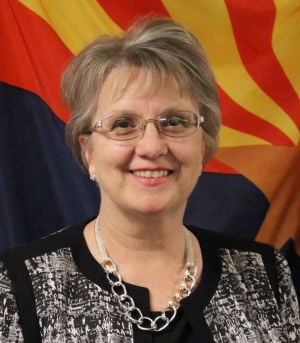 The state Board of Education gave schools chief Diane Douglas until the end of the day Tuesday to give its investigator unfettered access to teacher records or face the threat of litigation.
Today's 7-1 vote came after Christine Thompson, the board's executive director, said her investigator lost the ability to view the records online following the move of the board staff out of Douglas' office on May 9. The result, she said, is the investigator has to not only go to the education department offices but has been barred from removing the files.
What that does, she said, is slows to a crawl the process of not only certifying new teachers but rescinding the teaching certificates of those who have committed offenses that should keep them out of the classroom.
"This is an illegal vote," Douglas said in casting the one dissent.
The vote comes just three days after Douglas filed her own lawsuit asking Maricopa County Superior Court Judge Patricia Starr to rule that she, and not Board President Greg Miller, controls Thompson and the other 10 board employees.
Douglas also wants Starr to issue an immediate order directing the staffers, who moved out of the Department of Education at the direction of Miller and other board members, to return to her offices. And she wants the judge to rule that any employee who fails to comply can be fired.
The board voted today to fight that lawsuit.
Now, with the edict to Douglas, they are opening the door for yet another legal action. While the issues are somewhat different, the underlying fight remains the same: Is is the board or Douglas who controls the board employees.
["source-tucson.com"]