If you put technology and style together it comes down to these battle stars – Xiaomi Redmi Note 4G vs Yu Yureka Plus. When it comes to competition, Micromax makes sure that it leaves no stones unturned. It has always focused on delivering the high expectations at desired price and it's latest venture comes as no surprise,  yet again micromax has proven the point, "if you can do it, they can do it better". This time to match up to the Chinese giant's latest note category, micromax presented  Yureka in the market. With people speculating on the success of the performance of both the devices, there is much that both have to offer at the given competitive price.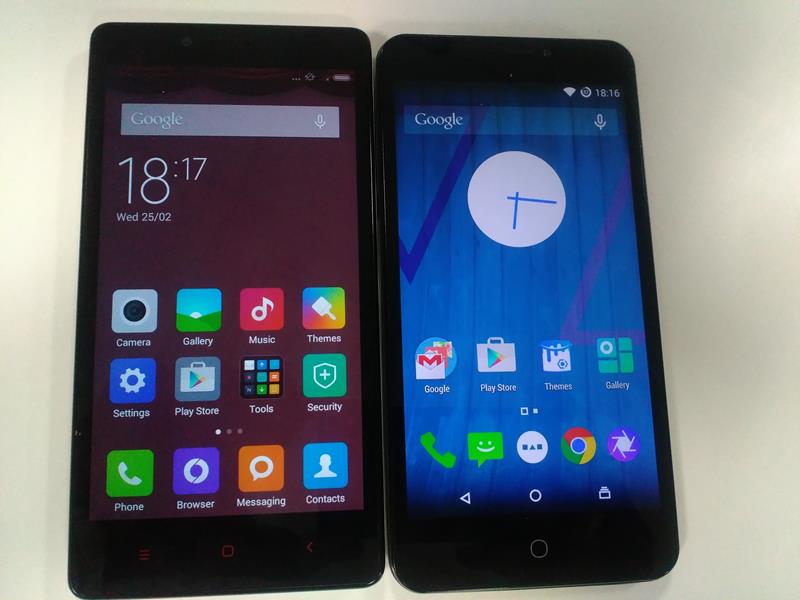 APPEARANCE                           
Lets begin with what catches the eye. The most eye catching feature of both the devices are its looks. On first glance both the mobiles appear to be trendy with  Yureka portraying dusty grey colour whereas Redmi note  comes in white. The texture of  Yureka is matt finish built which does not attack any fingerprints making it look premium and new all the time. Whereas, Redmi Note  is made up of plastic back cover body, it possess a glossy finish which gives it a shiny look. Both the mobiles are rectangular shaped with slight differences. On one hand,  Yureka with more rounded corners makes it pretty handy to hold in your hands, whereas, on the other hand Redmi Note  has small round corners which at its first glance makes it appear bigger than  Yureka. Given its bigger size it becomes a little difficult to hold the device for a longer period of time, especially when you are on a call.
PRICE AFFORDABILITY     
When it comes to price the  Yureka is launched at a price of Rs 8999 and Redmi Note  is priced at Rs 9999 at it's launch. With both phones fighting in the same segment category to win over same target audience, Yu Yureka plus's pricing strategy is a straight arrow towards the Redmi Note 4G. When the nature of customers' is price sensitive Yu Yureka plus wins a brownie point over the Redmi Note 4G.
USER COMPATIBILITY
Both devices are user friendly in terms of operations and handling. Yu Yureka plus weighs 155gms, while Redmi Note 4G weighs 185 grams. This makes Yu Yureka plus lighter than Redmi Note 4g. Both the phones have capacitive touch buttons below the display, give the touch buttons of Yureka are illuminated whereas that of Redmi is coloured in red. Both the devices have Corning gorilla glass 3 protection which resist fingerprints on the screen.
DISPLAY
Both the devices have 5.5 – inch (1280 * 720 pixels) IPS display with a pixel density of 401 ppi. Despite the given similarity, the display quality of Yu Yureka plus is more colourful and eye popping as compared to Redmi note. Since Redmi Note's screen is reflective it makes its visibility under sunlight, difficult. On the parameters of viewing angle, colour contrast, brightness, sharpness of picture and colour density are comparatively better in Yu Yureka plus.
CAMERA
Both the devices have 5 megapixel camera at the front and and 13 megapixel rear camera with a single LED flash. The Yureka has Sony RX1 sensor with 5P lenses whereas Redmi Note comes with Samsung sensor. Both devices are capable of recording videos at 1080p resolution at 30FPS, however Yureka can also record slow motion 1920p videos at 60FPS. When it comes to capturing moments Yureka captures more details and better quality picture even in low lightings.  
INBUILT
Again both the phones run on Android kitkat. The  Yureka runs oh highly customised Cyanogen OS version 12.0  and Android version 4.4.4 and Redmi comes with MIUI VI Rom based on Android 4.4.2 kitkat. Besides these, Xiaomi keeps on providing its customers with all the latest updates in the form of installations.
The connectivity of Redmi supports 4G with one sim at a time. The Yureka comes with two micro sim slots whereas Redmi has Regular sim slots. The Yu Yureka plus gears its power from Octa Core 64 bit Qualcomm Snapdragon 615 Processor and Adreno 405 GPU. Whereas, Redmi is powered by Quad – Core Snapdragon 400 Processor with Adreno 305 GPU. Both the devices have 2 GB RAM but in terms of performance Yu Yureka plus software runs way better in terms of performance than Redmi Note.
With all good features comes an exception but in the case Yureka it is not an exception. While gaming in Yureka, gadget heats up faster than the Redmi Note but the gaming experience is better in Yureka as it is supported by stronger Processor.
In terms of battery performance Yureka plus runs uninterrupted for 8 hrs maximum whereas Redmi Note runs upto 9 hrs. The battery capacity of Yureka is 2500mAh whereas that of Redmi Note 4G is 3100mAh.
Both the devices are close competitors in the given category and offer many similar features to their customers.