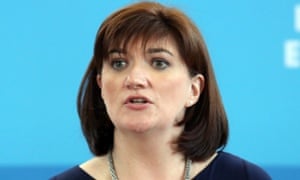 The education secretary, Nicky Morgan, has vowed to "sweep away bureaucratic and legal loopholes" obstructing the takeover of as many as 1,000 struggling local authority schools in England and their rapid conversion into academies.
The education bill published on Wednesday details how council-maintained schools rated as inadequate by Ofsted will have their legal options curtailed or removed, enabling the Department for Education (DfE) to more quickly replace their management and impose sponsors.
But the government has held back on its policy announced during the general election campaign to parachute new leadership into "coasting" schools, with the bill proposing plans to be subject to consultation over the summer.
"Today's landmark bill will allow the best education experts to intervene in poor schools from the first day we spot failure. It will sweep away the bureaucratic and legal loopholes previously exploited by those who put ideological objections above the best interests of children," Morgan said.
The bill will place a new duty on councils and governing bodies to actively assist the change in status.
"We want everybody to have a say," Nicky Morgan told BBC Radio 4's Today programme on Wednesday, "but there comes a point at which children's education has to be absolutely paramount and these are schools that often have been failing for not just months but often years and they've been in special measures for quite some time." She added: "We think that a day spent in special measures is a day too long where a child's education is concerned."
Asked whether the measures would stop parents voicing legitimate objections to their child's school being turned into an academy, Morgan said they would still be able to challenge decisions and "ask the questions". "The point is once you get into territories of judicial reviews and appeals and legal processes, all that's doing is slowing down the opportunity to turn around a school and to put in great [headteachers] and leadership."
Tristram Hunt, Labour's education spokesman, said it was "very depressing to see the government's partisan and divisive education policy continuing into this parliament".
He said: "These measures do not meet the challenges we face in education, such as preventing educational inequality setting in during the early years and ensuring high-quality teachers are attracted into poorly performing areas."
The DfE's statement on the bill highlighted the example of Downhills primary school in Tottenham, north London, which was the subject of a high-profile legal battle lasting two years over its enforced conversion into a sponsored academy.
"Campaigners put up barriers to the process through a series of repeated unsuccessful appeals and reviews, which caused unnecessary delays," the DfE said, arguing that the school's performance had "soared" since it became part of the Harris academy chain.
But Christine Blower, the general secretary of the National Union of Teachers, said: "Campaigners will not take any lectures from Nicky Morgan on social justice. There are academies deemed inadequate by Ofsted. A change in structure is not axiomatically the path to school improvement. It is irresponsible to tell parents otherwise.
"A pledge to convert up to 1,000 schools is as irrational as it is impractical. Headteachers are already in short supply, so the promise to sack more of them will simply exacerbate the problem. Where does Nicky Morgan imagine that new teachers and heads will come from?"
Russell Hobby, leader of the National Association of Head Teachers, said: "Parents who have campaigned against the opaque and centralised process of academisation will be dismayed to see themselves dismissed as obstacles to be eliminated."
The government's enthusiasm for academy status as a means of schools improvement is not shared by the Commons education committee. In its 2015 report on academies, the committee concluded that it was "still too early to know how much the academies programme has helped raise standards".
Becky Francis, professor of education at King's College London, said: "The evidence on whether or not academies have had more success in raising attainment than other equivalent schools is mixed, and hard to pin down."
Jonathan Simmons, head of education at the right-leaning Policy Exchange thinktank, welcomed the moves. But he warned: "The government should be equally tough on underperforming academies and academy chains – not being afraid to take schools away from poorly performing sponsors, and allowing schools the right to instigate their own moves between chains.
"Government will also need to work with schools – particularly high-performing secondaries and groups of primaries – and encourage them to become formal clusters and take on other schools, if the government ambition for all inadequate schools to become academies is to be realised."
["source-theguardian.com"]