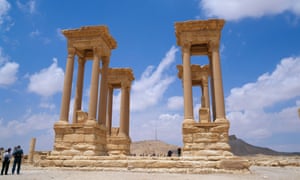 Islamic State militants have destroyed a tetrapylon and part of a Roman theatre in the ancient city of Palmyra in the group's latest attack on Syria's heritage.
"This is a horror film and we will see more of it, as long as the city is under their control it will remain a hostage," said Maamoun Abdulkarim, the country's director of antiquities.
"This is a scandal. Palmyra is occupied and there is no outrage from the international community. We are trying to protect a civilisation. It's beyond political considerations. There needs to be international solidarity."
Syrian and Russian forces reclaimed the city from Isis in March, only to lose it to a counter-offensive in December.
Isis first captured Palmyra, once a Silk Road oasis that boasted some of the best-preserved ruins of antiquity, in May 2015.
Militants rampaged through the city's museums and ruins, blowing up the 2,000-year-old towering Temple of Bel and the Arch of Victory along with other priceless artefacts. They also killed Khaled al-Asaad, a leading archaeologist.
Abdulkarim said on Friday Isis had destroyed the tetrapylon, a collection of monumental pillars on a raised platform near the ancient city's entrance, and part of the facade of the Roman theatre, where musicians from St Petersburg's Mariinsky orchestra had performed at a victory concert.
The antiquities directorate said he learned of the destruction 10 days earlier but chose not to release the details until the publication of satellite images by researchers from Boston University.
The head of the UN cultural agency described the destruction as a "new war crime and an immense loss for the Syrian people and for humanity".
"This new blow against cultural heritage … shows that cultural cleansing led by violent extremists is seeking to destroy both human lives and historical monuments in order to deprive the Syrian people of its past and its future," Unesco's director general, Irina Bokova, said.
The attack is the latest in a campaign by Isis against the region's heritage. The group has previously destroyed historic Assyrian sites in Iraq and other treasures in Palmyra.
Syrian archaeologists had transferred many artefacts including about 400 statues to Damascus to prevent further destruction if Isis returned, but many reliefs and buildings remained at the site and were vulnerable to destruction.
"As long as this Isis storm continues, I fear it will get worse," Abdulkarim said. "My heart is in those buildings."

[Source:- Gurdian]