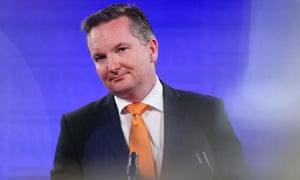 Labor is refusing to commit to restore long-term funding for health, education and foreign aid despite strenuously criticising the Abbott government's cuts in those areas.
The shadow treasurer, Chris Bowen, used a post-budget speech to the National Press Club on Wednesday to announce Labor would support $2.4bn in Coalition savings measures. He also ruled out reintroducing a mining tax in the first term of a Labor government.
Bowen said Labor would support the government's changes to the taxation of working and holiday visa holders, the abolition of the large family bonus, the removal of the zone tax offset for fly-in, fly-out workers, changes to work-related car expense deduction methods, and the "no jab, no pay" policy for children's immunisation.
GuardianWitness: How will Australia's 2015 budget affect you?
Read more
Labor was still considering the government's proposed changes to eligibility of part-pensions, which the opposition was more likely to support than the now-dumped proposal to cut the scale of periodic increases to pensions.
But Bowen carefully avoided committing to reinstate $80bn cut from projected health and education funding over the next decade – a long-term saving the Coalition revealed in last year's budget and which angered state and territory governments of both political persuasions.
Labor has repeatedly pursued the issue in parliamentary question time and the opposition leader, Bill Shorten, has labelled the hospital and school funding cuts as "savage" and "unfair".
Last month, Shorten said the government should "start stimulating business confidence by not slashing pensions, by not killing the financial position of the states by cutting $80bn from schools and hospitals".
Advertisement
Bowen indicated on Wednesday that Labor was likely to pledge to increase health and education funding above the Coalition's proposed levels, but the specifics would depend on talks with the states and territories "about their needs, going forward".
"Health and education will be better off under a Labor government – no question about that," he said.
"We will have a credible funding plan for health and education, but it would be irresponsible of me before going through and continuing that consultation program to go further than saying health and education will be better off under us."
At the 2013 election, Labor committed to the full six years of funding to phase in the Gonski school reforms, the majority of which would be delivered in the final two years. The Coalition committed only to the first four years.
Bowen said Gonski "runs through our DNA" because the needs-based system would improve opportunity for children regardless of their background "so you can expect our commitment to the Gonski ethos to run very heavily through our policy development and our policy announcements".
Labor was also keeping its cards close to its chest on specific commitments on foreign aid, an area that has been subject to cuts of about $11bn compared with previously earmarked amounts since the Coalition came to office.
The Labor party was previously committed to lifting foreign aid spending to 0.5% of gross national income by 2017-18 after previously delaying the target.
"Obviously we're deeply concerned about the impacts of the government's cuts," Bowen said on Wednesday. "What we'd need to do is talk to the sector … about what can responsibly be done to repair the damage that the Abbott government has inflicted."
In his speech in Canberra, Bowen said the government's second budget – delivered by the treasurer, Joe Hockey, last week – had exposed the Coalition's inconsistency and "hollow rhetoric" after its previous warnings about a "budget emergency".
Bowen reiterated Labor's opposition to family tax benefit cuts from the 2014 budget, which the Coalition has linked to its proposed extra spending on childcare in the 2015 budget.
But he sought to portray Labor as responsible financial managers, saying the party was "doing the hard work" of drawing up well-considered election promises "in contrast to the policy-free zone we saw under a Coalition opposition".
Bowen pointed to previously announced policies to rein in superannuation tax concessions for higher income earners and a tax crackdown on multinational companies, while acknowledging Labor still had more work to do on spending and revenue measures.
"We have made clear that our fiscal plan will contain more savings than spending over the decade," he said. "So far, Labor has announced spending of around $490m and $3.5bn of savings over four years."
Bowen's speech placed a heavy focus on innovation and entrepreneurship. He said a Labor government would convene an entrepreneurial council to advise the treasurer and place "the ideas and needs of entrepreneurs at the centre of economic policy making".
During the question-and-answer segment, Bowen ruled out reinstating a mining tax in the first term of a Labor government.
Bowen said a minerals resource rent tax – introduced by the Gillard government and abolished by the Abbott government – was based on a good principle at the time "but we do recognise that world has changed dramatically since then".
"We'd only implement it in our first term if we sought a mandate and I'm indicating to you we will not be seeking a mandate," he said.
Bill Shorten decries budget 'hoax' and reveals investment vision
Read more
Bowen's definitive comment strengthened previous indications from Shorten that a mining tax was not on Labor's agenda.
The opposition leader has previously said that any policy in that area would be pursued only after consultation with the states and the industry. In April, Shorten said a mining tax was not a live issue because "we already made it clear that wouldn't do anything without talking to the mining industry first".
["source-theguardian.com"]