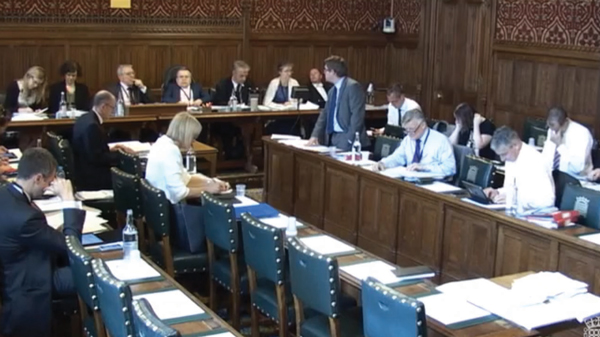 The government must have the power to warn schools about performance and safety standards because "obstructive" councils "block the process", says Nick Gibb.
But the schools minister was unable to give specific examples when MPs called for him to back up his claim.
Mr Gibb told the fifth committee hearing on the education and adoption bill that "there have been circumstances" in which councils refused to issue warning notices when directed to do so by the education secretary.
The committee must approve or amend all 12 clauses proposed for the bill. If passed, each will become part of education law.
Mr Gibb was dealing with clause two, which will give the education secretary and regional schools commissioners (RSCs) the power to issue local authority schools with warnings.
Current legislation allows councils to issue such warnings, and allows the education secretary to direct councils to do so. The central government power has been used just four times since its introduction in 2011.
Challenged by shadow schools minister Kevin Brennan on why powers to issue notices needed to be extended, Mr Gibb appeared to claim councils had stood in the way on more than one occasion.
He said: "There have been circumstances in which an obstructive local authority that does not want to intervene can block the process. That is why we are introducing these powers for the secretary of state to intervene directly without having to go through the indirect process of directing a local authority."
When pushed for examples, Mr Gibb said he was giving a "hypothetical example", but later referred to Henry Green Primary School in Coventry, where the council refused to issue a notice and launched a judicial review against the government's direction requiring it to do so.
He admitted the direction was later abandoned after the school's results began to improve on their own, adding: "We maintain that the action was lawful and justified at the time. It is a relief that the school's standards improved as a consequence of what happened."
Mr Brennan said Mr Gibb's contribution had raised "more questions than answers" and said that it would be "concerning" if local authorities were "deliberately obstructing the law".
Schools Week asked the Department for Education if more examples were available to support the minister's view, but did not receive a response.
Will Labour be able to change the proposed laws?
The committee stage of a bill gives MPs the chance to amend proposed clauses and vote on whether or not to include those clauses in the substantive bill when it appears for debate at the House of Commons for its third, and final, reading.
Labour MPs are outnumbered on the committee so, to avoid a long drawn-out process, Mr Brennan and his team have been withdrawing most of their amendments following the debate. As a result, the bill is unlikely to change.
However, Labour did try to re-insert a warning notice compliance period that would give schools 15 days to reply before intervention.
But Mr Gibb said it would be removed, and compliance periods left up to RSCs and councils due to a "need for flexibility", adding that he didn't "envisage there being a maximum".
"Local authorities and RSCs might want to allow more time for improvements to show up — for example, in exam results. That could be when a school was on a downward trajectory but new leadership had been brought in, or where a national leader of education is working with a school.
"On the other hand, regional school commissioners or local authorities might in some cases want to set the compliance period at less than 15 days—for example, to address a breakdown in leadership and governance or a threat to the safety of pupils and staff."
As discussions about clause two drew to a close, Mr Brennan branded it an "unnecessary further step towards centralising control over the school system in the hands of ministers".
He added: "The second power grab is at the expense of schools. All their rights previously written into legislation to object or appeal have been removed. If the bill passes unamended, we will now have a system in which the minister's diktat must be obeyed at all times without right of appeal.
"Surely it should be a presumption that people affected by a ministerial decision have the right to object and to appeal. Writing out such fundamental features of natural justice, as the bill does, should surely require evidence of a serious and unusual emergency."
At the end of Tuesday's hearings, clauses two, three and four remained on the bill. MPs were due to meet again yesterday.
The clauses so far
Clause two will give the education secretary the power to issue maintained schools with three different types of warning notice: performance, standards and safety ones. It also removes the current 15-day period currently allowed for schools to respond, giving councils or the education secretary, whoever issues the notice, to set the length of time they will have. It also removes the procedure under which governors make representations to Ofsted against a notice.
Clause three removes the same 15-day compliance period for teachers' pay and conditions warning notices, again allowing it to be set by the notice issuer instead. It also removes governors' ability to make representations on this issue to local councils.
Clause four gives the education secretary the power to require governors of maintained schools which are 'eligible for intervention' to begin the conversion process.
["source – schoolsweek.co.uk"]