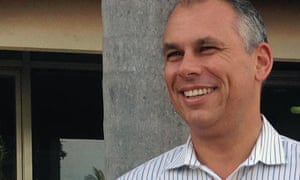 Police have launched an inquiry into a travel transaction booked by the Northern Territory's department of the chief minister, after uncovering an "anomaly" during an ongoing travel scheme fraud investigation.
Northern Territory police said their investigation into a pensioner and concession travel scheme had uncovered the anomalous transaction which "related to ministerial travel" within the department of the chief minister, Adam Giles.
"[A] preliminary inquiry has commenced between the NT police and the department of chief minister to determine if an offence has been committed," the statement said.
The inquiry is being carried out by the recently formed special references unit, separate to the investigation into alleged rorts of a pensioner and concession travel scheme.
Xana Kamitsis, the travel agent who ran Latitude Travel and was also the head of NT Crimestoppers, was arrested last year and has since been charged with more than 140 counts of fraud. She is yet to plea.
In estimates last week Giles refused to table documents detailing ministerial travel when requested by opposition leader Michael Gunner. After heated arguments, Giles began reading from the 33-page list of data, but then stopped, claiming he could not be confident it was accurate based on notes written at the bottom of the page.
Taking the question on notice, Giles said it would take two staff several weeks to gather the information.
A spokesman for Giles denied the police inquiry was an investigation into the chief minister's department, and told Guardian Australia the police were simply questioning the department as one of Latitude Travel's various clients, and requesting paperwork.
Advertisement
He said the police's identification of the anomalous transaction was the prompt for a government review into public sector travel processes and the use of travel agencies, announced late on Friday.
"The NT government will not turn a blind eye to unethical behaviour or stand by while illegitimate activities take place," said a statement from the department's chief executive, John Coleman.
"The government will stringently examine review recommendations for change within the NTPS in respect to public sector travel processes and enhance general training of staff relating to conflicts of interest."
Documents obtained under freedom of information reportedly detail government travel bookings of up to $700,000 through Latitude Travel, the NT News has reported.
On Sunday the paper reported a ministerial trip to Greece, costing $80,000 was also booked through Latitude travel. The trip, which reportedly involved five people, was to encourage Greek workers to travel to Darwin and fill skills shortages, but attracted just four participants.
In January the police commissioner, John McRoberts, resigned following allegations he sought to interfere with the investigation into Kamitsis, with whom he has a personal relationship. McRoberts is the subject of a number of investigations, including by the Australian federal police who are expected to soon report to special prosecutors in Victoria.
A police commander, Richard Bryson, was also suspended, pending investigation into his involvement. Last week the new police commissioner, Reece Kershaw, announced Bryson had been found to have breached the police code of conduct by not declaring a conflict of interest, and would be demoted to superintendent.
Bryson and Kamitsis have a "platonic" relationship, Kershaw said, and had met with each other in the US while Bryson was attending an FBI training course. But Bryson did not reveal the conflict until after the fraud investigation had begun.
["source-theguardian.com"]