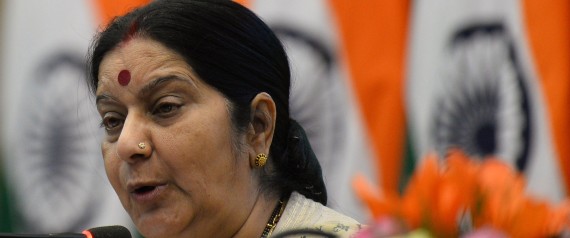 External Affairs minister Sushma Swaraj finds herself in a bind after Times Now news channel exposed email trails showing she had helped Lalit Modi, the controversial former chairman of Indian Premier League, being pursued in multiple cases by various Indian agencies, procure travel documents from the UK.
The alleged impropriety is serious because Swaraj's daughter Bansuri Swaraj worked as Lalit Modi's legal counsel and a separate email trail also shows that the minister's husband sought the disgraced sports administrator's help in securing admission for his nephew in Sussex University in the UK.
The expose is turning out to be the first major scandal for the Narendra Modi government, which has successfully steered clear of corruption allegations or other crisis of confidence during its first year.
On Sunday afternoon, BJP leaders backed Swaraj's explanation that she had helped Modi on "humanitarian grounds." "Sushma Swaraj has done the right thing, we justify it and the government stands with her," said Home Minister Rajnath Singh.
BJP President Amit Shah said that it wasn't a "moral" issue, but rather a case of an Indian helping out another Indian.
Swaraj tweeted this morning that she had helped Modi secure travel documents on humanitarian grounds as his wife was diagnosed with cancer and he had to travel to be with her for surgery.
Sometime in July 2014, Lalit Modi spoke to me that his wife was suffering from Cancer and her surgery was fixed for 4th August in Portugal. He told me that he had to be present in the hospital to sign the consent papers.

He informed me that he had applied for travel documents in London and the UK Government was prepared to give him the travel documents. However, they were restrained by a UPA Government communication that this will spoil Indo-UK relations.

Taking a humanitarian view, I conveyed to the British High Commissioner that :

"British Government should examine the request of Lalit Modi as per British rules and regulations. If the British Government chooses to give travel documents to Lalit Modi
– that will not spoil our bilateral relations."

Keith Vaz also spoke to me and I told him precisely what I told the British High Commissioner.

I genuinely believe that in a situation such as this, giving emergency travel documents to an Indian citizen cannot and should not spoil relations between the two countries.

I may also state that only few days later, Delhi High Court quashed the UPA Government's order impounding Lalit Modi's Passport on the ground that the said order was unconstitutional being violative of fundamental rights and he got his Passport back.

Regarding Jyotirmay Kaushal's admission in a Law course at Sussex University, he secured admission through the normal admission process in 2013 – one year before I became a Minister.
After the BJP-Modi government publicly defended Swaraj, the foreign minister denied wrongdoing.
["source-huffingtonpost.in"]