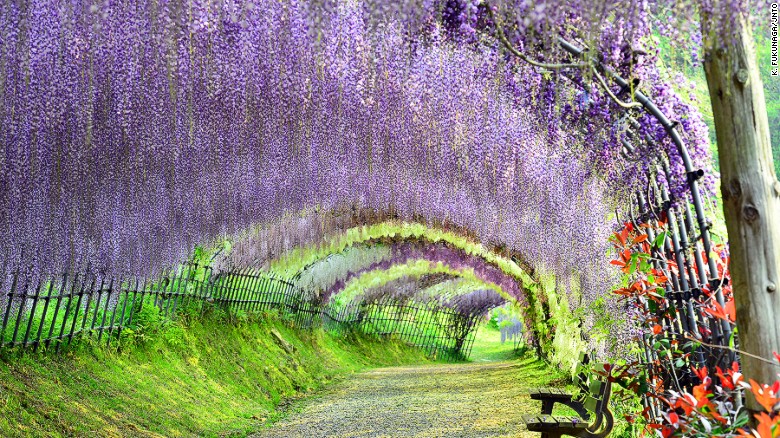 Looking to book an epic once-in-a-lifetime travel experience in 2016?
The world's top luxury travel specialists share the destinations they're most excited about and how to explore them in style.
Kyushu, Japan
The dollar hit a 12-year high against the yen in 2015, piquing the interest of many savvy travelers who saw an opportunity to get more bang for their buck in Japan.
"Travel to Japan is more popular than ever, and many of our travelers are returning to seek out new regions where they can experience Japan's incredible food, culture, scenic beauty and high level of service," said Ashley Isaacs Ganz, founder & CEO of Artisans of Leisure.
The U.S.-based luxury travel outfit is adding a new tour in 2016 that takes in the wonders of Kyushu, the southwesternmost of Japan's main islands.
"Kyushu offers Japanese favorites such as very luxurious ryokan (traditional inns), onsen (hot springs) resorts and UNESCO World Heritage sites, but also unique attractions such as revered ceramics towns, active volcanoes and Nagasaki, which has a beautiful setting and fascinating cultural history as the only international port operating for the 400 years that Japan was closed in the Edo period," Ganz explained.
Artisans of Leisure's 8-day Highlights of Kyushu trip stops in Fukuoka, Nagasaki, Kumamoto, Yufuin and Beppu, and departs daily in 2016 on a private basis for $11,535 per person (based on double occupancy).
Central Asia
In recent years UNESCO has invested heavily in turning the former Silk Road into a modern-day tourist trail in an effort to inspire the nations with which it crosses to preserve their cultural inheritance.
The first "transnational heritage corridor" through China, Kazakhstan and Kyrgyzstan joined the World Heritage List in 2014, and next up is the segment linking Uzbekistan with Turkmenistan.
Cox & Kings will offer a sneak peak at what's to come with a tour in 2016 following the path of the great caravans to the ancient Silk Road towns of Khiva, Bukhara and Samarkand.
"To reach these places sooner rather than later lets you discover a culture still linked to its past," said Scott Wiseman, president of Cox & Kings — The Americas.
Prices for Cox & Kings' 12-day Highlights of Central Asia tour from Ashkabad to Tashkent start at $7,725 per person.
Sabah, Borneo
Sabah, in Malaysian Borneo, is a nature enthusiast's dream with huge swaths of virgin jungle teeming with everything from orangutans to clouded leopards, bearded pigs, pygmy elephants and some of the world's last Bornean rhinos.
So why hasn't it struck tourism gold? Perhaps because this northern tip of the world's third largest island doesn't have the infrastructure in place for easy travel.
A new tour from Ker & Downey, however, will completely eliminate the need to bump along Sabah's rutted roads by enlisting the aid of a helicopter to whisk you up and drop you down into some of this tropical isle's most remote corners.
"What we've done is we've figured out a way to reveal a lot of Borneo's secrets by exploring it in a helicopter," said David Jones, vice president at Ker & Downey.
"We're going into the Danum Valley, we're going to the Kinabatangan River and we're going to visit the Dayak tribes in areas that are not commercial and where people have seen few Westerners before."
Ker & Downey will odder eight-day Wild Borneo by Helicopter tours in 2016 with prices starting from $38,080 per person.
Republic of Georgia
There's another slightly obscure destination that Ker & Downey has big plans for in 2016: The Republic of Georgia.
"I think Georgia is just going to explode onto the radar next year," Jones said.
"We're talking about 500 varietals of grapes, the origin of wine production in the world, stunning mountains, powder snow, castles and food that's just over the top," he enthused.
While capital Tbilisi's intoxicating mix of different cultures and ideas has long captivated travelers, the nearby Kakheti wine region and surrounding Caucasus Mountains are ripe for discovery.
Ker & Downey will offer a bespoke 8-day Georgian Panorama tour in 2016 that takes in the sights of Tbilisi, wine tasting in Kakheti and hiking in the Caucuses for $9,335 per person.
Colombia
Once known for its drug lords and guerrilla fighters, Colombia has rapidly re-branded itself as a safe and alluring destination for global travelers, welcoming 260% more visitors last year than it did a decade ago.
Katie Marshall, PR manager with active travel specialists Butterfield & Robinson, called Colombia "a country emergent."
"Despite its geographic standing as the puzzle piece linking the northern hemisphere with the south — and its access to two oceans — Colombia has also been little explored, leaving huge tracts of land unknown, ungoverned and unmapped," she explained.
Butterfield & Robinson has capitalized on increasing interest in Colombia with an action-packed tour in 2016 that will see travelers bike through Bogota, hike through cloud forests and coffee plantations and kayak in the clear waters off the Caribbean coast near Cartagena.
Butterfield & Robinson's 7-day Colombia Multi-Active trip from Bogota to Cartagena has five set departures next year with prices starting from $5,695 per person.
Kenya
The epic blockbuster "Out of Africa" commemorates its 30th anniversary this December and, to celebrate, travel companies are offering special trips to visit its stunning Kenyan settings.
The film not only won seven Academy Awards but it also sparked a huge boost in tourism to East Africa in 1980s.
The hope is that a renewed interest in the film can lure tourists back to Kenya after a spate of terrorist attacks in recent years, coupled with misguided fears over West Africa's Ebola epidemic, brought numbers to a trickle.
"The past few years have not been kind to Kenya … but the country is looking to 2016 with travel restrictions lifted from key areas and a renewed sense of optimism," explained Liz Harper of luxury travel specialists Abercrombie & Kent.
Abercrombie & Kent's new trip to Kenya will take visitors to the very spot where Meryl Streep and Robert Redford sat for their iconic picnic in the Masai Mara nature reserve — an image that was emblazoned on theatrical release posters the world over.
Prices for Abercrombie & Kent's 10-night Out of Africa trip from Nairobi to Tsavo, Lewa Downs and Masai Mara start at £6,640 ($10,100) per person (based on double occupancy).
Peru
Peru has long been a bucket list favorite thanks to its Incan wonders such as the mountaintop citadel of Machu Picchu.
But an increasing number of travelers are seeking out this South American nation to discover not only its historic treasures, but also its modern cuisine.
Lima alone is now home to three of the top spots on the latest ranking of the World's 50 Best Restaurants and global travel outfits have been quick to react.
"Absorbing the exceptional culinary flavors of Peru would be one of the highlights of the company's new tour to the country in 2016, which will have everything from 'a 'New Andean' feast at Huaca Pucllana — one of Lima's most celebrated restaurants overlooking the illuminated ruins of a pre-Inca pyramid — to a traditional Pachamanca feast," said Phil Cappelli, president of Insight Vacations.
Europeans dreaming up a trip to South America will have more access to Peru than ever before beginning in May 2016 when British Airways commences its first flights linking London with Lima since 1982.
Insight Vacations' 12-day Treasures of the Incas itinerary takes in Lima, Lake Titicaca, Cusco and Machu Picchu with prices starting from $6,016 per person.
Cuba
The re-opening of the U.S. Embassy in Havana this August signaled a new era in U.S.-Cuba relations, but it also set off a race to plant a foot (wet or dry) atop this frozen-in-time Caribbean isle before McDonalds, Starbucks and Pizza Hut take root.
Luxury tour operators like Western & Oriental reported a staggering 250% spike in bookings year-on-year.
"Travelers can sense it really is on the verge of opening up to mass tourism," said David Pointer, the company's Caribbean product manager.
"Flights, accommodation and car hire are in high demand and we encourage our clients to book six months in advance to ensure we can book them the trip they're after."
Western & Oriental will offer an 11-day UNESCO World Heritage Cities Of Cuba and Beach fly-drive vacation in 2016 that takes in Havana, Trinidad, Zapata Swamp and the beaches of Cayo Santa Maria, among others, for £1,775 ($2,703) per person.
The Arctic
Everyone from Pope Francis to U.S. President Barack Obama made sure that climate change was a topic of heated discussion in 2015, drawing increased curiosity from tourists to the oft-ignored northern extremes of our warming planet.
Harper, of Abercrombie & Kent, said interest in trips to the Arctic was absolutely "booming."
"This pristine wilderness of reindeer-grazed tundra, icy fjords and creaking glaciers is like a cleansing antidote to our overloaded modern world, while stories of climate change somehow make the region seem more important to visit," she explained.
Abercrombie & Kent will take intrepid explorers on an educational journey in 2016 to witness many of the places at the front lines of climate change.
An expedition cruise will sail from Norway's Arctic archipelago of Svalbard to the remote settlements of eastern Greenland before finishing up with the spectacular geological wonders of Iceland's northern coast.
Prices for the 15-night Arctic Cruise Adventure aboard polar expedition vessel Le Boreal start at £9,580 ($14,568) per person with a set departure on August 2, 2016.
America's National Parks
"America's best idea" turns 100 in 2016 and the U.S. National Park Service is gearing up for an action-packed year of centennial celebrations across the 59 National Parks it works to protect.
From the depths of the Grand Canyon to the toothy heights of Grand Teton, a number of luxury travel operators have focused their attention on the virgin wonders of the American West, offering new trips in the coming year to experience these rustic treasures in comfort and style.
Henry Lewis, founder and CEO of Vantage Deluxe World Travel, said his company has been offering national park trips for 25 years and is particularly excited for 2016.
"Our 14-day itinerary includes six nights within three National Park Lodges, so it's the perfect trip for those who haven't visited or want to revisit our great parks during this centennial year," he said.
Vantage Deluxe will augment its popular America's Treasures itinerary in 2016 to celebrate the centennial anniversary with stops at Yellowstone, Grand Teton, the Grand Canyon, Bryce and Zion, among others. Trips have set departures and start at $3,799 per person.
[Source:- CNN]