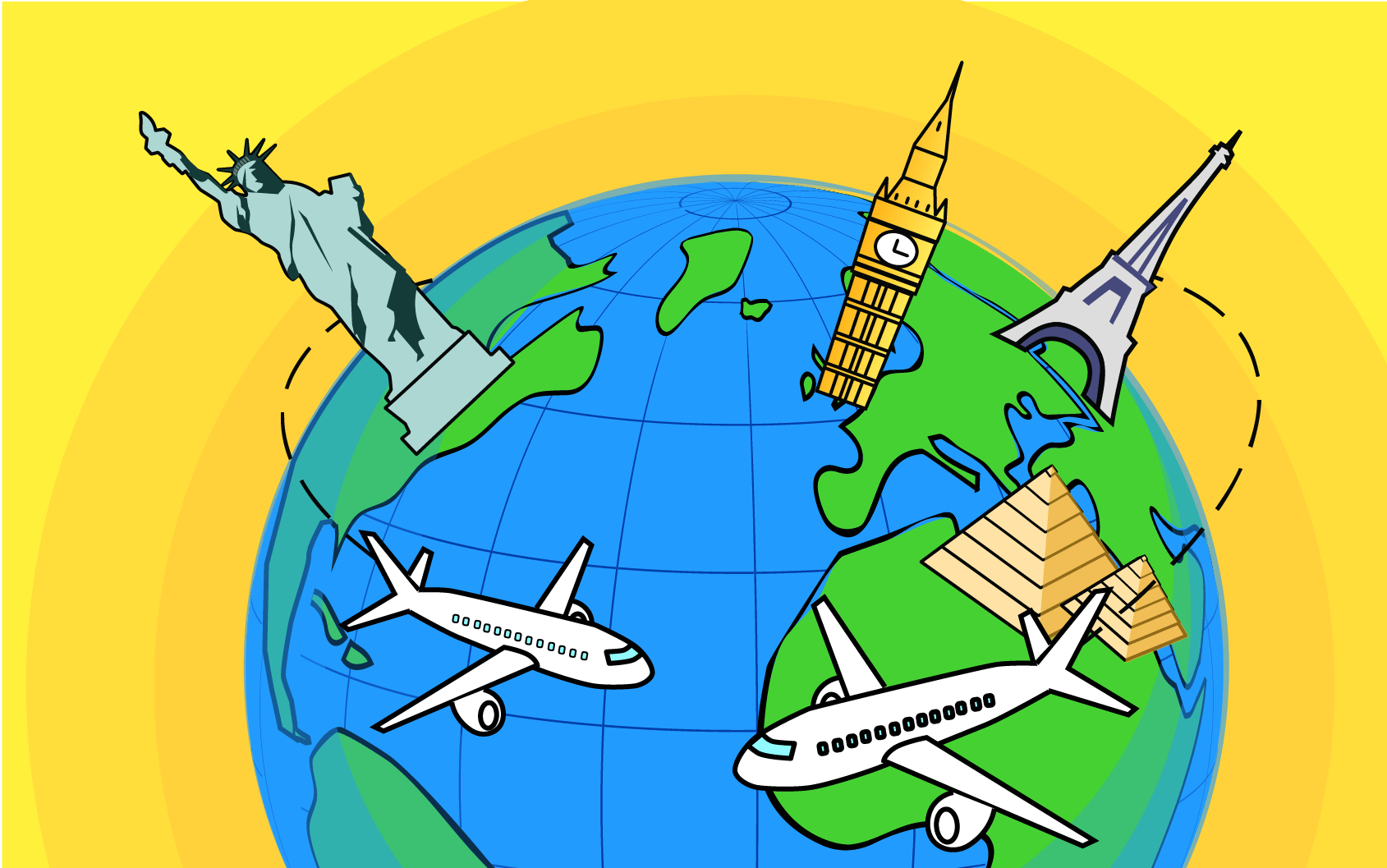 Most people who have a 9-to-5 job usually travel once or twice a year. However, some occasionally end up inspired by one of these trips and decide to embrace traveling as a way of life. Yes, I'm referring to travel bloggers who have often given up safe and profitable jobs to pursue their true passion and earn money by traveling the world.
If you're reading this and feeling butterflies in your stomach, this is the article for you. You can travel around the planet and get paid for it, but you'll need a solid blog to get started.
In this article, you'll be presented with a variety of top-rated travel blog examples that provide compelling travel content, attractive photos, and modern design to attract readers. If you're ready for your first lesson on how to become a travel blogger, pay attention to the rest of this article.
35 best travel blogs
When you start looking up travel blogs on the internet, you'll come across hundreds of different websites. That's why I have attempted to pick 35 of them that are currently active and growing. They are great examples of travel inspiration, guides, tips, and photography.
1. Salt in Our Hair
Follow Hannah and Nick, two creative travel bloggers from the Netherlands, who own and run the Salt in our Hair blog. This award-winning travel blog will get your attention with its fantastic travel stories, guides, and tips, accompanied by spectacular Instagram-friendly photos.
2. The Blonde Abroad
Kiki is a beautiful blonde who's been empowering women to travel solo for many years. Throughout her journey, this blogger has managed to visit over 70 countries and collect material for high-quality blog posts that focus on tips for female solo travelers.
3. The Travel Book
While this may seem like a travel couple's simple blog at first, it's actually much more than that. This blog will teach you how to travel and remain environmentally conscious at the same time. You can expect a lot of eco-friendly advice and travel tips from this travel blog while also learning about some of the most beautiful places on the planet.
4. TravelFreak
Jeremy is a travel blogger with an exceptional eye for photography. He's been traveling for more than a decade now, and his blog is like an art gallery where you will find extraordinary pieces featuring different kinds of scenery from the most diverse places. Check out his website and see for yourself why Forbes, New York Times, and Vanity Fair consider Jeremy worth mentioning.
5. Be My Travel Muse
Kristin is another solo traveler that's been exploring the planet for more than nine years. Her travel blog is one of the top websites of this genre, attracting more than five million readers per year thanks to her useful money-saving tips and stories about wild adventures.
6. Adventurous Kate
According to Kate, every woman can travel the world on her own after completing thorough research about a place. Still, in order to help you skip the daunting task of investigating a destination for hours, Kate has prepared a variety of guides that'll make your female solo trip to almost any country in the world as easy as ABC.
7. Nomadic Matt
If you want to find out how to travel the world on $50 a day, then Nomadic Matt's blog is the first page you should check out. This New York Times best-selling author has helped millions of people travel on a budget and visit far-away places for as little cash as possible. Make sure to check out his website, as you'll definitely benefit from reading his numerous travel tips and tricks.
8. Camels & Chocolate
Kristin Luna loves taking photos, trying delicious food, and doing both of these worldwide. As a true journalist, she tells her readers all about her travel adventures in her blog posts, along with stories about her hometown. At the same time, she touches upon details about becoming a freelancer and other useful things.
9. A Broken Backpack
If you don't mind cutting down on a luxurious lifestyle in order to spend more time in an exotic country, make sure to take a peek into this broken backpack. The stories come from a woman who started her own travel adventures with a pile of student debt and learned how to save and earn money along the way in order to make her travel dreams come true. She shares these lessons with the world on this amazing blog.
10. Getting Stamped
The couple behind this blog doesn't simply want to brag about all those countries where they have gotten stamped. Quite the opposite! These two have been trying to add meaning to each of the destinations they have visited and inspire their readers to travel more. Believe me — you'll definitely get motivated to travel after you see their captivating photos and videos.
11. Spirited Pursuit
If you're particular about your next travel destination, and it has to be in Africa, you must take a look at the stories coming from this lovely lady. She believes that Africans should be the ones representing this beautiful continent and promoting its best qualities to the rest of the world, which is exactly what she has been doing in her travel and lifestyle stories.
12. SilverSpoon London
Here is something for those of you who are interested in both travel and luxury. SilverSpoon London is a blog that has won many awards, such as the No. 4 UK Luxury Travel Blog by Vuelio in 2019 and the Best Luxury Travel Bloggers by Teletext Holidays. This speaks volumes about the kind of content you'll find on this page.
13. Limitless Secrets
Ophélie is a beautiful and avid traveler, food connoisseur, and photographer living in Paris. On her blog you can discover the best sights to see and restaurants to visit both in Paris and around the world. Learn where you can get the best meals, take the most Instagram-friendly photos, and much more.
14. Goats on the Road
Even though this blog won't actually tell you stories about goats, this couple from Canada considers this name ideal for a team of two wanderers, since goats clearly display this characteristic as well. Their travel blog is filled with great content available in both text and video format, and it's user-friendly, so that you can easily find what you're looking for.
15. The World Travel Guide
David's travel blog is one of those sites that can be easily understood by backpackers, millennials, solo travelers, couples… basically, anybody who wants to travel the world without spending a fortune. All of the images and videos on his blog are unique, and his readers can enjoy some breathtaking drone photos that can't be found anywhere else.
16. Two Monkeys Travel
Kach and her husband met on the road during a backpacking trip to Laos. The moment they saw each other, they recognized a mutual burning desire to describe their travel experiences on a blog. Together, they have visited more than 80 countries, while Kach has managed to personally experience a total of 143 countries.
17. The Barefoot Nomad
What started out as a couple has now turned into a family of four. Their combined love of traveling and technology has made all of their stories available online. If you want to see the world while living a fulfilling family life, make sure to follow their example.
18. One Girl One World
Are you the kind of person who doesn't want to miss out on taking care of their skin and hair while traveling? If the answer is yes, you'll be happy to know that there's finally a girl who can help you with all of it. Find advice not only about traveling but also on maintaining a good skincare and haircare routine while on the road.
19. Backpacking Matt
Apart from being a traveler and Instagrammer, Matt is also a travel planner living in New Zealand who can map out your next trip to this distant country. Read his backpacking advice, contact him for trip organization, and don't forget to pick up some tips about running an amazing travel blog.
20. PlacesofJuma
PlacesofJuma is a famous travel blog in Europe. The Austrian travel bloggers Jürgen and Martina launched PlacesofJuma in 2017 and their blog is with a focus on adventure, travel photography and how to organize perfect round trips. By 2021, they had published more than 600 articles about their travels around the world, where readers can learn more about the best places to visit and get useful tips and tricks about traveling.
21. Wandering Earl
A blog that's been active for more than two decades definitely represents a good example of how things are done in this niche. Wandering Earl has helped many people make their travel dreams come true by building a platform that offers practical and easily applicable travel tips.
22. Dan Flying Solo
By spending 1467 days on the road, this simple guy once working as a restaurant manager has transformed himself into a popular travel blogger. Dan has seen the world, and he wants people to see it too, which is why his blog is an ideal place for anyone in need of inspiration.
23. The Poor Traveler
Although these guys didn't have a lot of money when they started their travel blog, the word "poor" in this context is used as a synonym for "unfortunate or unlucky" rather than "penniless." They claim to have made some poor decisions on their travel journeys, but they have used these mistakes to develop a travel blog that everybody wants to read.
24. Let's Be Merry
Being constantly on the road may seem fun and exciting, but it can often be tiring too. Your energy can be easily drained by all of those sleepless nights at airports, unhealthy fast food, and other tiny but significant things. However, if you read Merry's travel blog, you can get some wellness tips that can help you maintain your health and fitness while on the go.
25. Traveltomtom
Remember how I've mentioned people who start their career as travel blogger because of a single trip? Well, Tom is one of those people who is continuously traveling since 2012. No home base, not spending more than one week in a place. And that is a good enough reason to check out both his blog and Instagram account, and maybe become inspired to follow his lead.
26. Expert Vagabond
Expert Vagabond has been writing his travel diary for over a decade now. He has been recognized by the Travel Channel, Lonely Planet, Nat Geo, and other renowned names from the travel industry. His blog, which is a great example of an all-inclusive travel platform, contains content for both families and solo travelers.
27. Time Travel Turtle
Time Travel Turtle will inspire you to check out not only the world's top classic tourist destinations but also the protected UNESCO World Heritage Sites that aren't easily accessible. Get access to ancient temples and cave arts, old factories, and much more incredible content by visiting this unique travel blog.
28. A Dangerous Business Travel Blog
You don't necessarily have to quit your job to become a travel blogger. On her blog, Amanda will show you how to make the most out of your current lifestyle and adapt it to your travel desires.
29. Indie Traveller
This is a travel blog that features an organized layout and simple design so that readers can focus completely on the content. You'll find great travel tips on this website, so make sure to browse through it carefully.
30. TheBohoChica
Read stories from a woman who lives in Dubai but has a passion for Arctic landscapes and the countryside. If this sounds like your kind of content, make sure not to miss this chica's travel reports.
31. Of Whiskey and Words
Yes, this guy also quit his job to travel the world, but though he still travels frequently he doesn't do it full time like others on this list. All of these travel experiences helped him to realize what's important in life: finding your purpose and achieving balance in your life. If this combo is what interests you too, feel free to glance at this travel blog.
32. Travel Hacking Mom
If you still haven't heard of travel hacking, make sure that you devote some of your time to this mom's blog. Here, you can learn all about it thanks to her straightforward and engaging content
33. Luggage and Lipstick
All of you Baby Boomers out there will relate to this Boomer Blond. Perhaps you'll even get motivated to finally plan that trip to your dream destination. Remember, age means nothing, as long as there's a will to explore this lovely planet.
34. A Couple for the Road
Lovers of music, history, art, and cuisine who want to travel the world while also keeping their current jobs can discover the exact way to do it on this travel blog. If this courageous couple can do it, so can you!
35. World of Wanderlust
Even with the recent traveling restrictions, this blog has been kept alive and it has continued inspiring women to travel on their own. Read their expert tips about solo trips and get ready for your next big adventure.
["source=firstsiteguide"]