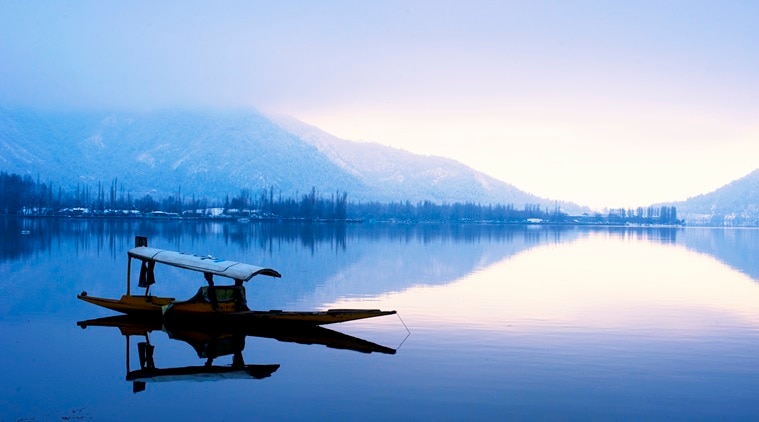 If you swelter in the searing heat and have decided to take a few days off, head for Kashmir, also known as paradise on earth. The Valley is a dynamic destination steeped in rich history and unique natural beauty, and offers unforgettable holiday experiences to adventure lovers, culture and history buffs, and even wildlife enthusiasts. Unwind in a lush landscape suffused with scenic grandeur, because the Valley can hold you entranced, enchanted, leaving you marvelling at its majestic and mystical panorama.
It takes about an hour of airtime from Delhi to reach Srinagar. When you land, you notice the huge difference — in weather, topography and the scenic beauty. To explore some of the prominent surrounding tourist attractions, a three-day trip is ideal.
In a recent trip to Kashmir, we made Srinagar our base, staying at The LaLiT Grand Palace. The hotel recently won the Outlook Traveller's Award 2017 for the best luxury hotel. A great historical significance is attached to the property, which is trying to revive the tourism of the state, offseting the damages of political turbulence. The property was built in 1910 by Maharana Pratap Singh called Gulab Bhavan as a summer residence. His successor Maharaja Hari Singh converted it into a hotel after independence. Now it's a hot favourite with not only the rich and famous such as Salman Khan, Kareena Kapoor Khan and Rajnath Singh, but also lovers of history and culture.
The palace itself has an interesting history: Right outside the main building is a huge, century-old Chinar tree called the Gandhi Chinar. It under this tree that Mahatma Gandhi had a meeting with Maharaja Hari Singh and his family. There is also the underground tunnel which was apparently a secret travel route for the royal family.
But there's a lot more to explore in the state capital, from the famous Dal Lake to interesting markets for those souvenirs you absolutely need to get for people back home. Here are five activities one can indulge in while in Srinagar.
1. Go for an early morning or evening walk to the Dal Lake: It's a pleasant walk through a smooth road with broad footpaths on both sides lined with plants. You can go for a shikara ride, shop for little knick-knacks and dry fruits, saffron and kahwah while sailing. In fact, you can even have pakoras and kahwah at the resting point from the lakeside shop while still on the shikara. Explore the beautiful houseboats that occupy the periphery of the lake. And to immerse yourself in the local culture, you can also adorn traditional Kashmiri costumes and jewellery to pose with a flower vase with the backdrop of the lake.
2. If you love museums, don't miss the Sri Pratap Singh Museum: The museum is rich in history and preserves and showcases Mughal antiques, handicraft, costumes, books, utensils and metals from the 4th and 8th centuries. It is a treasure trove of Kashmiri culture and heritage.
3. If you play golf and long for the perfect putt, head for Royal Springs Golf Course: It is a public golf course located near Chashme Shahi overlooking the Dal Lake. The perfect time to visit is May-September. The course is a professional 18-hole and par 72 track, over 7,090 yards. You can get your equipment on rent. There is a health club, massage parlour, sauna bath, table tennis, pool tables, grape orchards and peach farms, and one can spend an eventful day here.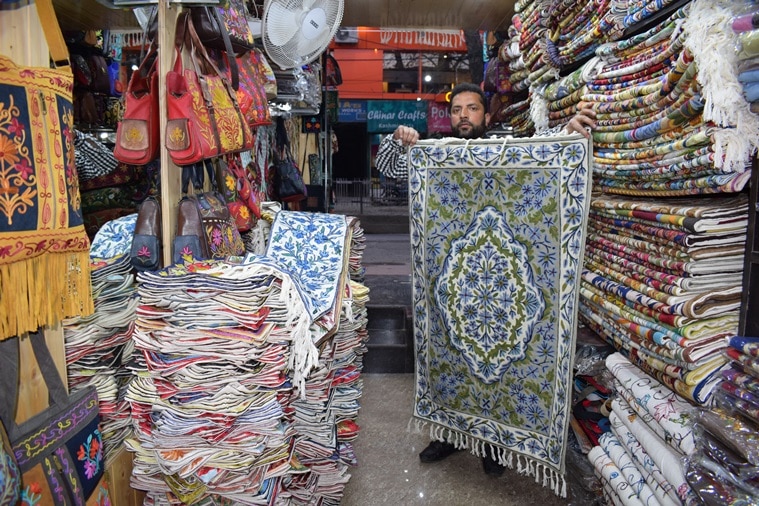 Polo View Market. (Source: Shireen Quadri)
4. Shopping: You can also sneak out and do some shopping at the Polo View Market and some boutiques around the Dal Lake. The market has shops that sell good quality product at reasonable price. Kashmiri handicrafts, textile, dry fruits, saffron, honey — you'll find everything here. It's a one-stop shopping destination and the experience is fulfilling.
5. Go green: If you want to soak in the beauty of the exquisite Mughal Gardens around Srinagar, you can begin with the Chashme Shahi Gardens. It is the smallest of the Mughal Gardens with the backdrop of Zabarwan range overlooking the Dal Lake. From here, Nishat Garden is about 10 minutes away. This is the second largest Mughal Garden. Shalimar Garden, which is the largest Mughal Garden, is 4-minutes away. The place is abuzz with tourists.
["source-indianexpress"]