Record-breaking star joins long list of musicians – including Neil Young, REM and Aerosmith – who have asked presidential hopeful to leave their songs alone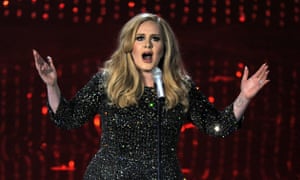 Donald Trump may be a fan of Adele, but the pop star is no fan of the Republican presidential frontrunner.
The outspoken candidate, who is facing his first electoral test in the Iowa caucus, has been using Adele's hits Rolling in the Deep and Skyfall, the singer's James Bond theme, at his political rallies.
Trump's appropriation of Adele's music has perplexed some of her fans. One fan tweeted she was "offended on Adele's behalf", while another asked: "Does Adeleknow that Donald Trump plays her songs at his rallies? I have a feeling she would not be pleased."
The property tycoon, who is known to millions of Americans through the US version of The Apprentice, annoyed many Adele fans when he jumped the queue at a concert she gave at the Radio City Music Hall in November.
Now the singer has become the latest pop star to tell Trump to stop pinching her tunes for his campaign.
"Adele has not given permission for her music to be used for any political campaigning," her spokesman told the Independent.
That should come as no surprise to the Trump campaign. In 2011, Adele called David Cameron "a wally", describing herself as a "Labour girl through and through".
Neil Young and the Aerosmith singer Steven Tyler have also told Trump to stop using their music. Attorneys for Tyler sent a cease and desist letter to Trump's campaign committee, which said Trump did "not have our client's permission to use Dream On" or any of Tyler's other songs and that it "gives the false impression that he is connected with, or endorses, Mr Trump's presidential bid".
REM's Michael Stipe used more forthright language: "Go fuck yourselves, the lot of you – you sad, attention-grabbing, power-hungry little men. Do not use our music or my voice for your moronic charade of a campaign," he said in a statement after Trump used It's the End of the World as We Know It (and I Feel Fine) at a rally.
Politicians regularly deploy pop tunes to fire up their supporters. In 1984, Ronald Reagan used Bruce Springsteen's anthem-like Born in the USA until Springsteen, a liberal, told the Reagan campaign to stop using his song. But the Boss, a Democrat supporter, was more than happy to back Barack Obama in his re-election campaign.
[Source:- The Gurdian]