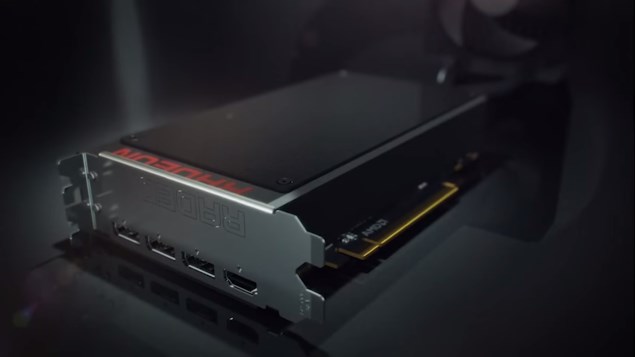 AMD has announced four new graphics cards based on its Radeon R9 Fury GPU, the first to use integrated stacked high-bandwidth memory (HBM). Codenamed 'Fiji', it as previously assumed that the GPU would be launched as the Radeon R9-390, but AMD has chosen a distinct name outside the usual numbered series for its new flagship.HBM promises more than 3X the performance per Watt of current-day GDDR5 memory, and requires 94 percent less surface area on the graphics card because it is arranged in stacks on the GPU die itself.
The AMD Radeon R9 Fury X will launch on June 24 and will have an integrated closed-loop liquid cooler. AMD CEO Dr Lisa Su stated that the Radeon R9 Fury X provides 1.5x as much performance per Watt as the Radeon R9-290X, but did not compare actual performance. This is a full implementation of the Fiji GPU with 4,096 stream processors built out of 8.9 billion transistors. The GPU will run at 1050MHz and there will be 4GB of HBM. AMD also emphasised that the card will be heavily overclockable.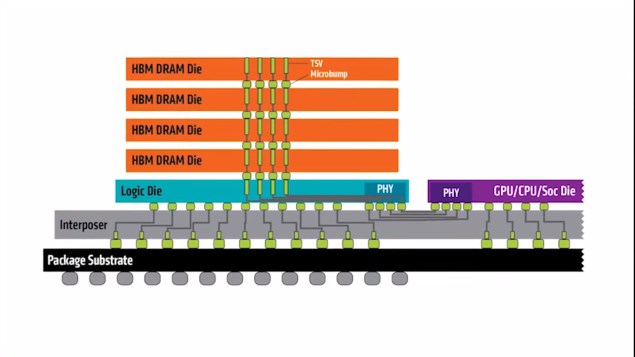 The Radeon R9 Fury will be the same GPU implementation but with a traditional air cooler, and will be available on July 14. Both cards are aimed at high-end gamers who intend to play current top-end games at 4K and higher resolutions. AMD also suggested that upcoming VR applications would make use of the new GPU's power.
Harnessing the benefits of HBM, Su also revealed a new ultra-compact graphics card named the Radeon R9 Nano, which uses a Fiji GPU but is focused on delivering top-end power in 6-inch package. No specifications were announced, indicating that this might be a cut-down Fiji implementation. The fourth member of the family will be a much more powerful dual-GPU card which does not yet have a name.
Stock versions of the Radeon R9 Fury X will sell for $649 (approximately Rs. 41,628) while the Radeon R9 Fury will cost $549 (approximately Rs. 35,218). While performance information is not yet known, they will go up against Nvidia's GeForce GTX 980 Ti and GeForce GTX 980 respectively. The R9 Nano and dual-Fiji card were only described as being available in the summer and fall of 2015 respectively.
AMD also announced new Radeon R9-300 and Radeon R7-300 series graphics cards which are minor updates to their 200-series counterparts. The new Radeon R7-370 and Radeon R7-360 will be available starting at $109 (approximately Rs. 6,992) targeting 1080p gamers, while the Radeon R9-390X, Radeon R9-390 and Radeon R9-380 will target 1440p gamers and offer full DirectX 12 support under Windows 10
["source-gadgets.ndtv.com"]