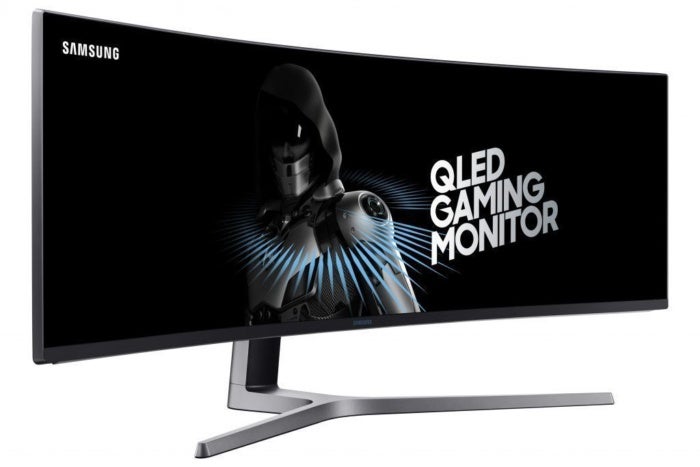 Samsung just announced the world's first FreeSync 2-enabled PC monitors, the 27- and 32-inch CHG70 and the utterly massive 49-inch CHG90 ultrawide display—which is essentially a multi-monitor setup without multiple monitors.
Samsung's displays extend the battle between AMD's FreeSync and Nvidia's G-Sync technologies to the budding field of high-dynamic range monitors. Nvidia's already teased several G-Sync HDR gaming monitors from Asus and Acer, though none are actually available to purchase just yet.
Like those G-Sync HDR displays, these Samsung panels were built for buttery-smooth gaming. They pack HDR, QLED quantum dots, wide 178-degree viewing angles, and a significant 1800R curvature, along with blazing-fast 144Hz refresh rates and 1ms response times. A four-channel scanner's also in place to minimize motion blur and ghosting.
Those impressive specs are bolstered by FreeSync 2. AMD's technology builds on the shoulders of FreeSync's base capabilities, mandating low latency levels and the use of the previously optional "low framerate compensation" feature that keeps gameplay buttery smooth when frame rates dip to low levels.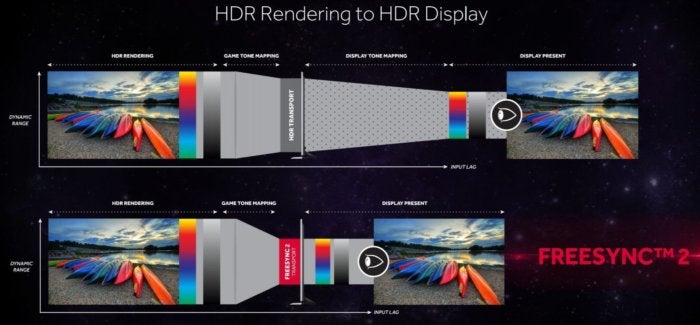 Most of FreeSync 2's advantages revolve around HDR, however. The technology ensures your game looks as glorious as possible by switching to a "FreeSync mode" that increases brightness levels and enforces the maximum color space when you load supported games. It also provides those games with the native characteristics of your display, which lets games output directly to those properties during their initial tone mapping—negating the need for an extra image processing step and reducing latency even more.
You need an AMD Radeon graphics card to take advantage of FreeSync 2, and any Radeon GPU that supports FreeSync will work with FreeSync 2. (Read: Most modern cards.) But if you don't already have one, you'll probably have trouble finding one. The CHG70 packs a 2560×1440 resolution, while the insanely wide CHG90 rocks 3840×1080—the equivalent of two standard 108
0p monitors side-by-side.
Pushing pixels on monitors like that requires a Radeon RX 580 or more. Unfortunately, AMD's enthusiast-class Radeon RX Vega graphics cards won't land until the very end of July, and Etherium cryptocurrency miners have gobbled up all Radeon RX 570 and RX 580 cards, driving up prices and emptying stocks from store shelves.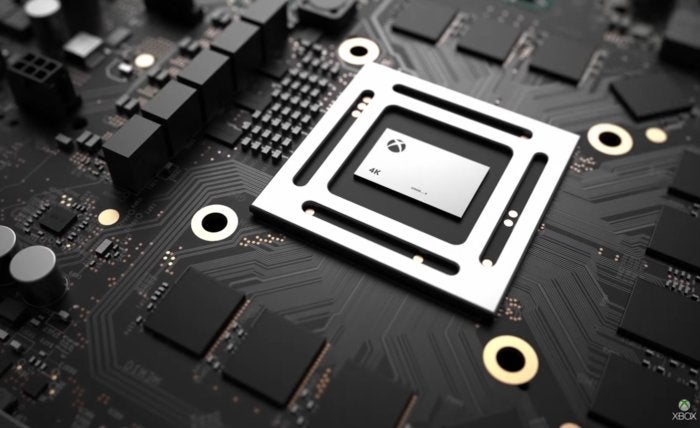 But, interestingly, PC graphics cards aren't the only technology that supports FreeSync 2. Microsoft's powerful Xbox "Project Scorpio" gaming console will also play nice with AMD's technology, and it's expected to be formally unveiled at Microsoft's E3 event this weekend.
The impact on you at home: Unlike the Nvidia-infused panels, you won't need to wait forever to buy Samsung's FreeSync 2 displays. The CHG90 is available to preorder for $1,499 on Amazon, with a slated release on June 30. The 32-inch CHG70 can be preordered on Newegg for $700, while the 27-inch version will appear on Samsung's website for $600 sometime soon.
[Source"pcworld"]