From radical feminism to songs about student dorms, no pants subway rides to breweries in fancy hotels. Expect the unexpected, as Andreea Campeanu shows us her Bucharest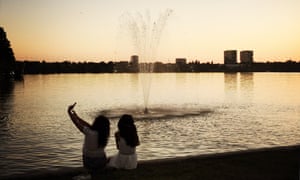 In five words
Merdenele pastry* scented underground stations
*(pastry filled with cheese or meet)
Sound of the city
Street musicians are always a pleasant surprise – you can meet them in underpasses, on the metro, on tiny streets or sprawling boulevards. These performers – from lonely singers to bigger bands – play all kinds of music to warm the hearts of passers by on the streets of Bucharest.
Best building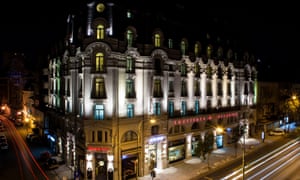 There is no best building in Bucharest, but there are many great buildings with complicated stories, and the Hotel Cismigiu is probably my favourite. It's not necessarily my favourite because of its story, but because of its beauty, which has withstood periods of dilapidationd.
It can be found on one of the decaying boulevards of central Bucharest, it was called Palace Hotel when it was first built in 1913. It hosted a hotel, and later a cinema and brewery. It was bombed by the Brits and Americans in 1944 and nationalised by the communists in 1948. In the early nineties it acted as dorms for students from the university's theatre faculty but was in really bad shape –one of the my favourite childhood bands Vama Veche even sang a song about this era. In the mid-nineties it was closed down but in 2012 it was renovated and now hosts another brewery, a fancy hotel and the Cervantes centre.
Homegrown talent
Last year, The Future Nuggets – "a group of Romanian producers, diggers and musicians" – started making covers of manele songs from the 90s. Manele is a Balkanic Romanian-Roma music style that is very popular among marginalised groups in society. They mixed manele tracks they found on trilulilu.ro, Youtube, and on tapes and vinyls bought online or at flea markets, with electronic sounds to make what they call "psychedelic manele". This way, the music became popular in communities of hipsters, artists, and young intellectuals.
The group play in clubs and bars and their songs are also played at parties organised by the city's Paradaiz collective.
Biggest controversy
There has been a lot of discussion around the use of violence in parental discipline. Last November, Norwegian authorities took the five Bodnariu children away from their parents (a Romanian man and his Norwegian wife) who allegedly abused them, but the family complained that there was no proper investigation. Protests have been organised by Romanians in front of Norwegian embassies around the world. Last week, a Romanian delegation visited Norway in order to ask authorities to return the children – this might happen anytime soon.
In Bucharest, it sparked a debate. Is it okay for the state to take children away from their parents and place them in foster homes? Statistics show that 63% of Romanians use violence against their children. Former journalist and mother Oana Dobre started the #37lasuta (37%) community for people who want to fight against using corporal punishment as a discipline technique on children.
Most under-rated location
Care Café is in a house built in 1893 that used to belong to an obstetrician. Later, under communism in order to not be nationalised, it became the living quarters of seven families who had been evicted from their houses. It's now a cafe with delicious, affordable food, but it seems to often be empty.
Next to the cafe, in the same building, is a small bookshop called Hecate that has a great selection of books, some more radical than in the regular bookshops elsewhere in town. Topics range from feminism to marginal communities, critical thinking, equality and solidarity. Hecate considers itself "a new hub of respect for differences, critical thinking and change." From book openings and discussions, to flea markets and pet adoptions, the house also hosts events.
Moment in history
The city's most important moment was during December 1989, when people took to the streets and Ceausescu's communist regime was toppled.
On December 21, Ceausescu called for a demonstration in Bucharest in order to condemn the protests taking place against his regime in the western Romanian city of Timisoara. But while he was talking people started booing and he famously responded: "Hello, comrades, please stay quiet in your places"; "I will add another hundred to your salary."
The demonstration dispersed, but a few people gathered in a nearby plaza and initiated a protest against his regime, causing the dictator to flee. He was executed a few days later in Targoviste after a mock trial. Violence continued around the city and over a thousand people died across the country; people now know that the popular protest was taken over by a handful of dignitaries who were already planning to topple Ceausescu. Romania then entered a post-communist period in which it opened towards the west and embraced turbo-capitalism.
Best local artist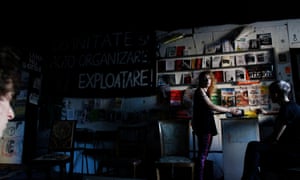 Veda Popovici is a 28-year-old feminist and political artist who lives in Bucharest. She is interested in anti-authoritarianism and radical anarchism, and is part of the collective running a social centre called Claca (meaning a collective voluntary work, organised by peasants for helping each other, sometimes followed by a small party, in English).
Last summer she made a video called A History of Art Retold Through the Black Square, where she retells the history of art though the female body, using Malevich's Black Square as a revolutionary tool. Other work includes a Migrant's Monument which was erected in the main bus station from where Romanians leave towards the west.
Top insider's tip
Get lost: the best thing about Bucharest is the surprises it offers you if you allow yourself to stray off the crowded main boulevards. The architecture is beautiful and diverse, with buildings from different periods with complicated histories. And since it's still winter, you should definitely go ice skating on the lake in the park in Cismigiu. Or stay warm in the new "tropical paradise" spa, Therme, just outside town.
From me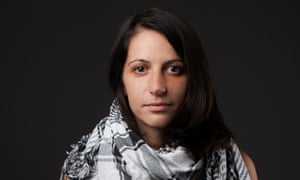 Andreea Campeanu is a Romanian photojournalist based in Bucharest. She has lived in she has lived and worked in Sudan, South Sudan, Madagascar and Lebanon over the years. She has an MA in Visual Anthropology and her photography work has appeared in The New York Times, Wall Street Journal, The Washington Post, Time, Le Monde, Paris Match, the Guardian and Newsweek.
[Source:- gurdian]