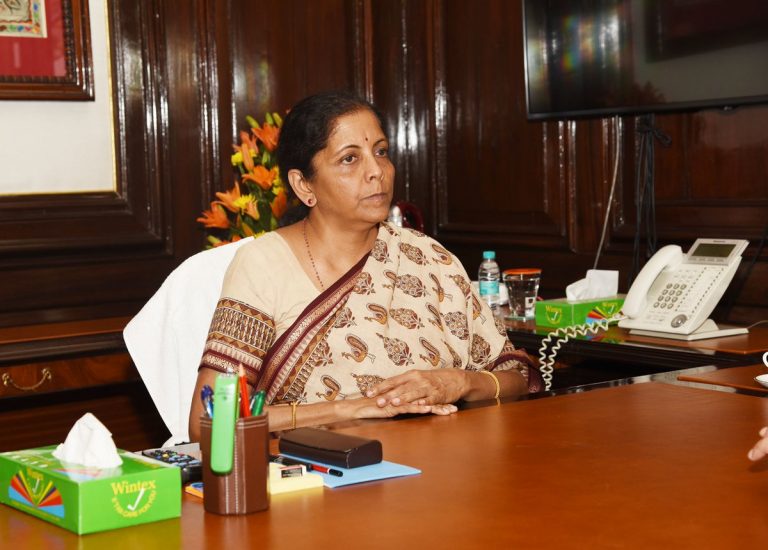 Dear Madam Finance Minister,
Welcome to the exciting world of finance that you have just taken charge of. I have covered this space as a beat reporter for 25 years and so I am taking the liberty to give a glimpse of this sector as I see it.
First, my biases: I have a gender bias and I am truly happy that India has her first woman finance minister (the only previous instance was more a part-timer). Not just me, but even men say women bring more sincerity, honesty,  integrity and courage of conviction.
My second bias is the Reserve Bank. Here as well, my bias is shared by respected experts. The RBI has seen our country through several serious challenges. It has a squeaky clean record even though it often has to take sides. It is always on India's side. It is above party lines. Governors chosen by one party have always served a rival party too with distinction. Dr Bimal Jalan was selected by the coalition Deve Gowda government, and he served Atal Bihari Vajpayee's government as its trusted advisor. Venugopal Reddy was appointed by the NDA government and he served admirably under the next UPA government. Raghuram Rajan was chosen by the UPA and completed his term under the NDA. With 85 years of experience in managing the value of the rupee, guarding the external sector and supervising the domestic financial sector, the RBI has become an institution of deep intellect and proven integrity. Even when you find yourself in disagreement with their prescription, do spare some time to ponder over their diagnosis.
A word on the financial sector. In any country, it attracts the most intelligent brains. A curious lesson of history is that both fraud and finance require a lot of intelligence and ever so often the two overlap.
Coming to the here and now, the most pressing problem, you would have realised is that of the housing finance companies. Your ministry and RBI will have by now figured out if it is an entity level problem, some entities' problem or a systemic problem. Those impacted will scream apocalypse and demand (in the name of the public good) that RBI or government be the lender of the last resort by printing notes or using taxpayer money. Wise governors and governments have traditionally supported markets, not entities. Markets punish reckless entities. Ideally one mustn't stand in their way. In extreme instances, if markets themselves are threatened, governments and regulators step in. But I need to hardly emphasise to you that good parents are those who encourage their children to stand up on their own when they fall.
A less apparent problem is the external sector. Problems always hit suddenly and with intensity. For a while, nations and markets have taken in their stride the tit for tat tariff war between the US and China as you know from your commerce ministry days. But the latest retaliatory threats from China are getting menacing. The yuan is getting perilously close to 7 per dollar. I pray this space doesn't become your baptism by fire.
You will be wondering why I haven't mentioned the word 'budget' yet.  I didn't because this won't be just your own problem but the entire government's. Tax collections last year were a full 11 percent less than the revised budget estimates making this year's budgeted tax target (of 17 lakh crore) a daunting task. This shortfall comes at a time when the global and Indian economy are slowing down considerably. The ministry, the media and the markets will scream for rate cuts. But these are at best steroids. As the PM well knows, the big task of this government will be to improve the nation's productivity which means better education, health and infrastructure. You, your party and the government know all these issues much better. So I will skip the economy and budget in this letter and stick to the financial sector.
The heart of India's financial sector, ma'am, are her banks, especially public sector banks. For all the cleaning up of the last four years, they are not in good shape. Many will scream that private banks too have NPAs and conflicts. But all told, public sector banks compare poorly with private ones on almost all parameters. Many well-meaning experts and former governors have given sensible advice (that has been disregarded for decades now): that PSU banks be brought under the Companies Act ( from the current Banking Regulations Act), that government stake in them be brought down to 49 percent from 51 percent, so they can compete fairly with private banks. Indeed it may be a great idea to sell just one of the PSU banks, just one, to a private entity or entities. I wont be surprised if PSU bank stocks go through the roof and solve your problem of having to capitalise them. No large economy except the former communist countries have 70 percent of their banking in the public sector. The Indian banking sector is at this sorry state because of the cardinal sin of nationalisation ordered by the previous part-time woman FM I referred to. May it be your achievement to release the Indian economy from that original sin.
There are other longer term goals too for the Indian financial sector: building up a deep and wide bond market that finances infrastructure and private capex, converting more cash transactions into non-cash or digital transactions, fool-proofing the rapidly digitising financial sector from cyber attacks. Indeed, ma'am, yours is the ministry with the maximum challenges and opportunities. But your ministry is also blessed with professionals. The best civil servants gravitate to finance. And you have at your service deeply professional regulators in RBI, SEBI and IRDA.
I began by admitting my gender bias but history will be gender blind when it judges your legacy: Have you left the economy stronger? Have you regulated markets better? Are PSU banks more competitive? Is the financial sector safer and serving the real economy well? Are more Indians saving more? Are their savings and investment giving them a better return while financing the nation's growth?
Your meteoric rise in the last decade is a testimony to your capability. I am sure you will be more than equal to the challenge. Let me end with a quote from the poet Subramania Bharati: "Seivathai thuniththu sei" (Be brave in whatever you do). I wish you all the best.
["source=cnbctv18"]