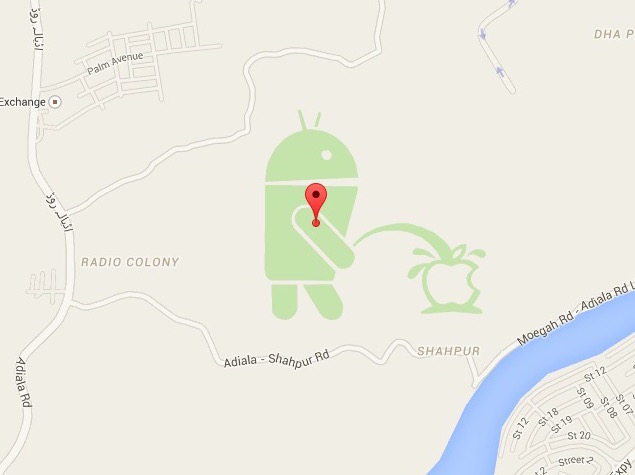 Google has been known to do crazy things with its Maps – like letting you play Pac-Man on any street – but this one is rather out of left field even by Mountain View's wacky standards.
Open Google Maps in your browser and visit this spot near the Pakistani city of Rawalpindi and you'll be greeted by the image of a giant Android bot peeing over Apple's logo. Is this an easter egg left there by an over-enthusiastic Google developer in the hope it would never be discovered? Or is this some kind of crazy bug? Well, as it turns out, it's none of the above.
Google has a tool called Map Maker that lets anyone submit data for Google Maps. The most likely explanation is that the image is a Map Maker submission by someone who clearly likes taking the piss out of Apple and its fans.
A Google spokesperson gave Mashable Mashable pretty much the same explanation. "Even though edits are moderated, occasionally the odd inaccurate or cheeky edit may slip through our system," he said in a statement to Mashable. "We've been made aware of the issue and are working on getting it removed."
However, at the time of filing this report, the image was still visible on Google Maps app as well as desktop. While Google may not have had anything to do with the image, the fact that it found its way on to Google Maps is an embarrassment for the company and a clear failure of its review process. Team Android, which first reportedthe 'bug', also points us to the spot inside Google Maps where someone has left Google a reminder that its "review policy is crap."
["source-gadgets.ndtv.com"]