Despite its huge value, Silicon Valley developers are turned off by 'secretive, controlling' culture and its engineering is no longer seen as cutting edge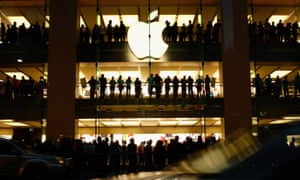 When developer James Knight was on the job market recently, he considered applying to several of the big tech companies and immediately crossed Apple off his list.
"Apple's culture is one that's so negative, so strict, so harsh," said Knight, atalented 27-year-old coder who left a job at Google for more lucrative freelance work. "At Apple, you're gonna be working 60-80 hours a week and some VP will come yell at you at any moment? That's a very hostile work environment."
Now his company focuses on building apps for the iPhone: "Other than the fact that we have to work with them because we're delivering apps to their app store, I don't really want anything to do with them," Knight said.
The Silicon Valley computing giant is stumbling. With news of massive but slowing sales, its stock price fell 6.5% after its results on 27 January, to $93.42 from a springtime high of $133. Apple's market value is now $522.63bn, down from a high of $774.69bn in February 2015.
More curious is how the company has been relatively undervalued: Apple stock's market value relative to its earnings is about 10, while Facebook's is about 109 –indicating investors have significantly more confidence in the social giant's future. Long unassailable, there is now a chink in Apple's armor.
Tellingly, Apple is no longer seen as the best place for engineers to work, according to several Silicon Valley talent recruiters. It's a trend that has been happening slowly for years – and now, in this latest tech boom, has become more acute.
Bay area technologists once talked about the company with somewhat fearful reverence lest they ever damage their chances of scoring a lucrative job in Cupertino, but now they are starting to vent about what's seen as a secretive, controlling culture. The company's not attracting the top young talent, who opt for Facebook or Alphabet (Google's new parent company), or better yet Uber and Airbnb, say recruiters. And, since the wage collusion lawsuit has been settled (a case in which Apple, Google, Adobe and others worked together to depress engineer wages by not poaching talent), talent is more likely to move around.
One startup executive, who has poached engineers from blue chip companies, compared the big three consumer tech companies to the Ivy League universities; he cast Facebook as Harvard, Google as Yale and Apple as Dartmouth (apologies to Dartmouth). Or as Elon Musk recently put the hiring situation a little more harshly: Apple is the "Tesla graveyard".
"If you don't make it at Tesla, you go work at Apple," Musk recently told a German newspaper.
The biggest issue for programmers seems to be a high-stress culture and cult of secrecy, which contrasts sharply with office trends toward gentler management and more playful workdays; Google's seven-person "conference" bikes come to mind. Apple notoriously doesn't serve free food, which was unusual in 2012 and, in 2016 Silicon Valley, shocking for highly prized and pampered engineers accustomed to perks. Employees don't get free phones. And Apple's enormous new Cupertino campus, a neo-futuristic glass circle, has been nicknamed the Death Star.
"A pain point for a lot of people with Apple is they can't talk about what they're working on, which hinders your social status in a way," said Troy Sultan, the founder of tech recruiting startup IDK Labs. "You want to put on your LinkedIn that you're working on the latest iPhone, but you absolutely can't. It's interesting Apple can retain top talent at all. I don't know how. They keep you sort of locked up."
For entry-level engineers, Sultan said it can seem like a confusing and rigid culture: "I want to have trust in Apple's leadership, but it's weird at least from the bottom of the food chain."
Young ambitious programmers and designers have been put off by this: "Apple culture's a little weird. A lot of secrecy, a lot of control. It just seems kind of like the empire down there," said Matthew Wood, a designer at the development agency Arsenal. "Thinking about jobs, Apple never really comes up."
Apple is working on a self-driving car and on artificial intelligence, along with secretive development of many other products, but its failure to produce a new killer product is turning off developers.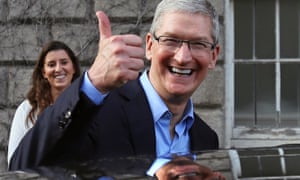 "The best engineers want to work on the bleeding edge of technology," said Michael Solomon, the co-founder of 10x, an engineering talent management firm. "Apple's last release [the Apple Watch] was not a giant hit. And everyone's already got an iPhone. There's just diminishing returns making it another degree of a crisper screen or a higher megapixel camera. It's just a replacement game."
Engineers look for "big problems" that will push them and for a culture that puts them at the center, Solomon said. He also noted that the best engineers like to work in "flow state" and keep creative hours, which Apple, with its long commute from San Francisco to Cupertino, doesn't always allow.
"Apple's not an engineering culture," Solomon said. "Tim Cook's done an amazing job running the company, but [Steve Jobs] was the guy everyone wanted to follow into battle."
Lest this argument go too far, though: Apple pays its software engineers well and is the largest corporation in the world, so it is presumably more stable than a venture-backed private company such as Uber or Airbnb, whose pay is in cash and stock option packages – the latter of which may evaporate.
Its struggles are more systematic than simply getting the best software engineers, which its enormous $216bn in cash can certainly help with. The iPhone is the bulk of Apple's business, and at a certain point everyone who wants an iPhone has one. Efforts to break into other markets with its watch seem shaky. Its "moonshot" plans like self-driving cars seem to be challenged: they recently lost the head of their secretive autonomous car unit. And Amazon, which has a notoriously brutal workplace culture, has seen its stock soar this year.
But Apple's reputation among young programmers is telling. In an industry built on the notion of "disruption", attracting exceptional talent and keeping them nimble is key. Apple doesn't need to just make a better iPhone – it needs to make something new. That's a much harder task.
Knight says he and many of his friends value lifestyle over salary. "I'm the kind of person who likes to show up to work sometimes at 11, or maybe work from home one day. And Apple's not the place you can do that," Knight said. "Apple can move away from that culture but culture takes time. A lot of time. And stock prices drop hourly."
Apple did not immediately return a request for comment.
[Source:- The Gurdian]