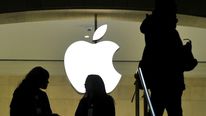 Sketches filed in a patent bearing the company's name show an articulated vehicle which runs on tracks.
The vehicle is in two parts and is joined in the middle, similar to a bendy bus.
The application is specifically for the steering mechanism, but the tank design itself caused a flutter of excitement in the tech world.
But since the patent was spotted the law firm that handles Apple's patents says the patent is not Apple's at all, and blamed a typing error.
Law firm Morrison and Foerster said the patent instead belongs to defence firm BAE Systems.
Apple is reportedly working on a plan to create a self-driving car, currently known as Project Titan.
That would put it head to head with the likes of Google and Tesla.
Apple-watching site Patently Apple said: "Considering that Project Titan is to be about a sexy electric vehicle to compete with Tesla Motors, a patent about a clunky articulate vehicle was clearly not the image that Apple wanted to project to the public.
"Yet considering that the patent filing with Apple's name as assignee was filed in July 2015, why did it take 13 months for anyone to notice an in-your-face error this big? Wouldn't BAE or Apple have noticed it long before now?"
Apple has been granted scores of patents this week, across a range of different technology areas.
[Source: Skynews]