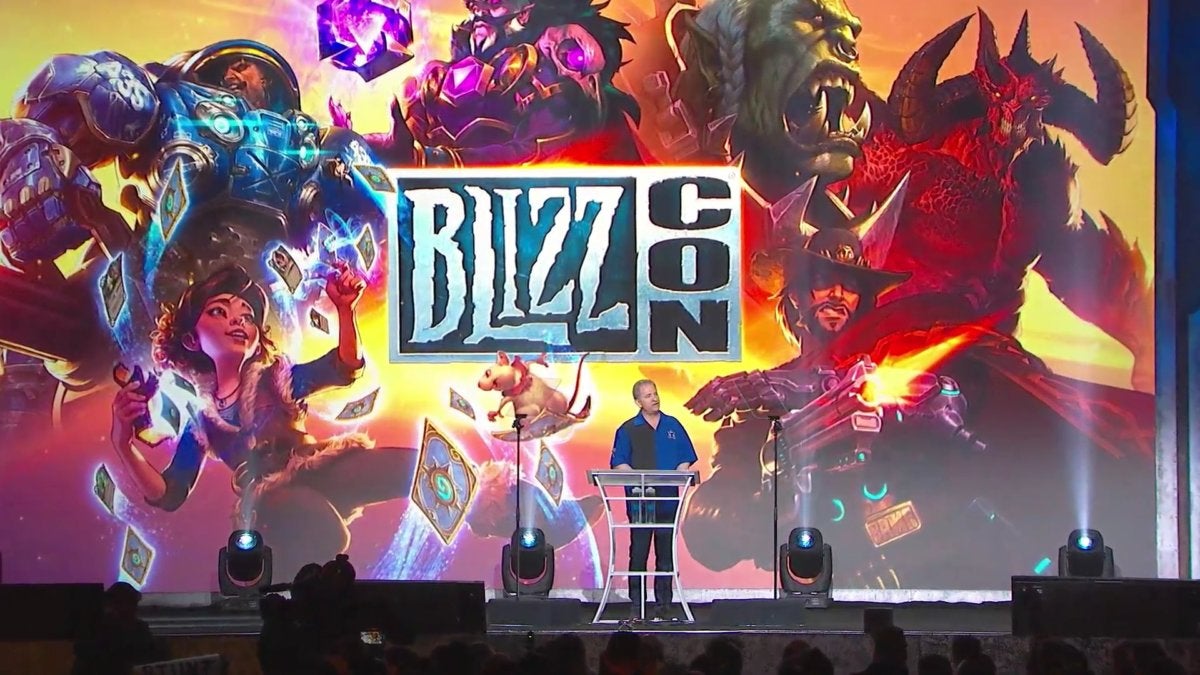 BlizzCon 2018 is the end of an era. Just a few weeks ago, Blizzard announced that co-founder and longtime president Mike Morhaime would be stepping down, replaced with J. Allen Brack. Today's Opening Ceremony kicked off with Morhaime saying goodbye, and you know what? I'll miss him. He was a great presenter, not in the overly slick way I'm accustomed to seeing at these sorts of shows, but with a quietspoken passion for the company he'd helped guide for 20-plus years.
Blizzard lives on, though, and while 2019 won't be the most exciting year there's still quite a bit in store—including the long-awaited Warcraft III remaster. That news and more below.
Heroes of the Storm
Heroes of the Storm kicked off BlizzCon 2018. An odd choice. Okay, technically we started with StarCraft II, but only long enough for J. Allen Brack to remind people that StarCraft turns 20 this year. Not really newsworthy.
So Heroes, it is. Blizzard's MOBA got two videos this year, one a very pretty cinematic introducing a new character—like, actually new. Up until now Heroes of the Storm has been sort-of like Smash Bros., bringing together characters from all Blizzard's other games. New character Orphea was built solely for Heroes of the Storm. She looks sort-of generic in my opinion, but who knows?
The second video, briefer, goes into Blizzard's plans for Heroes of the Storm in the near future.
World of Warcraft
The latest World of Warcraft expansion, Battle for Azeroth, just released this past summer—and it wasn't well-received. That made BlizzCon 2018 kind of interesting. Blizzard needed to detail how it planned to fix the game, but it's too early to announce another expansion.
I don't think Blizzard got there. All we got was the announcement of Battle for Azeroth: Tides of Vengeance, the next chapter in the expansion. It comes with a very pretty cinematic, but without concrete details it's hard to say whether Tides of Vengeance will address players' issues.
Instead the big World of Warcraft news pertained to World of Warcraft Classic, the 1.0 throwback server Blizzard's setting up, returning to the game as it existed in 2004. There's a demo available for BlizzCon attendees and Virtual Ticket holders this week, but it's limited to an hour. The actual release? A still-distant summer of 2019, just in time for World of Warcraft's 15th anniversary.
Overwatch
Every year BlizzCon feels a little bit more like Overwatch-Con, and 2018 is no different. Live from an enormous arena, Jeff Kaplan showed off a new animated short for Blizzard's hit shooter. Titled "Reunion," it focuses on McCree, everyone's favorite sand-eating cowboy, as well as the new hero Lady McCree. Oh, I guess her name is Ashe.
As per usual, there's a character-centric video to introduce Ashe's abilities. Looks like she's part-sniper, with the ability to throw dynamite as well—and maybe an ultimate that allows her to call in her mustache-wearing robot friend Bob? Interesting.
Warcraft III
Yes, Warcraft III. It's not the sequel I've been waiting for, but Blizzard did show off the trailer for its Warcraft III remaster during BlizzCon 2018, a reworking of Reign of Chaos's opening cinematic.
We also got a look at some in-game footage, full widescreen with remodeled units and smoother animations. It looks fantastic—and still includes a scenario and map creation tool, so I can't wait for all those 2019 Helm's Deep maps. Look for the remastered version next summer.
Hearthstone
Another year, another expansion for Blizzard's collectible card game Hearthstone, and another musical trailer. Rastakhan's Rumble is the name, and that's about all I have to say about that.
Diablo
Last but not least, Diablo. Blizzard had already told people not to expect Diablo IV, and sure enough no Diablo IV. Instead we got Diablo: Immortal, which Blizzard is calling "our chance to explore 20 years of untold stories that happened between Diablo II and Diablo III." The only problem: It's a mobile game. Looks cool, if you're into that sort of thing.
And that's it. As I said, not the most thrilling year for BlizzCon. Warcraft III though, right?
To comment on this article and other PCWorld content, visit our Facebook page or our Twitter feed.
["source=pcworld"]