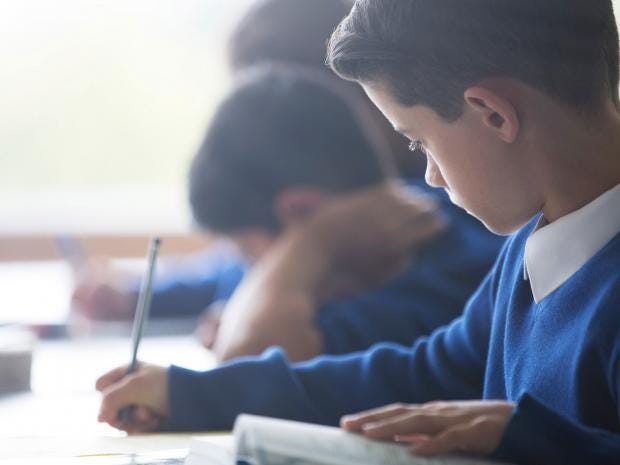 Moves to force every English state school to leave council control and become an academy within six years will be set out by George Osborne in a Budget designed to "put the next generation first".
The Chancellor will also announce an initiative to enable thousands of head teachers to scrap schools' traditional "home time" of 3.30pm and stay open longer.
He is expected to present a cautious Budget package because of the growing strains on the public finances, but he is also determined to show ministers retain a zeal for reform and are not paralysed by the uncertainty over Brexit.
Mr Osborne will tell MPs the Government is pressing ahead with its promise to remove all schools from local authority control. Draft legislation could be published as early as this week by the Education Secretary, Nicky Morgan.
The plans were strongly condemned by unions, council leaders and the Labour Party. The Chancellor was accused by the National Union of Teachers of "undoing over 50 years of comprehensive public education at a stroke".
Under his timetable, schools will be required to become academies by 2020 or have an academy order in place committing them to change by 2022. Where they refuse to switch status, ministers will be given new powers to force them to convert.
Under the academy model, head teachers are given greater powers over budgets, pay and staffing and have more flexibility over their curriculum.
Mr Osborne will tell MPs he is allocating an extra £1.5bn in the Budget to increase classroom standards to help pupils match the levels of their international counterparts.
English secondary schools will be invited to bid for a slice of that money to enable them to stay open after 3.30pm, offering up to five hours a week of additional classes or extra-curricular activities. The cash will enable around a quarter of secondaries to be open later.
Mr Osborne said: "The Budget I'll deliver will put the next generation first. And at its heart will be a bold plan to make sure that every child gets the best start in life.
"It is simply unacceptable that Britain continues to sit too low down the global league tables for education. So I'm going to get on with finishing the job we started five years ago, to drive up standards."
Lucy Powell, the shadow Education Secretary, said: "There is no evidence to suggest that academisation in and of itself leads to school improvement."
Worries over the global economy will cast a shadow over the Budget in which Mr Osborne will confirm moves to trim £4bn more from public spending by 2019.
He will place heavy emphasis on promised improvements to Britain's infrastructure, and has already confirmed moves to press ahead with the rail construction schemes Crossrail 2 in London and HS3, connecting Manchester and Leeds.
Much attention will focus on whether Mr Osborne decides he has enough leeway to start raising income thresholds for 20p and 40p rates of income tax. He also faces a tricky decision over whether to take advantage of lower prices at the pumps to increase fuel duty.
Writing in The Independent, the shadow Chancellor John McDonnell, attacks him for pressing ahead with an "irresponsible" strategy.
He says: "There is no economic justification for the Chancellor's cuts. He has made a political choice to impose them. That has meant putting his own ambitions on the Tory leadership ahead of what is good for the country."
Mr McDonnell charges him with targeting the most vulnerable in his attempt to plug the holes in his economic plans.
"This constitutes a new low. Labour will insist that he steps back from the brink," he said.

[Source:- Independent]