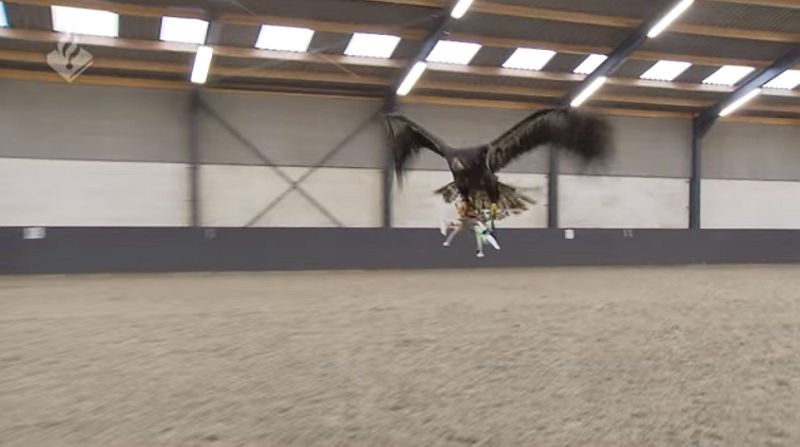 Unmanned aerial vehicles (UAVs), more commonly known as drones, have garnered many eyeballs in recent years. The drones have steadily gained popularity worldwide with companies such asQualcomm now manufacturing its own flight platform to allow designers and developers to make their own drones. This year, we saw Chinese drone maker Ehang launching what it claimed as the world's first drone capable of carrying a human passenger.
With increasing adoption of drones, one of the biggest worries is unauthorised use of the devices, with security and privacy issues being raised. Last year, flying of drones over Mumbai was banned for a brief period by the police in view of security concerns.
This now has led Dutch National Police to come up with a new way to take down drones. The Dutch police are training eagles that can take out drones. The Dutch National Police released a video showing how an eagle caught a drone mid-air and brought it to the ground. For the initiative, the Dutch National Police is working with Guard From Above, a company that trains eagles.
"In the future drones will increasingly be used and the number of incidents increased by drones. Even drones can be used for criminal purposes. The police therefore been working on researching ways to prevent unwanted drone use," said a statement released by Dutch National Police [translated by Bing].
It added that drones can be dangerous for people if they malfunction in mid-air and fall from the sky on someone. The police said that finding the drone controller is hard but with such adoption to take down drones, they can reduce the unwanted usage of drones. The Dutch National Police however stressed that it is still working on to make sure that the bird is safe. The statement also said that the police will decide whether the use of birds of prey is an appropriate means to prevent unwanted drone use or not.
[Source:- NDTVgadget360]