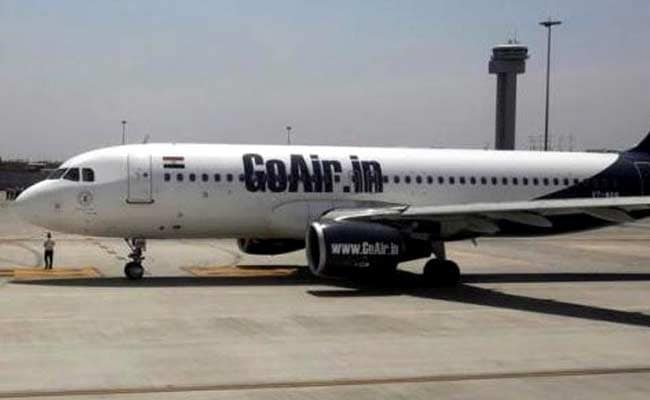 The travel period of GoAir's sale ends on May 31, 2018.
HIGHLIGHTS
Bookings under GoAir 2018 Sale can be made till January 12
Promotional scheme valid on travel till May 31, 2018
Airline offers all-inclusive fares from Rs. 1,005 on flights from Guwahati
GoAir is offering domestic flight tickets starting at an all-inclusive price of Rs. 1,005 on select destinations. Under a promotional scheme, called GoAir 2018 Sale, bookings can be made till January 12. That means for those looking to avail the airline's offer – GoAir 2018 Sale, today is the last date to make bookings. The GoAir 2018 Sale is applicable on travel till May 31, 2018. GoAir is offering an additional Rs. 250 cashback on payments made through digital wallet Paytm. Customers can also avail an extra 10 per cent discount by using promo code 'GOAPP10' when the booking is done via GoAir mobile app, according to GoAir's website – goair.in.
goair 2018 sale
GoAir is offering discount on flights from Guwahati, Delhi, Hyderabad, Jammu, Bengaluru, Ahmedabad, Kolkata, Mumbai, Leh and Chennai. Flights from Guwahati start at Rs. 1,005 while flights from Delhi start at Rs. 1,028. Flights from Hyderabad are available at a starting price of Rs. 1,073. Flights from Jammu are available at Rs. 1,112 while flights from Bengaluru start at Rs. 1,395. Flights from Ahmedabad are priced at a starting fare of Rs. 1,531. Flights from Kolkata start from Rs. 1,658 while flights from Mumbai start from Rs. 1,754. Flights from Leh start at Rs. 2,486 while flights from Chennai are available at a starting price of Rs. 2,527.
Flights from Fare
Guwahati Rs. 1005
Delhi Rs. 1028
Hyderabad Rs. 1073
Jammu Rs. 1112
Bengaluru Rs. 1395
Ahmedabad Rs. 1531
Kolkata Rs. 1658
Mumbai Rs. 1754
Leh Rs. 2486
Chennai Rs. 2527
(Source: goair.in)
According to the website of GoAir, there are certain terms and conditions which consumers must know before availing 'GoAir 2018 sale'.
Terms and conditions of 'GoAir 2018 sale'
1. GoAir domestic flight sale follows a standard cancellation and rebooking policy.
2. The fares are valid across selective fare types.
3. There are limited seats only.
4. Group discount is not applicable on this offer of GoAir.
5. GoAir reserves the right to cancel/modify/substitute/alter any aspect of this offer either partly or entirely, at its sole discretion without reason or prior notice.
6. Other terms and conditions and limitations of liability are applicable as per the 'Citizen's Charter' that is displayed on www.GoAir.in (GoAir website).
7. GoAir Offer is not applicable for infant booking.
["Source-ndtv"]