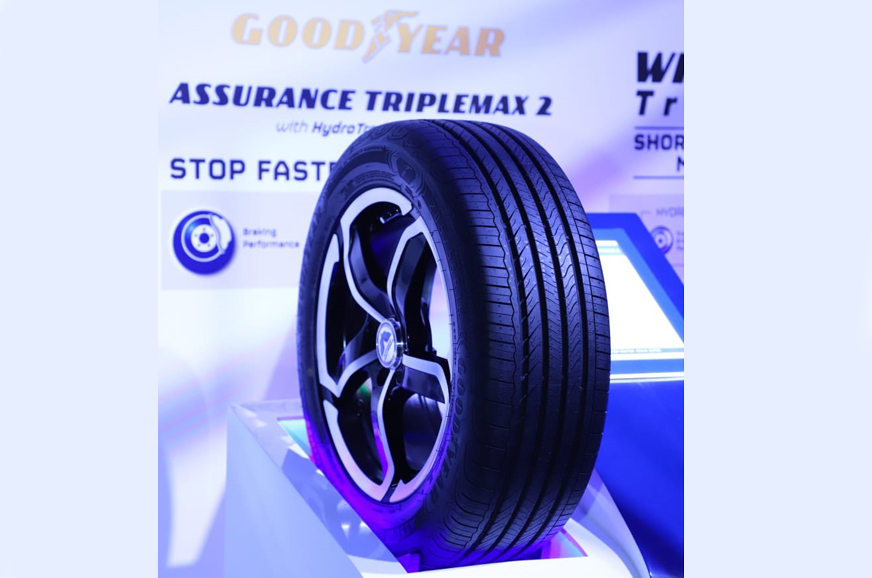 While its existing Assurance TripleMax range is known for offering a balanced mix of ride comfort and low road noise, the company has upgraded the series by introducing the TripleMax 2. Goodyear's new line gets a boosted compound formulation of Carbon-Silicon to aid braking, and downsized rubber blocks on the tyre's contact surface to further cut down road noise
The company claims tested road noise inside the cabin to stand at 62.4dB while driving at a constant speed and at 60.1dB during coasting, both of which claim to be lower by 1-2dB over competing products.
Want to Sell your Car? Selling Used Car at IndianBlueBook is very Quick & Effective. Maximize your car's value from India's most Trusted Vehicle Pricing Guide.
The TripleMax 2 series comes with an asymmetric tread pattern. Christened 'HydroTred' in Goodyear speak, this tread pattern allows for quick dissipation of water while on a wet road and thus, significantly minimises chances of aquaplaning. The tyres also get an enhanced, two-layer sidewall reinforcement which was brought in, keeping in mind the condition of Indian roads.
Targeted at both aftermarket replacement and OE supplies, the Goodyear Assurance TripleMax 2 range will be available in a host of sizes – 14-inch, 15-inch and 16-inch rim diameters. Majority of the products in the 14- and 15-inch sizes will be available at authorised Goodyear outlets across the country right away; but the 195/60/R15 and 185/55/R16 will be made available by August and November, respectively.
According to PK Walia, vice-president (consumer tyre business), Goodyear India, "India is key market for Goodyear in the Asian region. We are on an absolutely sure-footed growth trajectory in the country. We see a lot of strength in the passenger car products as this market is evolving. The TripleMax 2 range will be priced at par with the TripleMax 1 series, and barring continuing supplies to a few OE commitments, we will gradually phase out the Assurance TripleMax 1 from the market."
["source=indianbluebook"]