Problem of poor voice recognition of Australian accents has been addressed, as well as recognition of slang terms and difficult place names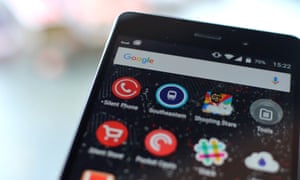 Google has improved voice searches for phone and computer applications to help it understand Australian accents and slang terms such as footy and servo.
It has also improved its ability to recognise difficult place names such as Tibooburra and Unanderra, and can now recognise the term "drop bear", an Australian slang term used to describe a fictional bear-like animal that drops from trees.
A persistent issue for phone users across platforms has been poor voice recognition for Australian accents.
Apple had already tweaked Siri in 2014 to add both an Australian voice to the system and improve its voice recognition. iPhone users can now choose between male and female voices in seven different accents, including those from New Zealand and Singapore, but Scottish users still report difficulties in being understood.
To demonstrate its mastery of the vernacular, the company released a song on YouTube, running through a series of Australian places such as Wollongong, Geelong, Cabramatta, Parramatta and Wangaratta.
The song is a condensed version of Geoff Mack's song I've Been Everywhere – and despite the pronunciation of place names being fairly spot-on, it's not entirely convincing.
A Google spokeswoman said: "People are starting to talk to their mobile devices more regularly. In fact, mobile voice searches have more than doubled in the past year alone."
"We wanted to make sure that Aussies were hearing an Australian voice speaking back to them."
Google's overhauled search function will be available on Android phones, and also on iPhones when using Google tools, such as its separate mapping app.
[Source:- The Gurdian]