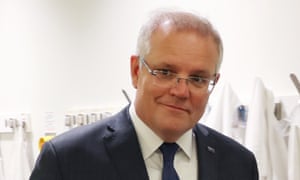 Scott Morrison has described a report he may adopt a technology investment target to avoid signing up to a commitment of zero greenhouse gas emissions by 2050 as speculation, but confirmed his government will take a "technology over taxation" approach to climate change.
On Tuesday, Morrison told reporters in Melbourne the report in the Australian was "very speculative", but said it was true that emissions reductions were achieved through technology, not "meetings".
The Australian suggested Morrison favoured a technology investment target as a way to help Australia resist an international push for a more explicit commitment to reduce emissions to net zero by mid-century at the next major UN climate summit in Glasgow in November.
The government is expected to soon release what it calls a technology investment roadmap, but has said little about what it will entail.
Several moderate Liberal MPs including Katie Allen and Trent Zimmerman have noted Australia effectively committed to net zero emissions by signing the 2015 Paris agreement. Under that deal, countries agreed to keep global heating above pre-industrial levels below 2C and to pursue policies to restrict it to 1.5C.
Morrison has begun the political year torn between moderate Liberals attempting to build traction internally for the government to increase climate action and resistance from the Nationals, who want more government support for coal-fired power.
Cabinet discussions have explored how to reposition the government's climate policies, with a focus on technology, as the bushfire crisis caused a spike in concern about the environment and a hit to Morrison's popularity.
At a press conference on Tuesday, Morrison reiterated that Australia would not make commitments without "having thoroughly looked at what is the impact on jobs".
Asked if an investment target would create tension with those who want a net zero emissions commitment, Morrison said "currently no one can tell me that going down that path won't cost jobs, won't put up your electricity prices, and won't impact negatively on jobs in the economies of rural and regional Australia".
A major report by CSIRO last year found there was no trade-off between strong economic growth and transitioning to zero emissions. The result of two years' work by 50 leaders across the community, the CSIRO's Australian National Outlook report found bold action could lead to GDP growth of 2.76% to 2.8% annually, a 90% increase in real wages and net zero emissions by 2050.
On Tuesday, Morrison suggested investment in technology would enable steel plants to use hydrogen power and increase uptake of renewable energy.
"The smart way in dealing with this to get emissions down … is to focus on the technology and making sure that that technology is affordable and it is scalable," he said.
"You want to get global emissions down? … You need technology that can be accessed and put in place, not just here in Australia, but all around the world. Meetings won't achieve that, technology does. And I can tell you taxes won't achieve it either."
The industry minister, Karen Andrews, told reporters at Flinders University she was focused on "what the solutions will be rather than endlessly discussing targets or whether or not climate change is real".
Andrews said it was "clear that we do have businesses … that are already investing", citing BAE and the Innovative Manufacturing Cooperative Research Centre.
Labor's climate change spokesman, Mark Butler, said a technology target would be a throwback to 2007, when then prime minister John Howard and US president George W. Bush rejected emissions reduction targets agreed under the Kyoto Protocol in favour of a "technology approach" that including support for nuclear power and "clean coal".
"Of course technology is the key to lowering emissions, but industry has made it clear that the take-up of new technology requires a serious energy and climate policy," Butler said. "This is something the Morrison government will never deliver as long as the hard-right climate deniers continue to run the show on climate policy."
The leader of the Greens, Adam Bandt, said: "Instead of a technology smokescreen, we need a Green New Deal to work with affected communities and workers to phase out coal, create new industries and look after the workers in those communities who are affected".
Erwin Jackson, policy director with the Investor Group on Climate Change, said acting on technology was important but not enough. He said all policy needed to be tied to an emissions goal. Net zero emissions was the most credible long-term scenario and had widespread backing, including within the business community.
"Setting a path to net zero emissions is prudent economic risk management," Jackson said. "The only question is if it's going to happen in a smooth way or in a disruptive way."
Martijn Wilder, a partner at climate advisory and investment firm Pollination and chairman of the Australian Renewable Energy Agency (Arena), said technology would play a critical role in reaching net zero emissions if backed by strong policies.
"With the right mix of technologies and policies, Australia is easily capable of reaching net zero well before 2050 and in doing so building an incredibly strong decarbonised economy," he said.
Wilder said having strong public institutions, such as Arena and the Clean Energy Finance Corporation, and policies similar to Britain's promised ban on new petrol, diesel and hybrid cars by 2035 could "greatly accelerate the transition".
In addition to the technology investment roadmap, the government has commissioned a review of its climate policies led by the businessman Grant King, and promised an electric vehicle policy and a long-term emissions strategy. It has also made it known it is likely to give an $11m grant to the owners of the Vales Point coal-fired power plant in the May budget.
We're living up to our promise…
… to reduce the Guardian's carbon footprint. In service of the escalating climate emergency, we have made an important decision – to renounce fossil fuel advertising, becoming the first major global news organisation to institute an outright ban on taking money from companies that extract fossil fuels.
The Guardian has pledged to give global heating, wildlife extinction and pollution the urgent attention and prominence they demand. That means changing the way we do our own business. In addition to turning down fossil fuel advertising, we've committed to becoming carbon-neutral by 2030 and divesting our Scott Trust endowment fund, which funds our journalism, from fossil fuel investment. The climate issue is the defining issue of our lifetime, and we realise the need to walk the talk in order to make a real difference.
You've read 219 articles in the last four months. We chose a different approach: to keep Guardian journalism open for all. We don't have a paywall because we believe everyone deserves access to factual information, regardless of where they live or what they can afford to pay.
Our editorial independence means we are free to investigate and challenge inaction by those in power. We will inform our readers about threats to the environment based on scientific facts, not driven by commercial or political interests. And we have made several important changes to our style guide to ensure the language we use accurately reflects the environmental emergency.
The Guardian believes that the problems we face on the climate crisis are systemic and that fundamental societal change is needed. We will keep reporting on the efforts of individuals and communities around the world who are fearlessly taking a stand for future generations and the preservation of human life on earth. We want their stories to inspire hope.
We hope you will consider supporting us today. We need your support to keep delivering quality journalism that's open and independent. Every reader contribution, however big or small, is so valuable.
["source=theguardian"]