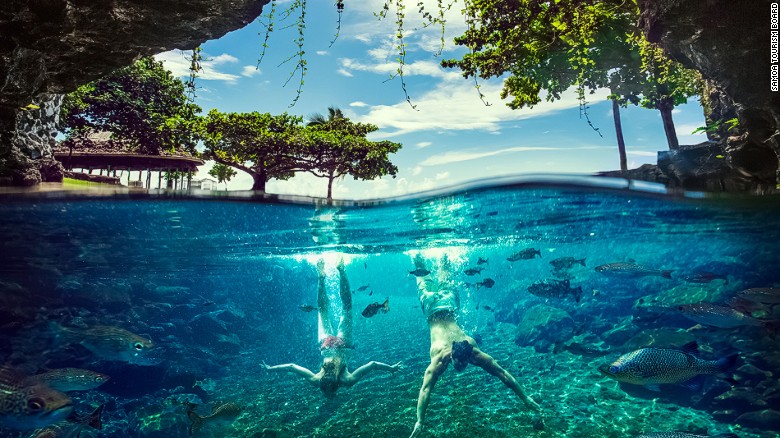 Beaches, rainforests, waterfalls, vibrant coral reefs, inactive volcanoes (the last eruption was an underwater one in 1973).
When it comes to the ideal South Pacific island, the Independent State of Samoa pretty much has what we're all looking for.
Samoa is also one of the larger island nations in the South Pacific — you can fit all of the Cook Islands onto either Upolu or Savai'i, the two largest Samoa islands.
The advantage?
A trip to Samoa remains uncrowded even when hotel properties are full.
The state was formerly known as Western Samoa, to differentiate it from American Samoa, the U.S. territory 40 miles to the east.
Now the 195,000 or so people who live here — about 93% are ethnic Samoans — just call the place Samoa.
Sounds good and always looks spectacular.
But apart from the scenery, this country offers more than just the sum of its beautiful parts.
Here's proof.
Sheraton Samoa Aggie Grey's Resort
Practicalities
Traveling between Upolu and Savai'i
The Samoa Shipping Corporation runs ferries between the main islands of Upolu and Savai'i several times a day, including a business-class ferry that provides light refreshments and air-conditioning.
The trip takes about an hour.
Local tips
As one of the oldest civilizations in the South Pacific — perhaps going back nearly 3,000 years — Samoa's culture is a mix of its ancient tribal roots and the introduction of Christianity by missionaries in 1830.
Fa'a Samoa, or The Samoan Way, describes the importance of the connection between matai (tribal chiefs), aga (extended families) and the church.
On Sundays, families gather around large village fales, traditional open-air housing that includes a floor, columns and a thatched roof.
"Sundays, things tend to shut down completely, unless you're at a resort," says Amanda Ladd, a representative from the Samoa Tourism Board.
Ladd also adds that while it's OK to wear a swim suit around a resort, you should put on shorts or a dress before venturing out to villages.
While air and water temperatures are consistent throughout the year (the range is 75/95F or 24/34C), peak season for Samoa is May to October, when the weather is drier and less humid.
Restaurants
Scalinis Samoa
Samoa-born chef Joe Lam and his New Zealander wife and business partner Amanda first openedScalinis in Auckland in 1999.
Ten years later, they moved their family and the restaurant back to his home country.
Scalinis serves Italian dishes with a seasonal Samoan take, like breadfruit gnocchi and clam carpaccio.
Lam puts a premium on local ingredients — some harvested from his own farm.
For the last four years running, Scalinis has won the award for Best Modern Samoan Dish in the New Zealand High Commission Food Challenge.
One of Scalinis' winning entries is New Zealand lamb with palusami (taro leaves with coconut cream) and feta, along with falai maukegi (pumpkin) with taro, braised in minted jus.
Amanaki
Amanaki is known for fresh seafood, especially sashimi, as well as poke (seasoned raw fish) served with crunchy coconut wedges.
It's located in the hotel of the same name on Apia Bay.
The hotel owns its own fishing boats, so you can be sure that the catch-of-the-day is always fresh.
While you're here, it's fun to try a Vailima beer, which is brewed in Samoa.
Paddles Restaurant
Paddles Restaurant is owned by the Rossi family.
With a father from Italy and a mother from Samoa, it's truly a marriage of cuisines.
While the menu's filled with Italian classics such as seafood risotto and spaghetti Bolognese, many customers' favorite dish is oka — a Samoan delicacy made with tuna marinated in citrus, onion, chili and coconut milk.
Located along Beach Road across from the harbor, the restaurant offers beautiful sunset views at dinner — booking ahead is recommended.
Home Cafe
Horace Evans, a former chef at Aggie Grey's, runs the eclectic Home Cafe on the outskirts of Apia.
The cafe overlooks Apia and the coast, and features all-day breakfasts and, on selected nights, DJ music.
Don't see what you want on the menu?
It's said that Evans will try to create something to your liking.
Nightlife
Fiafia nights
Fiafia (meaning "happy" or "celebration" in Samoan) night offers visitors the opportunity to enjoy a night of Samoan cultural entertainment and food.
It offers a way to see how Samoan culture differs from that of its South Pacific neighbors.
For example, the siva, a Samoan dance performed by women, features more wrist and ankle movement than it does hip shaking.
"It's very slow, very precise, very fluid," Ladd says.
Samoa is also home to the siva afi, or fire knife dance, in which male dancers perform acrobatic feats while deftly twirling a burning blade.
Many hotels on Samoa offer a fiafia night during the week.
Club X
Along with nearby Sheeshas Boutique Bar and Y Not?, Club X forms "the" bar district in Samoa.
Located in and around Apia's marina, the area allows travelers to pick a bar or watering hole that fits their tastes.
Club X is popular with younger Samoan club goers and is known for its Fiesta Fridays.
Ace of Clubs
The Ace of Clubs is Apia's relatively new nightspot (despite having opened nearly two years ago).
The club comprises a restaurant downstairs and a soundproof nightclub on the second floor complete with DJs, a pumping sound system and light show.
RSA Club
If you want to sit back with a Taula (another Samoa-brewed beer) and live music, the RSA Club is the place.
Attracting a slightly older crowd than the dance clubs, the RSA Club has ample seating and pool tables.
RSA Club, Mulinu'u Road, Apia, Samoa; 9 a.m.-10 p.m. Monday-Thursday, 9 a.m.-12 a.m. Friday, Saturday; +685 20171
Pools
To Sua Ocean Trench
While the name might bring deep-sea submersibles and lantern-jawed fish to mind, To Sua Ocean Trench is actually a beautiful swimming hole on the southern coast of Upolu.
Accessible by a slightly daunting wooden ladder that leads down to a pool, the bright blue waters of To Sua are fed by a lava tube that connects it to the Pacific.
To Sua Ocean Trench, Lalomanu, Upolu, Samoa
Lalomanu Beach
Lalomanu Beach is a quintessential South Pacific beach with its leaning palms, beautiful white sand and views of Samoa's smaller outer islands.
It also provides perspective on just how much space Samoa provides visitors.
"It's the most popular public beach in the country," says Ladd. "And I've never found more than 20 people at that beach at any given time."
Lalomanu Beach, Lalomanu, Upolu, Samoa
Afu Aau Waterfall
After your entrance fee is collected at a fale just off the road, a 10-minute walk leads to a stunning waterfall and pool on the southeastern coast of Savai'i.
The water may be colder than what visitors here experience in the ocean, but on a hot Samoa day, it can provide relief.
Afu Aau Waterfall, South Coast Road, Vailoa, Savai'i
Attractions
Fugalei Market
With abundant rainfall and an average annual temperature just shy of 80F (26C), Samoa provides the ideal growing conditions for numerous tropical fruits and vegetables.
Fugalei Market is where to find the best of them.
Local specialties include breadfruit, taro, yams, bananas and Otaheite apples.
Fugalei Market, Fugalei Road, Apia, Samoa
Samoa Cultural Village
Three days a week, Samoan traditions are on display at the Samoa Cultural Village on the grounds of the Samoa Tourism Authority.
One of the performances visitors can experience is umu cooking.
Foods such as taro, palsami and fish are placed on hot rocks on the ground, then covered with leaves to be cooked.
Visitors can watch locals singing and dancing, weaving and even traditional Samoan tattooing.
Samoa Cultural Village, Beach Road, Apia, Samoa; +685 63521
Robert Louis Stevenson Museum
Robert Louis Stevenson, author of "Treasure Island," "Kidnapped" and "The Strange Case of Dr. Jekyll and Mr. Hyde," spent his final years in Samoa.
After several years traveling throughout the South Pacific to combat ill health, Stevenson moved his family to Samoa in 1889.
While the move might not have been good for his piano (it needed to be kept in a glass case to combat humidity), Stevenson was happy on Samoa and enjoyed his local name Tusitala (or Teller of Tales).
On the author's death, his body was buried on the top of nearby Mount Vaea.
Visitors who undertake the somewhat steep hike to his grave will also find a nearly 360-degree view.
Robert Louis Stevenson Museum, Cross Island Road, Upolu, Samoa; Monday-Friday, 9 a.m.-4:30 p.m., Saturday, 9 a.m.-noon; +685 20798
Alofaaga Blowholes
On the island of Savai'i, the powerful blowholes outside the village of Taga are worth a side trip.
Lava tubes lead from the ocean to a flat cliff top. Under the right conditions, ocean water is forced through these tubes, exploding into geysers that shoot hundreds of feet into the air.
If you're lucky, the locals might demonstrate how to hurl coconuts using the power of that water.
Alofaaga Blowholes, South Coast Road, Taga, Savai'i
Samoa Scenic
Aggie Grey was a local legend and a Samoan hotelier who was friends with celebrities such as Marlon Brando, Dorothy Lamour and Gary Cooper.
Also a friend of writer James Michener, she's said to have been the model for Bloody Mary in his book "Tales of the South Pacific," which was later adapted into the stage play and movie "South Pacific."
In fact, Sheraton resorts on Samoa and Tahiti still bear her name.
The Grey family remains in the hospitality industry with a tour company called Samoa Scenic.
One tour that the company offers is to Manono Island — located between Upolu and Savai'i — where you can meet the local chief and enjoy an 'ava (kava) ceremony.
Another tour to Nu'ulopa Island — a tiny uninhabited island between Upolu and Savai'i — has fantastic snorkeling surrounded by reefs.
"You can be the only one on the beach. You can be the only one on the island," says Ladd.
Samoa Scenic, Apia, Upolu, Samoa
Savalalo Market
Apia's Savalalo flea market was a major center of Samoan life and a place where tourists could buy everything from mats woven with pandanus leaves and wood carvings to traditional colorful sarongs known as lavalavas.
Unfortunately, the market burned down in January 2016.
Currently the Samoa government is looking at a number of options, including relocation to other area markets or setting up a temporary location for the market.
[Source:- edition.cnn]