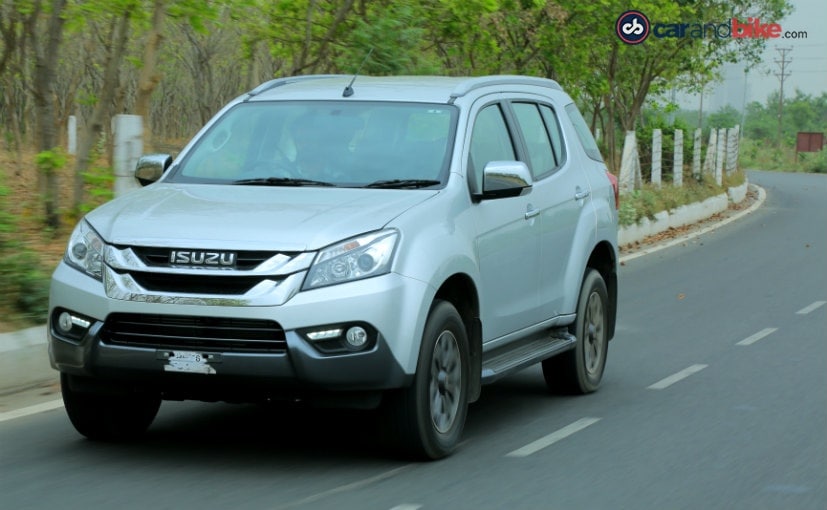 We all have had our Monday morning blues. But a dull, balmy Monday morning with pitter-patter rain is a different level of dreary. The only silver lining in the cloud at that time, was the newest SUV on the block, the Isuzu MU-X, which was draped in a shade of, you guessed it, Silver! Now Isuzu is a company which 'focuses only on SUVs' and the last model that it launched, the D-Max V-Cross pickup did decently well and won quite a many hearts for its robust build, good looks and decent practicality. So a new SUV from Isuzu was definitely bound to get us excited
Yep! It's true. The Isuzu MU-X is a rugged-looking SUV, no doubt about that. The front end with the two-slate chrome grill along with a dual-tone bumper and the high-rising bonnet gives it a proper SUV stance. The wheel arches flare out beautifully, adding muscle to the profile and those 17-inch diamond-cut alloys look rather cool too. The crossover-ish rear rounds up things nicely. Do not be put off by the dull looking silver colour on the SUV in the pictures. n bright sunshine, the MU-X looks quite good. It definitely has oodles of street presence and can hold up on its own in the company of its competition.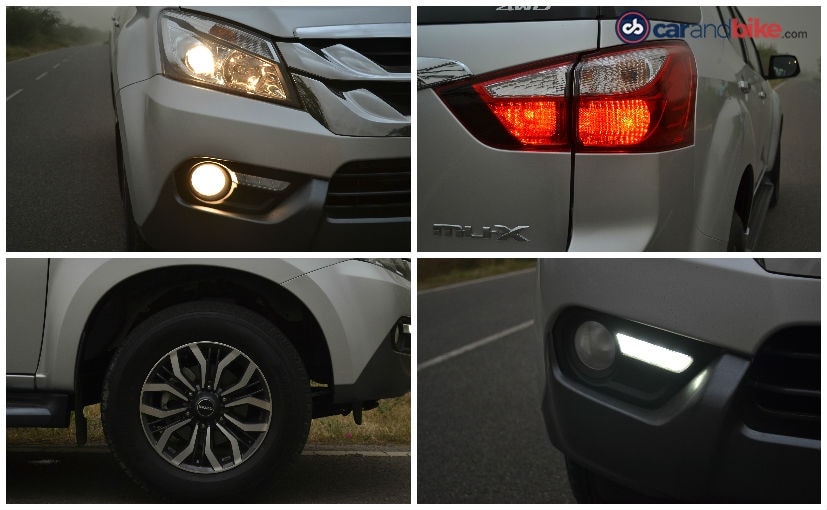 isuzu mu x review(There is no denying that the Isuzu MU-X has good street presence)
Coming to the good parts first, the MU-X gets leather upholstery and a plain looking dashboard. The all-black treatment with silver inserts look classy but could have had a bit more chutzpah. And by chutzpah I mean a comprehensive infotainment system. And by comprehensive, I mean that there are no smartphone integration options and no navigation. You do get Bluetooth, Aux-in and USB connectivity but one wouldn't be wrong if he asked for more.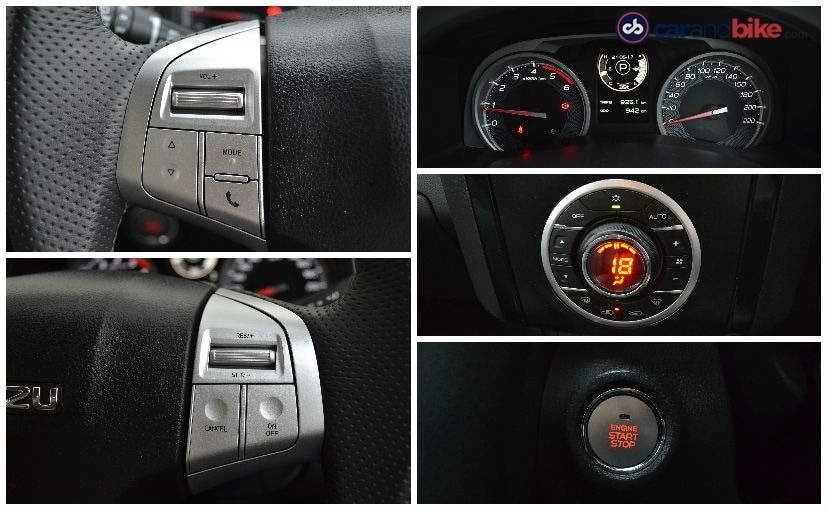 isuzu mu x review(Isuzu MU-X: The SUV gets its fair share of convenience features)
You do get cruise-control, electrically adjustable seats for the driver and electronics like traction control, electronic stability control, anti-lock brakes with EBD and dual airbags. There is hill-hold assist and emergency braking assist on offer as well. The two-pod instrument cluster looks contemporary and gets a multi-information display sandwiched between the two pods.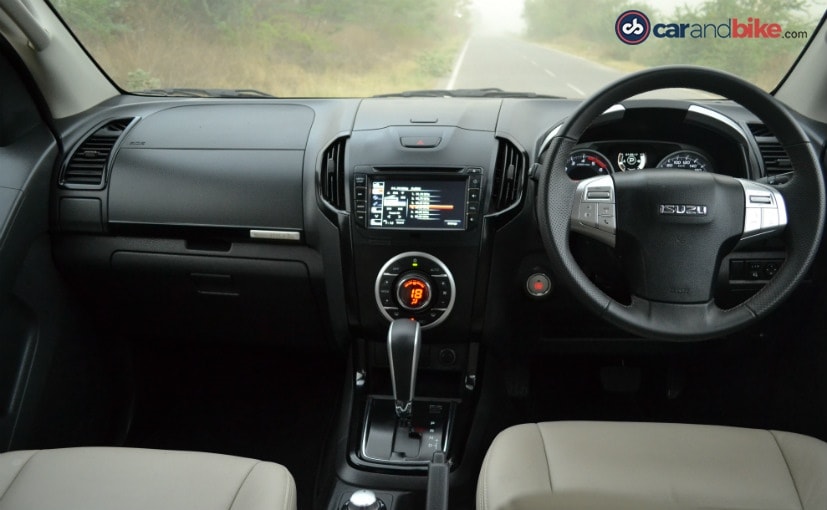 isuzu mu x review(Isuzu MU-X: The dashboard looks a little plain but is well-finished)
The cooler features are the roof-mounted AC vents for the second and third-row passengers (The Isuzu MU-X is a seven-seater SUV) and roof-mounted speakers as well, which give you a great audio experience. There is a 10-inch screen mounted on the roof as well which is meant for rear passengers to watch a movie or something. But, it kind of looks like an after-market fitment. The middle seats could be folded in a 60:40 split, making it convenient to load up when necessary.
Oh! And before we forget, the luggage space is not exactly what you would call generous. This is of course, with the third row up. Drop them down and then you have a large boot. The cabin is airy and spacious with lots of storage spaces and cup-holders as well. Even the third row passengers wouldn't complain in a city runabout and that is because there is enough room for them to sit with the knees parallel to the floor and not scrunched up.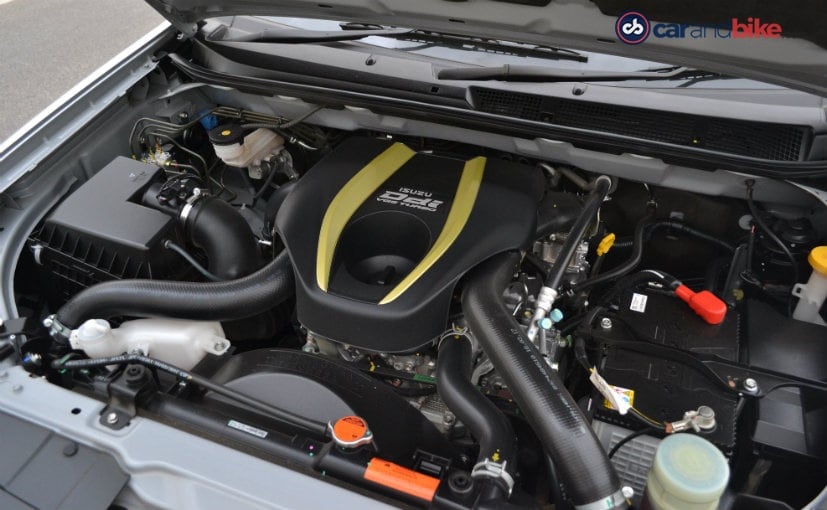 isuzu mu x review(The engine is a 3.0-litre diesel unit which makes 174 bhp and 380 Nm )
The Isuzu MU-X gets a 3.0-litre engine which belts out 174 bhp at 3,600 rpm, while it makes a max torque of 360 Nm at 1,800-2,800 rpm. Press the pedal to the metal and one could sense a fair bit of turbo lag, which only kicks in at 2,200-2,300 rpm or so. But highway manners are impeccable and there is enough grunt for quick overtaking manoeuvres. Just that, you will have to time them right.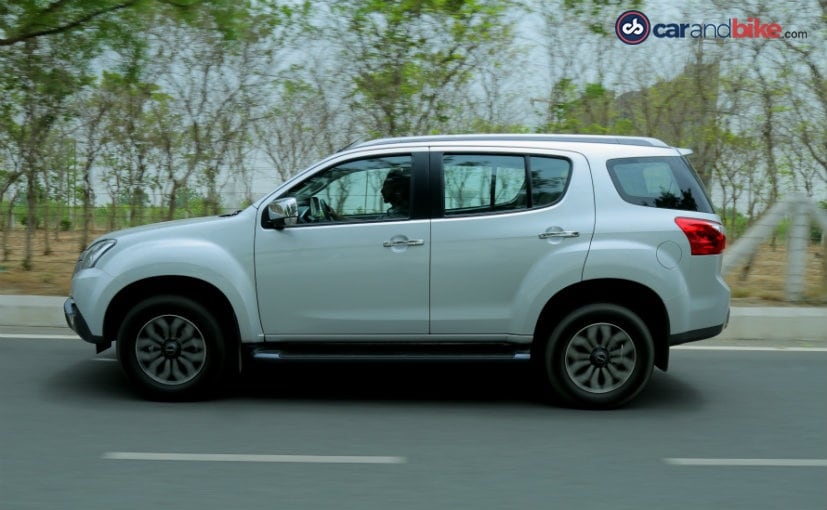 isuzu mu x review(The Isuzu MU-X has good road manners. It can transport up to 7 people in comfort)
The 5-speed automatic gearbox is decent, doesn't hold on to gears for longer than necessary. The engine itself is not the most refined unit out there and has a fair bit of engine noise and vibrations that creep into the cabin when you pin the throttle down. And at that moment, the car lurches forward lazily. But once it hits the sweet spot on the rev range, the MU-X builds up speed rapidly.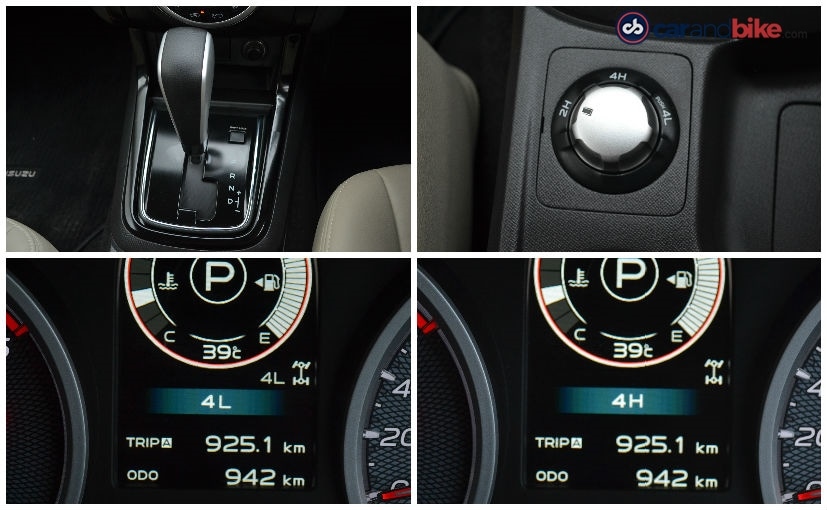 isuzu mu x review(The Isuzu MU-X get a electronic shift-on-the-fly 4×4 system)
While the Isuzu MU-X does get a Terrain Command' four-wheel drive system with an electronic shift on the fly rotary knob, we rue the fact we could not quite test the same. One can select from 2WD to 4WD high till speeds of up to 100 kmph. But in case you want to shift to 4WD low, you will have to get the car to a standstill and then select the same.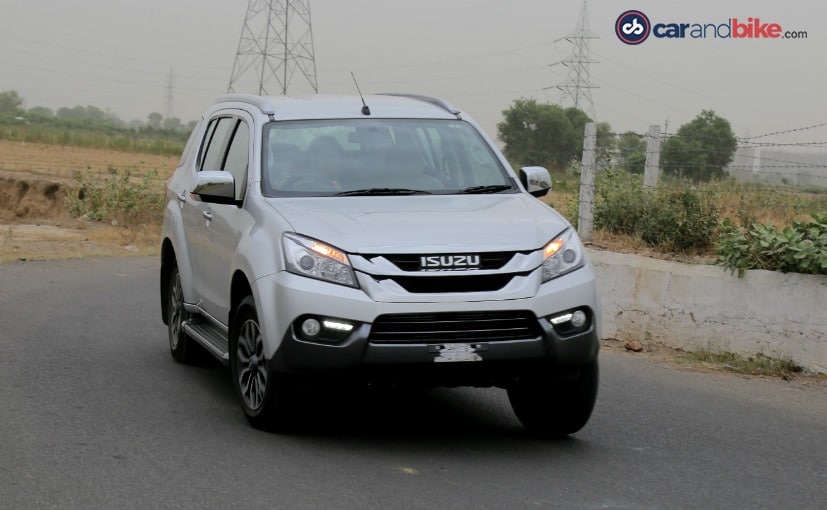 isuzu mu x review(There is a fair bit of body-roll on the Isuzu MU-X when taking corners)
Being a full-blown SUV with a kerb weight of 2,060 kg doesn't mean that it is a slouch. The SUV handles well enough but is most comfortable on straight roads. The suspension setup is on the softer side and is able to gobble up bumps and potholes with ease, at road-going speeds. The soft suspension also translates into a fair bit of body-roll.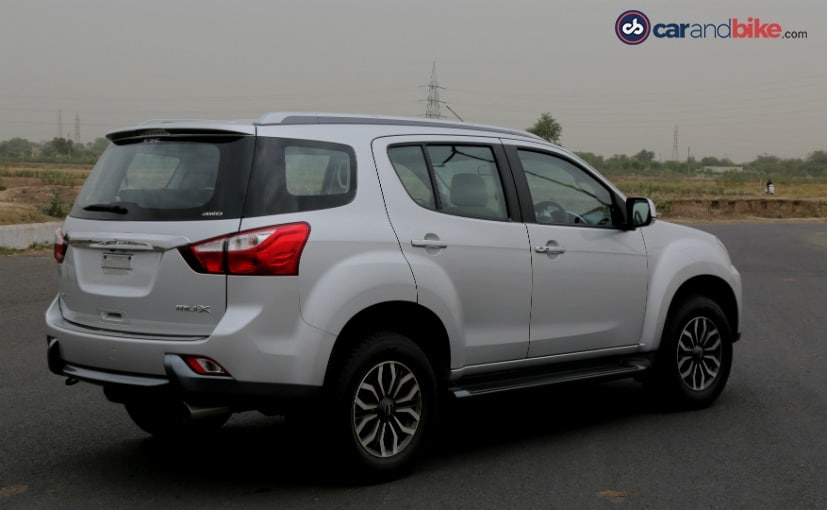 isuzu mu x review(The Isuzu MU-X makes for a decent proposition, for its price)
The MU-X is a likeable bloke and while it does have its drawbacks, it is definitely a massive step-up from the MU-7. Of course, the MU-X falls short on features, power, equipment when compared to its immediate rivals such as the Ford Endeavour and Toyota Fortuner, but with the 2WD prices at ₹ 23.99 lakh and the 4WD prices at ₹ 25.99 lakh, it is almost ₹ 5-6 lakh cheaper than the top-of-the-line models of its competition. So, keeping that in mind, it makes for a good proposition.
["source-auto.ndtv"]