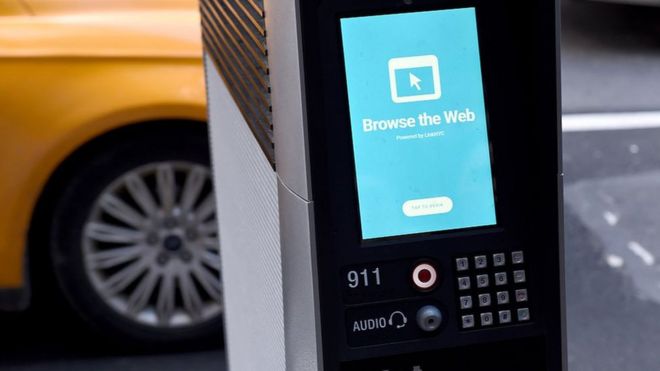 Google-funded internet kiosks around New York City are being updated to stop them being used "inappropriately".
Free web browsing on the 400 kiosks will be disabled to stop people viewing pornography sites and also to prevent individuals using them for too long.
The change comes after several New Yorkers reported people committing "lewd acts" at the booths.
The kiosks will still offer free phone calls, wi-fi, charging points, maps and access to emergency services.
Homeless hub
In an update posted to its website, LinkNYC, which runs the kiosks thanks to cash from Google, said it had removed web access while it explored ways to tackle some "unexpected challenges" that had emerged from their use.
Local news websites in New York reported on citizens witnessing "lewd acts" in and around the booths on several occasions.
LinkNYC sought to solve this problem when it emerged earlier this year by adding a filtering system to stop people reaching porn sites on the public screens. However, many regular users of the kiosks found ways around the blocks and continued using them in this way.
There were also reports about homeless people monopolising the kiosks and stopping other people using them.
"The kiosks were never intended for anyone's extended, personal use," said LinkNYC.
It said it was exploring ways to impose time limits and that it was looking into other ways to stop "inappropriate" use.
Jeffrey Burtondiokes, a homeless man interviewed by the Wall Street Journal, said he used the kiosks every day to listen to music.
"I appreciate it very much," he told the newspaper. "And if they take it, that would be a little upsetting."
By 2019, LinkNYC hopes to have more than 4,550 kiosks spread across New York.
[Source:- BBC]