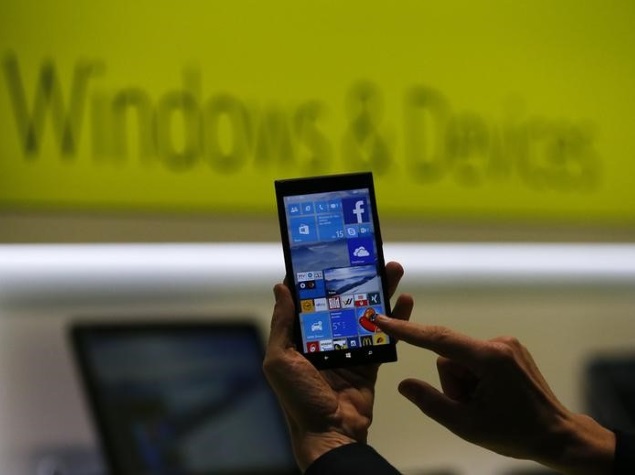 Microsoft, as promised a week before, has started rolling out the second build (10051) of the Windows 10 Technical Preview for phones to its Windows Insider users on Friday. The highlight of the build is the inclusion of an early version of Microsoft's Spartan browser for phones, along with a number of other features.
Notably, build 10051 of the Windows 10 Technical Preview adds a partition stitching feature which enables it to support nearly all the Lumia smartphones in the market except the Lumia Icon, Lumia 930 and Lumia 640XL devices because of screen scaling issues. Also, Windows Phone devices made by Microsoft OEMs are not supported. The company has provided the full list of supported handsets in a blog post – note, this is a technical preview build, and will contain several bugs and stability issues.
In the latest Windows 10 Technical Preview for phones, the Project Spartan browser "exists side-by-side with IE11". Testers can find it in the All Apps list and will also be able to pin it onto the Start Screen. The new browser notably uses the same Edge engine as its desktop counterpart, as per Microsoft. The Redmond-based tech firm had introduced the Spartan browser, it's new default browser for Windows 10 being built in collaboration with several partners including Adobe, last month in the Windows 10 Technical Preview build for desktops.
(Also See:Windows 10 Store to Offer Apps, Music, and Video in One Place)
Other than the inclusion of the new Project Spartan browser, Microsoft has introduced Universal app versions of Outlook Mail and Outlook Calendar. Both the new apps now come with a new UI along with a toggle to easily switch between the calendar and the email sections. The Outlook Mail comes with customisable swipe gestures, letting users swipe left or right to delete, flag, move, or mark as read/ unread. Features like inserting tables, adding pictures and using bullets and text are also included in the new Outlook Mail. Outlook Mail and Outlook Calendar can connect to Office 365, Exchange, Outlook.com, Gmail, Google Calendar, Yahoo!, IMAP, POP and other accounts.
The Windows 10 Technical Preview for mobile with build 10051 also brings new Phone and Messaging apps, which now come with new visual design. Users also have easy access to voice calls from within the Messaging app with one click on the phone icon in the new app bar. Other introductions include new Universal app for People with new design and contacts now extracted from Exchange, Outlook.com, Gmail, Facebookand other accounts, new Maps app with aerial imagery, "rich" local data, navigation details from Bing Maps and HERE maps and more.
The App Switcher has also been also updated. Testers can view the updated app switcher by long-pressing the back button on the phone. Microsoft has this time also added a landscape view to the App Switcher, alongside a new grid view for handsets with larger screen like the Lumia 1520.
Some of the fixes made in this build are related to keyboard layout, Cortana icon resolution, photo app, and Microsoft Band sync. However, some issues still remain to be solved. According to Microsoft, there are still issues related to the auto-uploading of Camera Roll to OneDrive, the removal of Office Hub, Bluetooth-based interactions with Cortana, apps installed in SD card failing to launch, and more. Microsoft says these will be solved in the upcoming builds. The full changelog can be seen on the blog post
["source-gadgets.ndtv.com"]