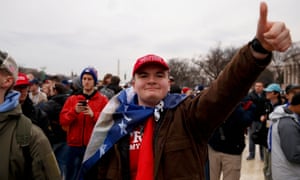 A steady flow of red trucker hats snaked to checkpoints around the US Capitol and the National Mall on Friday morning to mark the transfer of power from Barack Obama to Donald Trump.
"I never thought I'd be here in the first place, but to be here for the election of Donald Trump, it's incredible," Ann Marie Sinisi, who came to Washington DC with her family for the inauguration from Queens, New York, the borough where the president-elect was born.
Sinisi has been familiar with Trump since he was a young businessman bragging about his prowess to local tabloids. She is doubtful the presidency will change Trump, and that's exactly why she voted for him.
"He is who he is," she said, adding: "A lot of people think he's a bad businessman because of all the bankruptcies. That's not always a bad thing – I'm a bankruptcy lawyer!"
Her daughter, Dawn Marie Sinisi Feiler, said Trump's biggest task ahead would be uniting the country, which has been rocked by protests since his election.
"I really believe he's already made changes – like the factory jobs," Sinisi Feiler said, referring to public pressure Trump had put on companies to keep American jobs in the country, with debatable effectiveness. "If he keeps doing that, if he does so much good that it's undeniable, he will unite the country."
Isaac Deal travelled by bus to the inauguration from Indianapolis with his classmates. "It's a once-in-a-lifetime opportunity," Deal said, wearing a camouflage Make America Great Again hat. At 19, his first vote cast for president was for Trump.
Deal said he liked Trump's anti-establishment message, his railing against money in politics and crony capitalism, but he said he had been dismayed by Trump's cabinet picks, which include a number of billionaires with Wall Street ties.
"Donald Trump promised to drain the swamp and with his cabinet picks he's picking the very same trolls who run the swamp," he said, adding that he was willing to give Trump more time to build his team.
"I voted for him because I thought he was the best man for the job, but I'm not a Trump fanboy. I'll hold him to account," Deal said.
Anthony Juiffrey, of New York, said he had voted for Trump because of his economic agenda and promise to create more jobs in America. He said he understands the protesters – and might have been one himself had Trump lost – but said the charges against Trump's supporters were not fair.
"I've heard all the 'ists' – racist, chauvinist, you name it," Juiffrey said. "That's not true … If Trump came out with some kind of serious plan, government-sponsored racism, where he said let's throw out all the Mexicans or something like that, I'd be really upset and I'd fight that. But so far that's not what he's saying."
"I cannot see it on TV – I have to see it live," he said, before gesturing to his surroundings.
Celony, who immigrated from Haiti more than two decades ago, said he was confident Trump would "bring jobs back to America".
"People can say whatever they want about Trump, but he knows exactly what he's doing," he said.
"When you see what he's accomplished in his life, if he puts the same ideas in office, he's going to make America great again. There's no doubt about it."
Stella Slattery, a resident of upstate New York, dubbed it "a historic day" as she made her way toward the Capitol in a white Trump-Pence T-shirt.
She, too, pointed to Trump's vast business empire as evidence of his promise.
"Donald Trump is a proven businessman," Slattery said, "and it's about time that America be run like a corporation and not like a free-for-all for a few politicians and well-to-do."
Asked about her hopes for Trump's presidency, she offered a simple thought: "To bring America to what it used to be."
Many of those who descended upon Washington to support the president-elect expressed similar sentiments, echoing Trump's rhetoric on the campaign trail. He would be a champion of the working class, they insisted, and perhaps most importantly would serve as a symbol against the politics that have long ruled the nation's capital.
"Both the Republican and Democratic establishment has let America down," said John D, a Trump supporter who requested not to provide his full name.
Hailing from Michigan, one of the battleground states where Trump's victory was most unexpected, John D said he expected better trade policies from Trump and a closure of US borders. But he acknowledged there was a level of risk associated with the incoming president.
"It may be good or it may be bad, but it's a change worth taking."
There were some hangovers from the anger-fuelled campaign that lifted Trump to victory in November.
A man in a cowboy hat posed for a photo with a shirt that said "Hillary for Prison 2016". Asked whether he was disappointed Trump backed off his pledge to jail his political opponent if elected, the man waved away the question.
"Today's a good day," he said, walking away without giving his name. "I'm thrilled to be here."
[Source:- Gurdian]