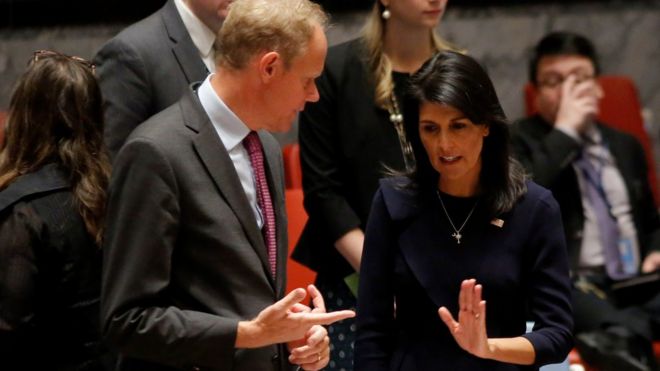 The US envoy to the UN has urged the Security Council to take the "strongest possible measures" against North Korea after its latest nuclear test.
"The time has come to exhaust all diplomatic means before it is too late," Nikki Haley told an emergency meeting of the council in New York.
The US will circulate a new draft Security Council resolution, hoping for a vote next Monday.
South Korea is set to scrap a warhead weight limit on its own missiles.
President Moon Jae-in agreed in a phone call with his US counterpart, Donald Trump, to remove the current cap of 500kg (1,100lb), the South Korean presidential office said.
It carried out live-fire exercises on Monday, simulating an attack on the North's nuclear test site.
Reports suggest the North is preparing new test missile launches. It tested a nuclear bomb underground on Sunday. Estimates of its power range from 50 kilotonnes to 120 kilotonnes. A 50kt device would be about three times the size of the bomb that destroyed Hiroshima in 1945.
Does this mean war?
How should Trump handle North Korea?
'Begging for war'
Opening Monday's meeting, UN Under Secretary General Jeffrey Feltman said North Korea's actions were destabilising global security, and he called on Pyongyang to abide by Security Council resolutions.
"The DPRK [North Korea] is the only country that continues to break the norm against nuclear test explosions," he said.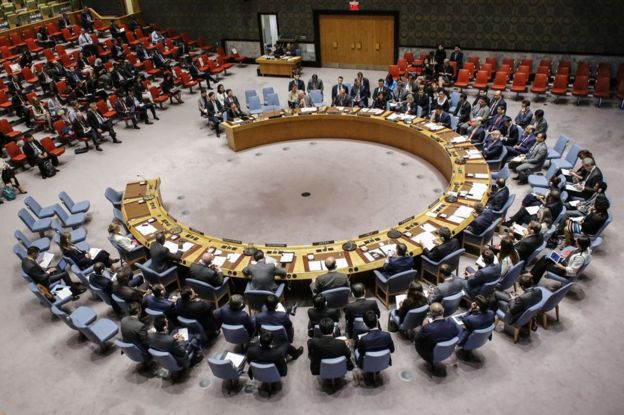 Ms Haley argued that only the strongest sanctions would enable the problem to be resolved through diplomacy.
North Korean leader Kim Jong-un had shown through his actions that he was "begging for war", she said.
"War is never something the United States wants," she continued. "We don't want it now but our country's patience is not unlimited."
She was speaking after President Trump warned the US might consider stopping all trade with any country doing business with North Korea.
"The United States will look at every country that does business with North Korea as a country that is giving aid to their reckless and dangerous nuclear intentions," Ms Haley said.
The British ambassador to the UN, Matthew Rycroft, said direct talks with North Korea were only possible if Pyongyang stopped the escalation.
"Dialogue will always be our end goal but returning to dialogue without a serious sign of intent from Pyongyang would be a set-up to failure," he said. "North Korea must change course to allow a return to dialogue."
China's envoy to the UN, Liu Jieyi, reiterated a call for all sides to return to negotiations. "The peninsula issue must be resolved peacefully," he said. "China will never allow chaos and war on the peninsula."
What other sanctions remain?
Last month, the Security Council voted unanimously to ban North Korean exports and limit investments in the country.
Ms Haley did not spell out what additional measures might be taken but diplomats have suggested an oil embargo would have a crippling effect.
There could also be a ban on the North's national airline, curbs on North Koreans working abroad, and asset freezes and travel bans on officials.
---
Why North Korea is off the intelligence radar
By Frank Gardner, BBC security correspondent
North Korea is an intelligence failure for the West. All predictions as to the speed of that country's progress towards developing a nuclear-tipped ballistic missile capability have proven to be short of the mark.
In both missile technology and nuclear weapons tests, North Korea has astounded defence and intelligence analysts with the pace of its advance towards full ICBM nuclear capability. Why? Because North Korea is an immensely hard intelligence target.
Largely sealed off from the outside world, it is possibly the most difficult country to spy on. Most of its citizens do not have access to the worldwide web, limiting the scope for cyber-penetration. On the military side it has developed a network of mobile missile launchers and underground testing sites that are all but invisible to US satellites.
The country that has possibly the best idea of what North Korea is up to is its vast neighbour, China. But given China's own tensions with the US, it has not seen it in its interests to share what it knows with Washington.
---
How big was the latest test?
It was North Korea's sixth and most powerful nuclear test to date. The US Geological Survey recorded a resulting tremor at 6.3 magnitude.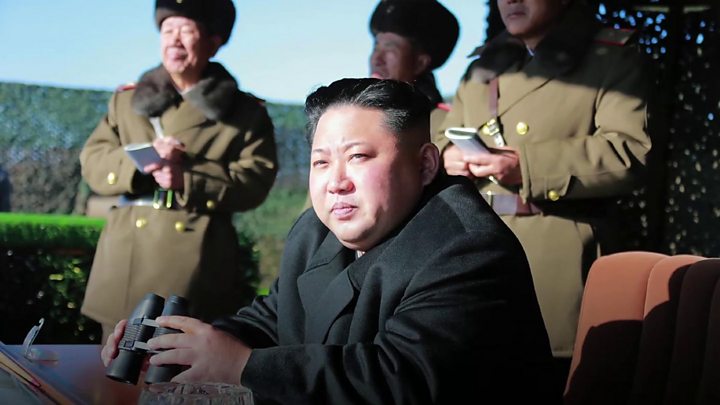 Kim Jong-un was pictured on camera being shown what state media said was a new type of hydrogen bomb.
Kim inspects 'nuclear warhead': A picture decoded
'Tunnel collapse' at nuclear site may provide clues
South Korea said it was now presumed that the North had reduced its nuclear warhead in size to below 500kg, and would be able to attach one to an intercontinental ballistic missile (ICBM).
But analysts have said the North's claims about miniaturisation should be treated with considerable caution.
Can the world live with a nuclear North Korea?
Have North Korea's missile tests paid off?
Earlier on Monday, a South Korean defence ministry official said there were signs of "possibly more ballistic missile launches", including an ICBM.
What's at North Korea's nuclear site?
Can we work out the power of the tested bomb?
How else are the South and its US ally responding?
Monday's drills simulated the targeting of the Punggye-ri nuclear site in Kilju County, where North Korea carried out its bomb test. Missiles were fired from the ground and rockets from fighter jets.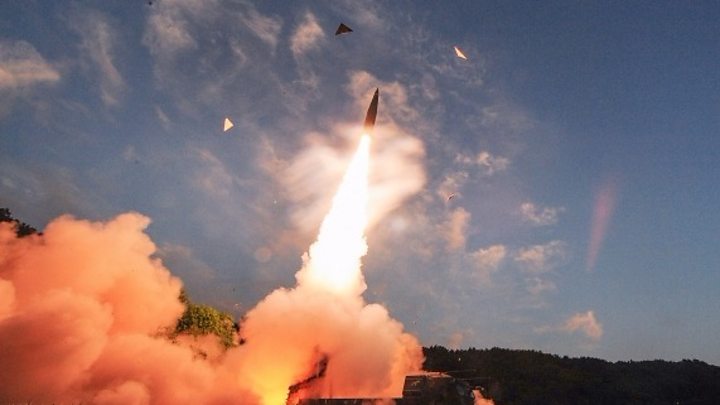 The defence ministry in Seoul said there would be more live-fire drills in the South this month, involving Taurus air-to-surface missiles mounted on F-15 jets.
The ministry also told parliament the US would seek to deploy a nuclear-powered aircraft carrier to seas off the peninsula.
Four more launchers of the US Thaad (Terminal High-Altitude Area Defence) missile defence system -strongly opposed by China and Russia – would also be deployed to join two already at a site in Seongju, south of Seoul.
Source:-BBC