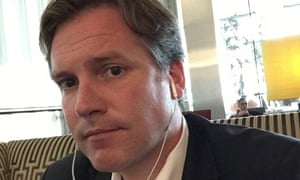 A man arrested on suspicion of pushing a woman into the path of an oncoming bus that nearly hit her has denied any involvement in the incident.
Eric Bellquist, a partner at a Mayfair-based private equity firm, said he was not the jogger caught on CCTV shoving the woman into the road on Putney Bridge in south-west London. The American investment banker's lawyers state that Bellquist has "irrefutable proof" he was in the US at the time of the incident.
While the encounter occurred in May, it came to the attention of the public this week after police released a video that was widely shared online.
Bellquist works for Hutton Collins Partners, which owns the restaurant chains Wagamama and Byron. He sits on their boards as a non-executive director and has previously worked for the failed US investment bank Lehman Brothers.
The Metropolitan police said on Thursday that they had arrested a man in Chelsea on suspicion of causing grievous bodily harm. He was later released on bail.
Bellquist's lawyers, Duncan Lewis Solicitors, said: "This statement is issued in relation to our client Mr Eric Bellquist, who was arrested yesterday in relation to an assault that took place between a male jogger and a female pedestrian on 5 May 2017 on Putney Bridge, London.
"Our client has been wrongly implicated in this matter; he categorically denies being the individual concerned and has irrefutable proof that he was in the United States at the time of the incident. Consequently, we expect a swift resolution to this wholly untrue allegation."
According to his LinkedIn profile, Bellquist studied business administration at the University of Colorado Boulder. He became a partner at Hutton Collins in 2002.
The CCTV footage showed a man dressed in a light grey T-shirt and blue shorts apparently barging into the 33-year-old woman, knocking her into the road on the east side of Putney Bridge and forcing a bus to swerve to avoid her.
The Met said the bus stopped and passengers tended to the woman, who sustained minor injuries, after the incident at about 7.40am on 5 May.
Officers said the jogger ran back the other way across the bridge about 15 minutes later and the victim tried to speak to him, but "he did not acknowledge her".
Bus operator Go-Ahead London told 5 News: "The driver commented that he is pleased to have been a hero, he was just doing his job.
"He is pleased to have been able to react the way he did and that there was no serious injury to the lady."
Police originally gave the arrested man's age as 41, but later issued a correction changing it to 50. However, the Met said on Friday that the man who was arrested and subsequently released under investigation was 41. "We apologise for this mistake, which was solely a matter of human error," the force said.
The Met said they had received a "huge response" to their appeal for information in a case that has captured national attention.
Prof Craig Jackson, the head of psychology at Birmingham City University, told Good Morning Britain: "I think what we're looking at here is an embodiment of what we often see as 'cis privilege', or you might want to call it white male privilege.
"This is clearly an individual who, upon seeing someone in his path, veers towards them and not only does he barrel them over, but he continues to run down the road without even looking back to make sure they're okay.
"That to me is quite horrifying behaviour and I think what we're looking at here is the pedestrian equivalent of road rage. It's very, very worrying … it could have been murder or manslaughter."
Source:-theguardian