What every January needs – a peaceful vacay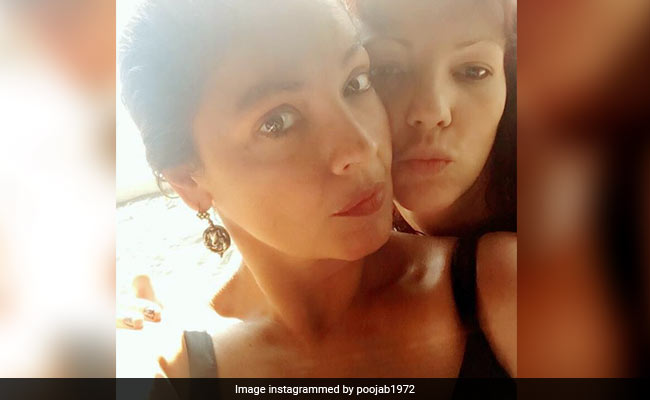 For the lot of us, January means shaking off the holiday merriment, getting started on our resolutions and getting back to the grind. But that isn't the case for Pooja Bhatt. The popular Bollywood actress and film-maker brought 2018 in with a new look – hot pink hair – and then, set off to spend the next few days of the new year in none other than scenic Goa. It's safe to say that's we're a teensy bit jealous. While we're wrapped in sweatshirts braving the chill at our work desks, Pooja's out and about in the sunshine state, doing what we'd like to do on a relaxed vacay – take in the scenery and chill out. From nights out to birds chirping at dawn, it looks like Pooja's having a pretty good getaway. Perhaps a 'Freaky Friday'-esque swap would be good right about now.
Pooja's first stop seems to be at the popular night market in Arpora, North Goa. Putting her keen eye for design to good use, she gives us a glimpse of the bubbles at the market, which is still bustling in the night.
Her next stop seems to have been Primrose, a hip-hop-and-happening club in Vagator. With those painted ceilings, wide arches and rosy lights, who wouldn't want to spend their next night out like this one?
Finally, Pooja goes to Goa to do what it's meant for – relax. Putting her feet up while being surrounded by palm trees and the sea in front, that's our dream afternoon nap location right there.
Looks like Pooja is getting in some early starts on her holiday as well as she posted a wonderful video showing nature in all its beauty – the sky, the trees, the sea, all accompanied by the sounds of the birds.
Of course, a trip to the beach is mandatory if you're in Goa and that's exactly what Pooja looked like she did; enjoying it in the best possible way – barefoot.
And whether you're on holiday or not, one always needs a cuppa to freshen up. Pooja shows us just how it's done by pouring over a tall one. Now if only every morning started like this one.
Find Pooja Bhatt's Goan sojourn hella tempting? Then tell us what you think in the comments.
["Source-ndtv"]