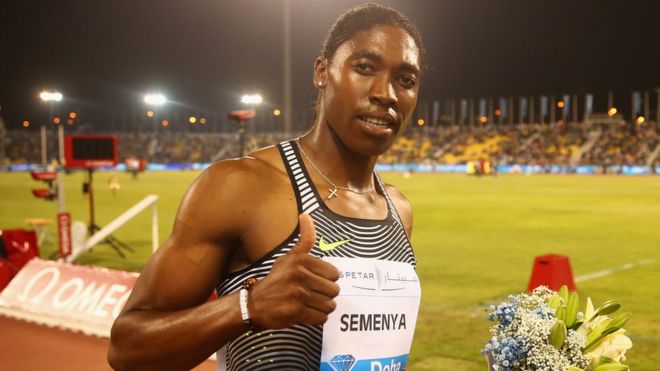 More than 17,000 tweets made the hashtag #HandsOffCaster South Africa's top trend over the past weekend. It sent a clear message – South Africans were ready to defend their middle-distance runner Caster Semenya from persistent questions over whether she should be excluded from racing in Rio.
Semenya was made to undergo gender testing after winning gold at the 2009 World Championships in Berlin. She was cleared to compete in 2010 after being sidelined for 11 months while the tests were carried out.
The tag #HandsOffCaster appears to date back to the London 2012 Olympics, but again began to trend over the weekend, following the publication of two magazine articles in the US. The title of the Sports Illustrated piece was, "Is it fair for Caster Semenya to compete against women at Rio?" The second article was a conversation between author Malcolm Gladwell and editor Nicholas Thompson for the New Yorker.
When Thompson asked whether Semenya should be allowed to race with other women, Gladwell responded "of course not… Remember, this is a competitive issue, not a human-rights issue."
Gladwell, who came up with the 10,000-hour rule (the theory that it takes 10,000 hours of practice to achieve mastery of a skill), was immediately subject to a social media grilling.
Many using the #HandsOffCaster tag felt the fact of the athlete's clearing should be enough for her to compete at the 800m at the 2016 Olympics, without her status being challenged.
Her critics point to her increased levels of testosterone as reason to exclude her from competing with other women. Recently, new rules requiring female athletes to take testosterone-lowering medication if their natural levels were above a certain mark were suspended for two years by the Court of Arbitration for Sport.
Some felt that Semenya's body shouldn't be used against her, saying there is hypocrisy underlying the conversation.
Some tweeters felt that critics were driven by the idea that Semenya did not meet an idealised image of what a female athlete should look like.
Whatever the outcome of Wednesday's 800m race, it's clear, if the #HandsOffCaster tag is anything to go by, that many in South Africa have Caster Semenya's back.
[Source: BBC]