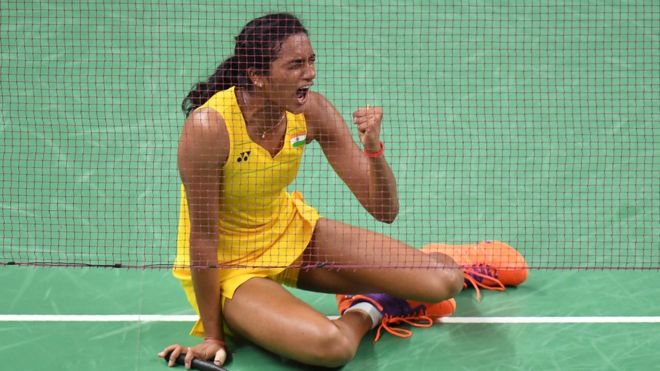 A 21-year-old badminton player has become India's latest hope for an Olympic medal at the Rio 2016 games, after a shock win against the world number two.
PV Sindhu upset China's Wang Yihan in the women's singles quarter final on Tuesday.
Wang, 28, was favoured to win having won silver at the 2012 London Olympics.
Many on social media praised her achievement and voiced their hope for her to win a medal.
Sindhu beat Wang 22-20, 21-19 in a 54-minute match. The Indian athlete will go up against Japanese player Nozomi Okuhara in the semi-finals on Thursday.
Indians on Twitter rallied around Sindhu, saying she had brought pride to her country.
"This girl is on fire!!!!! 2 straight sets! Come on Sindhu!" said Tapsee Pannu.
"Woke up to the great news of PV Sindhu winning. You make us proud," said another user.
"India medal hopes are alive again with this win," another commented.
"India is behind you", a user added.
Born on 5 July 1995, Sindhu started playing badminton when she was eight years old.
The athlete says her parents, both former volleyball players, motivated her to chase her dreams.
She has been training under former international player P Gopichand, who also coached former world number one Saina Nehwal until 2014.
Nehwal was India's top medal contender in Rio but she suffered a shock defeat against Maria Ulitina of Ukraine on Sunday.
But Sindhu has kept India's medal hopes alive.
"She never gives up and that's her best quality," Gopichand says.
Sindhu reached the semi-finals of the Commonwealth Games in Glasgow in 2014. She reached the final of the Denmark Open in 2015 but lost to China's Li Xuerui.
She defeated Scotland's Kristy Gilmour earlier in 2016 to win the Malaysia Masters Grand Prix Gold title.
[Source: BBC]