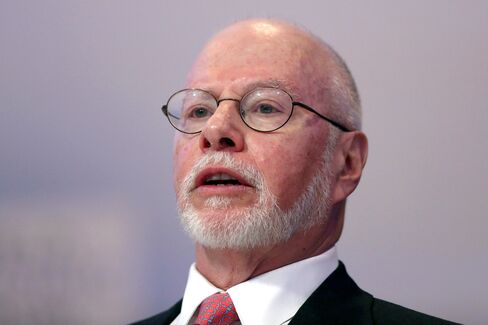 As a fierce merger fight between Samsung Group's Lee family and activist investor Paul Elliott Singer has raged in South Korea, the Lees have marshaled their best arguments for the deal, splashed ads on the front pages of the nation's newspapers, and courted minority shareholders in person.
Oh, and announced that they aren't anti-Semites.
With Friday's vote on the takeover bid fast approaching, critics of Elliott Associates LP have come out of the woodwork in recent weeks with anti-Semitic diatribes against the billionaire and others. After three Korean publications ran stories attacking Jews seeking to thwart Samsung — one called Jews "ruthless and merciless" — the CEOs of the Lees' de facto holding company, Cheil Industries, and Samsung C&T issued statements to the Anti-Defamation League and the Simon Wiesenthal Center over the weekend.
"We are a company that is committed to respect for individuals and [that] enforces strict non-discrimination policies," they wrote.  "We condemn anti-Semitism in all its forms." The ADL welcomed the statement, which it called a "clear and public stand against anti-Semitism."
Mediapen, a Korean website that published one of the articles, has taken down its story. "It wasn't really Mediapen's purpose to arouse any kind of anti-Jewish sentiment at all," managing editor Lim Chun Sung said in an interview. "We were just trying to explain the origin of Elliott, who they are, and where they came from."
Sisajournal, a well-known weekly newsmagazine, published a story headlined "Samsung's Caught in the Jewish Financial Powerhouses' Radar," purporting to detail how Elliott and other financiers of Jewish descent, like George Soros and Carl Icahn, have formed a cabal to attack vulnerable countries and companies around the world, with help from Morgan Stanley Capital International.
Elliott Associates is leading the fight against the Lees' proposed merger of two Samsung companies, in which the Lees' Chief is bidding to acquire Samsung C&T, a publicly traded construction company that owns more than $10 billion in shares of Samsung Electronics and other Samsung Group companies. The deal is crucial for the children of Samsung Chairman Lee Kun-hee, who has been recuperating from a heart attack he suffered in May of last year. The family already controls Cheil. Acquiring Samsung C&T, which owns 4.1 percent of Samsung Electronics, would help it secure control of the group for another generation.
It would seem there are enough issues on the table without bringing in religion, but the familiar slander of Jews as financial schemers has been in full bloom. The Sisajournal article quoted a former South Korean diplomat in the U.S., an author of a book describing Jewish world domination, who said Jews usually control Wall Street's hedge funds. A U.S.-educated lawyer told the magazine's readers: "That the financial powers of Wall Street are dominated by Jews is a well-known fact."
A Singer addressed the controversy on Wednesday. "I think it's a shame that this whiff, or more than a whiff, but this element of anti-Semitism has crept into what is a business dispute," he said at the CNBC Institutional Investor Delivering Alpha Conference in New York. "I don't think the Korean people are anti-Semitic. I think there are some parties in this situation who want to paint this situation as Korea versus the foreigners. And the Jewish component, I can't imagine why they thought that was something that would get traction."
In a survey of anti-Semitic attitudes around the world, the ADL last year ranked South Korea second only to Malaysia in Asia. But Rabbi Osher Litzman, who runs the Chabad House, an orthodox group, in Seoul, said he is surprised by the articles. "I've lived here for seven years, and I've never experienced even a fraction of anything that comes close" to anti-Semitism, he said.
Indeed, many Koreans admire what they see as Jews' intelligence and industry. Last month, the New Yorker published a story about the popularity of traditional Jewish learning in the country, "How the Talmud Became a Best-Seller in South Korea." In 2011, Korea's ambassador to Israel, Ma Young-sam, went on Israeli television and explained the appeal of the Talmud, a compendium of scholarly commentary. "Korean mothers want to know how so many Jewish people became genius[es]," he said. "Korean women want to know what is the secret. They found the secret is in this book."
Talk like that, however well-intended, can itself give way to anti-Semitism, warned Simon Goldberg, director of education at the Hong Kong Holocaust and Tolerance Centre. "There's a fine line between this impression of Jews as financially successful and Jews as potential manipulators," he said. During a recent visit to a university in the southern Chinese city of Guangzhou, he asked undergraduate students to describe what they thought of when they thought of Jews. "Most said something to do with finance and money," he said. "This perception is pretty firmly rooted."
Still, with the Samsung C&T takeover battle finally coming to a head, Rabbi Litzman is hopeful the tempest will pass. The fight between Samsung and Singer "is not something that will change the attitude of Koreans toward the Jews," he said. "I'm sure we will always be loved here and admired."
[SOURCE- bloomberg.com"]