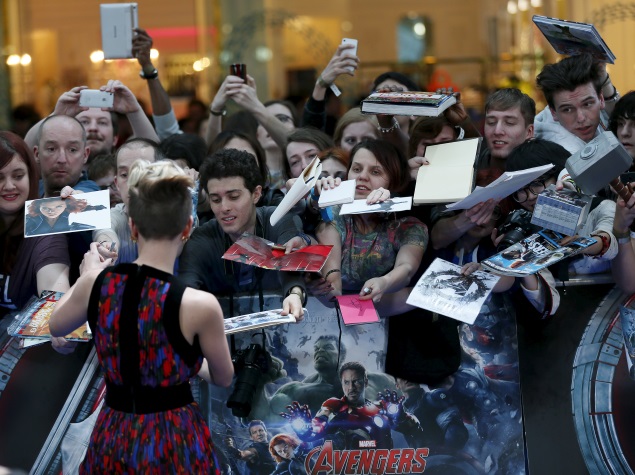 Samsung and Walt Disney's Marvel introduced a marketing campaign that uses virtual reality to promote "Avengers: Age of Ultron" as more studios look to the new technology to push movies.
The Avengers ad campaign, launched last week, employs VR that immerses a user in a 3D world and makes them feel as if they are in the action.
Jamie Park, head of experimental marketing at Samsung, said the company had seen a growing interest from studios in virtual reality (VR) and Samsung would be doing more of this in the future.
"It's less about taking the movie content and putting it directly into VR and more about figuring out the best way to enhance the overall content," Park said.
Created by Los Angeles-based advertising firm 72andSunny, the short films give people a chance to feel what it is like to be one of the superhero characters such as Iron Man and Captain America in the Avengers.
The campaign is made to work with Samsung's Galaxy S6 smartphone that fits with the company's VR glasses, Samsung Gear VR, though the films can be viewed onAndroid smartphones or any Web browser.
Fox Searchlight's "Wild" also used VR to promote the movie with Samsung's Gear VR headset.
"It's an ambition that is deeper than product placement," said Bryan Rowles, executive creative director at 72andSunny. "It's rare to work on a piece of technology in its infancy. It will be interesting to see where it goes and if it will catch on."
One of the short VR films for the Avengers movie co-stars international sports figures including soccer star Lionel Messi and professional football player Eddie Lacy, and shows their experience being transformed into a super heroes.
In another, a user experiences a battle between the Avengers and a robot army, in 3D slow motion, with a 360-degree view.
Virtual reality (VR) is known among gamers who use the gear to enhance playing video games, but the technology could start appealing to a broader base of consumers. Facebook, for example, bought VR startup Oculus Rift for $2 billion last year.
The "Avengers: Age of Ultron, kicked off the summer blockbuster season this weekend and had the second-biggest domestic opening in history, notching $187.7 million in box office sales
["source-gadgets.ndtv.com"]