David Cameron says the government is "doing everything it can" to save thousands of steel jobs – but warned there were "no guarantees of success".
Speaking after chairing crisis talks on Tata Steel's decision to sell its UK business, the PM said nationalisation was not the answer but the government was "not ruling anything out".
Ministers are under pressure to secure the future of the threatened plants.
Labour criticised their handling of the crisis, telling them to "get a grip".
Tata Steel's UK business – which directly employs 15,000 workers and supports thousands of others – includes plants in Port Talbot, Rotherham, Corby and Shotton.
The Port Talbot plant – which employs 5,500 people – is said to be losing £1m a day.
Mr Cameron defended the government's handling of the crisis after Labour said it was "missing in action".
Shadow business secretary Angela Eagle said "the danger signs have been flashing red but have been largely ignored by the government" and accused the PM of having "failed to show any leadership".
Mr Cameron said the situation at Port Talbot was of deep "concern" and said the steel jobs were "vital" to workers' families and the communities.
"The government will do everything it can working with the company to try and secure the future of steelmaking in Port Talbot and across our country. It's a vital industry," he said.
---
'All the options look difficult'
Norman Smith, BBC assistant political editor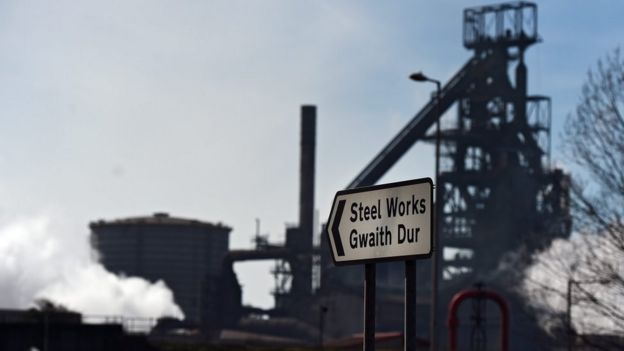 For all the bold talk, privately ministers are deeply apprehensive about saving the steel industry.
Why? Well, all the options look difficult.
Finding a buyer would be the preferred solution. But with Port Talbot losing £1m a day who would want to take it over?
A worker-management buyout is possible but their turnaround plan would require £300m of investment.
Port Talbot could be "mothballed" to secure more time to find a buyer but that would still mean laying off all but a handful of employees.
And taxpayer support – short of nationalisation – would almost certainly fall foul of EU state aid rules.
But there is perhaps an even more pressing reason ministers are sounding increasingly cautious.
They simply don't know what Tata is up to.
Despite repeated requests ministers have been unable to secure a promise that the steel plants will not be closed within a few weeks.
Ministers insist they will need months to put a rescue plan in place.
Privately some in government fear the reason Tata won't say is because they are not interested in finding a buyer.
Why, they ask, would Tata want to sell their steel plants to a competitor?
In other words, Tata may already have determined the fate of the British steel industry and those who work in it – whatever option the government eventually decides to pursue.
---
Speaking on BBC Radio 4's Today programme Unite general secretary Len McCluskey said the UK was in the grip of an "industrial crisis of enormous proportions".
He called for the creation of a steel taskforce and for the government to intervene to save the steel industry like it did the banks during the financial crisis saying EU state aid rules had not prevented Italy or France from "protecting" their steel industries.
Mr McCluskey also warned Tata against a "fire sale" of its UK steel plants.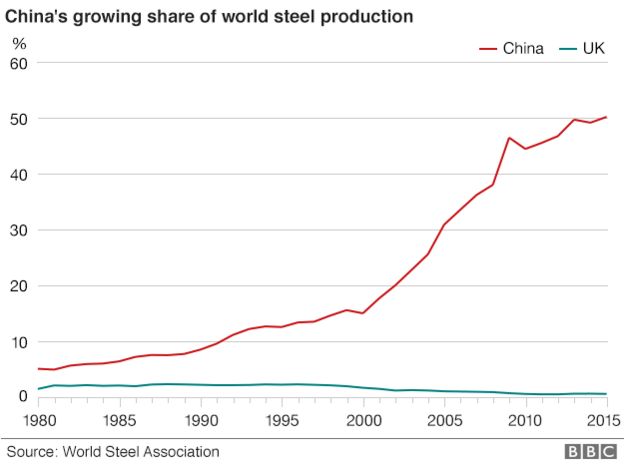 Shadow chancellor John McDonnell said the government "should nationalise to stabilise" saying this would involve covering the plant's costs in the short term to help a new buyer turn it around.
Mr McDonnell said the government should "bring forward the support that was expected in this budget and didn't happen" about reducing business rates, which he said were "five to seven times" higher in the UK than Europe.
Business Secretary Sajid Javid was not at Thursday morning's meeting. He has cut short an official visit to Australia to return to the UK.
It is understood the government is looking at offering loan guarantees to potential buyers and much tighter rules on procurement to ensure major British projects are obliged to buy British steel.
Steel production makes up 1% of Britain's manufacturing output and 0.1% of the country's economic output.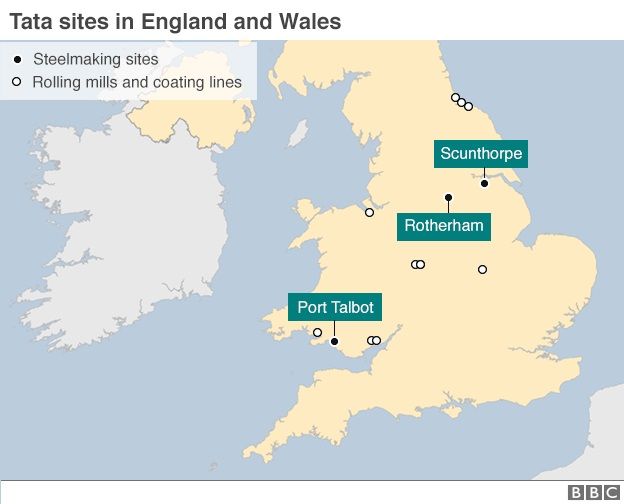 Mr Cameron said ministers had been working "for months" to save the industry and said the government had taken action on energy costs.
But ministers have also been accused of opposing EU moves to impose higher tariffs on Chinese steel entering Europe.
China has been accused of "dumping" cheap steel on overseas markets which is being partly blamed for the problems facing the UK steel industry.
Labour MP Stephen Kinnock has called for an immediate injection of government money to ensure the Port Talbot plant – which is in his Aberavon constituency – keeps going while its future lies in the balance.
A number of Eurosceptic Conservative MPs have said the government should not rule out subsidising the industry. This would be in contravention of EU rules restricting so-called state aid.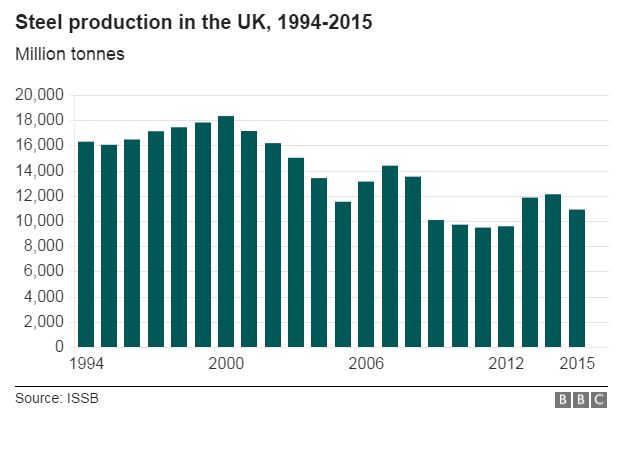 Venture capitalist Jon Moulton, who tried to rescue MG Cars when it was put up for sale by BMW, told Today saving the plants was "probably mission impossible" as a "very, very large amount of money would need to go in to come up with any chance of a way forward".
There are also warnings that the end of steel production in Port Talbot wouldseverely undermine Britain's defence capability and its status as a leading military power.
Lord West, a former First Sea Lord, has argued that all countries that are members of the UN Security Council have major steel plants to support their defence industry.
"I cannot think of another major military power that doesn't have its own indigenous steel production capabilities," he told the BBC.
[Source:- BBC]