Study warns of 'shocking waste of talent' and calls for improved childcare to encourage female teachers back to classrooms after maternity leave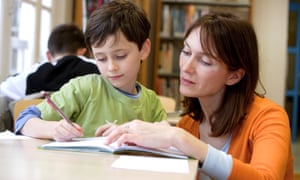 Schools need to embrace flexible working and offer benefits to stop the "shocking waste of talent" that sees women dropping out of teaching permanently after maternity leave, according to a leading education thinktank.
Jonathan Simons, author of a paper to be published before the Association of School and College Leaders' conference, said schools in England "cannot afford to keep losing this many bright women" given the shortages of qualified teachers.
The issue is particularly acute for the teaching profession because women make up such a large proportion of its qualified workforce, Simons said.
The analysis of the school workforce by the Policy Exchange thinktank found that about one in four teachers who quit the classroom in recent years were women aged between 30 and 39.
While many return to teaching within a few years, about half do not, choosing a different career when they rejoin the workforce.
Simons said: "In a profession that is 73% female, and where new entrants to teacher training from women outnumber men by five to two, it is a shocking waste of talent to see that the biggest group of leavers over the past four years – around 6,000 a year – has been women aged 30-39, and to know that historically, few of them will come back.
"It is also desperately sad to think that, in a profession which is all about educating the next generation, many of this group have simply concluded that it isn't compatible with raising their own children."
Schools could give priority to creating workplace nurseries within the childcare provision they already offer, especially at primary schools, and offer places to teachers returning to the profession, according to Simons.
The paper suggests some policies that have become commonplace in other sectors in recent years, including extending "keep in touch days" to former teachers who have moved into other careers, as well as career development and subject refresher courses for those still out of the workforce.
Simons' proposals also include more radical moves, such as a permanent sabbatical structure that would allow parents to move in and out of the workforce as their family demands varied.
"The just solution would be to make teaching an attractive job with professional trust and reasonable workloads," Courtney said.
"The removal of pay portability means that teachers are no longer entitled to keep the progression they have earned through experience. Teachers on career breaks – mainly women – are likely to be hit hardest of all as they try to re-enter teaching."
Meanwhile, a study by the Association of School and College Leaders, which mainly represents state secondary heads, found a large majority of its members said financial pressures were having a detrimental effect on education in their schools.
Almost four in 10 said they had made redundancies and seven out of 10 had made savings by not replacing teachers who have left, while others had cut the courses they offer and increased class sizes.
"The education system requires the raw materials of sufficient funding and teacher supply to achieve the outcomes we all want to see.
"No amount of hard work and dedication in schools and colleges can make up for the lack of them and it is wishful thinking to believe otherwise," the association's president, Allan Foulds, will tell delegates in Birmingham on Friday.
But Kevin Courtney, the deputy general secretary of the National Union of Teachers, the largest teachers' union, said that too many teachers drop out of the profession because of stress and workload.
[Source:- Thr Gurdian]