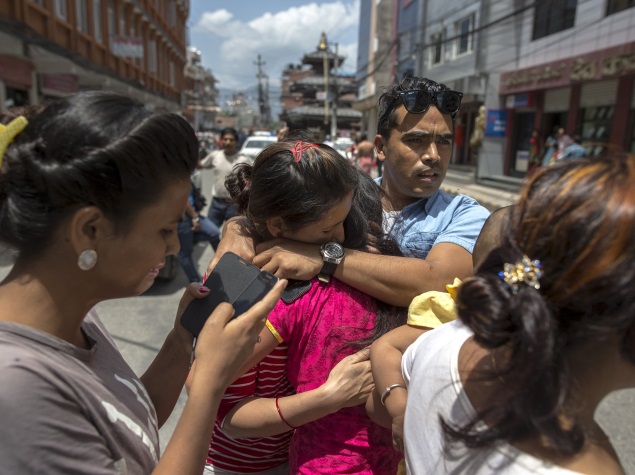 Buildings wrecked by Tuesday's earthquake in Nepal, already weakened by last month's huge quake which killed over 8,000, will take years to rebuild. But another type of infrastructure will bounce back much sooner: communication networks.Enabling aid workers and civilians to access the Internet, make a phone call or send a text is now seen as a vital part of any humanitarian response. The World Food Programme (WFP) has deployed some innovative kit to make this possible in Nepal.
The WFP, in collaboration with the Luxembourg government, the phone companyEricsson and Nethope, a grouping of NGOs, has developed mobile data antennas small enough to be taken on a commercial flight.
"They look like beach balls," said the WFP's Mariko Hall, describing them as "inflatable, light and quick to deploy". They work like a wifi network, providing an Internet connection to teams in remote areas where existing signals are down.
The teams can then collect, upload and analyse data on deaths, disease and damage to buildings, with help from teams operating remotely, enabling fast response techniques unthinkable a decade ago.
Phone lines get congested when disasters strike, so response teams in Nepal have a tactic of "text not talk". Using the beach balls, they can also email, which is quicker than trying to get a call or SMS through a clogged network.
"In situations like now where you have an aftershock, you can speak to teams and they can say 'you know what, we're OK, we're fine'," said Hall, who had been in touch earlier in the day with teams in Chautara, badly hit by the latest quake.
No cold calls
With serendipitous timing, telecoms experts from around the world gathered in Nepal's capital, Kathmandu, in mid-April for a conference on how the country's phone network could prepare for the big earthquake they knew would come one day.
"Although we knew the risk of an earthquake in Kathmandu Valley was very high, we never expected it would be so soon," said Kyla Reid, head of disaster response at the GSM Association, a worldwide grouping of mobile operators.
The 7.8 magnitude quake struck just nine days later, on April 25. There had been no time for long-term network improvements, but the fact that staff of phone companies, NGOs and the government had met so recently was helpful, said Reid.
Despite the power of the quake, the phone network largely stayed functioning, and "is holding up pretty well" even after Tuesday's shock, said Henrik Westman of Swedish company TeliaSonera, which owns NCell, Nepal's largest telecom operator.
According to Westman, after Tuesday's quake "300 sites have problems, mainly with power supply. But nearly 90 percent of the mobile network is running good, although congested."
Network in a backpack
British phone company Vodafone has sent "Instant Network" equipment – portable devices enabling mobile phones to connect to the network when regular coverage is down – to areas in the Kathmandu valley worst affected by the April 25 earthquake.
The Instant Network Mini is an 11 kg (22 lb) battery-powered device in a backpack which can be set up in just 10 minutes, providing a phone signal within a radius of 100 metres, Vodafone said in a statement.
The larger Instant Network, weighing 100 kg, can travel in a car or on commercial flights and provides mobile coverage within a radius of one kilometre (0.62 mile), Vodafone said. The same technology was used in the Philippines after Typhoon Haiyan in 2013.
"I don't think you can say mobile is a single silver bullet for emergency preparedness or response, but it's critical that it's prioritised," said Kyla Reid of the GSM Association
["source-gadgets.ndtv.com"]